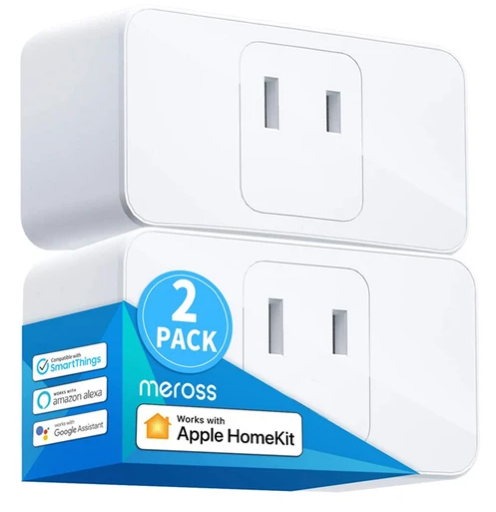 You know how when you buy a piece of Home Automation, you know you have to set aside 4-6 hours to getting it working? You're guaranteed endless hours of entertainment when you first start working on it and, with any luck, again in the future if you ever even think of breathing on it. The good news is you pay a lot of money for these "smart" devices, especially if they're compatible with HomeKit.
In our Slack community at podfeet.com/slack, Frank, aka @Wheels, asked if anyone had a recommendation for inexpensive, small smart plugs. Steven Goetz jumped in with the recommendation of the Meross Smart Wi-Fi Plug Mini. He likes them because they're inexpensive and he says they work well for him. He'd told me about Meross before, but I assumed that they must not be HomeKit-compatible because rarely do the words "inexpensive" and "HomeKit" go together.
When I followed the link he posted in Slack to learn more about them, I was surprised to find that they were not only inexpensive, they were emblazoned with a giant "Works with Apple HomeKit" logo. They also work with Amazon's "smart" assistant as well as Google Assistant, and they're compatible with SmartThings.
Now, check out the price. A two-pack is only $23 ($11.50 each) direct from Meross.com, and a four-pack is only $33 on Amazon but the four-pack listed is not HomeKit-compatible. If you need four and only need A-Lady, G-Man or Smart Things support, that's a mere $8.25 apiece! I don't know if you've priced smart plugs, but that's super inexpensive compared to anything I've bought before. I love Belkin, but a single smart plug from them is $25.
I mentioned to Steve how cool the Meross smart plugs sounded and how great the price was and that I was thinking of buying them. He wasn't super enthusiastic about the idea.
You see, Steve really loves that I keep experimenting with different vendors, necessitating separate apps for eufy, Wyze, Wemo, Ring, August, Ember, Sense, Daikin, myQ, Hue, LifeX, iDevices, TopGreener, and Elgato. You can imagine how thrilled he was when I said I was adding Meross to the mix. He also tried to make the very valid point that we didn't need any more smart plugs in our house. Of course, I bought them anyway.
I received my two-pack of Meross Smart Plug Minis and set aside a half-day to get them working. When I took the plugs out of the box, both had very visible HomeKit QR codes on their sides. I launched the Home app on my iPhone, navigated to my den as the room, and tapped the plus button to add a new device.
The camera came up inviting me to scan the QR code. I held up the plug, it read the QR code, and then said it was trying to connect. It occurred to me that having the device plugged into the mains would be a bright idea, and when I plugged it in, the Home app recognized it in short order and asked me to give it a name.
It was now visible in my den in the Home app and fully functional as a smart plug. Seriously, I think it took me maybe three minutes, and at least two of that was thinking it would be able to connect without being plugged into the wall.
I was so disappointed in this experience. Why did Meross make the QR code so visible and obvious instead of hiding it inside where it had to be opened with a screwdriver like the smart plug we have in our garage? Why did scanning the QR code even work when it never does on our Wemo switches? How come it allowed me to rename the device and save it to the correct room in the Home app?
How come the inexpensive Wyze smart plugs aren't HomeKit-compatible but the equally inexpensive Meross is HomeKit-compatible?
My eero router reported a new device on the network and I thought for sure the Meross would be called IEEE 1324 like other inexpensive WiFi devices, but nooooo, it was correctly identified as a Meross smart plug.
What kind of fun and entertainment is this? If you were hoping to avoid your family for hours and hours over the holidays because you'd be busy setting up Meross smart plugs for them, you're going to be sorely disappointed.
I thought for sure I could find something the Meross smart plug couldn't do. I have a scene in HomeKit called "It's Showtime" that turns off the landline, turns on my side lamp with a Wemo switch, and my LIFX light strip behind me along with a few other things. The "It's Showtime" scene is also part of an automation that turns on at 4:45 pm every Sunday night right before the live show and turns off again at 6:45 pm.
I thought it would be good sport to watch the Meross smart plug fall over in a heap if I tried to get it to join the "It's Showtime" scene. I plugged my Google Home into the Meross as a test. In the Home app, when I selected the Meross plug's settings, it offered a suggestion that maybe I wanted to add it to my "It's Showtime" scene. HomeKit must have figured that since it's in my den where most of the other devices in the scene are, I might want to add the Meross to that scene.
I added the Meross to "It's Showtime" and added it to the time-based automation, and just as I'd feared, when I said, "Hey S-lady, it's showtime!", the Meross smart plug turned off, disabling my Google Home.
I'm really running out of ways to find anything wrong with this plug. I got excited at one point because I plugged it in and it didn't respond. I thought for sure I had some troubleshooting to do. Then I realized that I had probably just grabbed the 2nd Meross smart plug that I hadn't yet added to HomeKit. Sure enough, I swapped in the enabled one and it worked flawlessly.
Did I mention that these smart plugs from Meross don't even require a hub like Hue and Wyze?
It can be a bummer when devices are only available in the US. I'm afraid to tell you that Meross has plugs for the EU, the UK, and Australia. The plugs I bought work in the US and Canada, and they also sell the same plug for Japan. So even that's not a downside to Meross smart plugs.
They're not even a one-trick pony. They've got a HomeKit-compatible desk lamp, wall light switches, a garage door opener, a blinds controller, an air purifier, a thermostat, color LED bulbs, light strips, and a three-device outdoor plug over at shop.meross.com/…
Steven Goetz told me that he bought the wall light switches from Meross and they've been great. He explained that when his Internet service went down, they still worked because they are physical wall switches. That made me take a closer look at the smart plugs, and I discovered they have a button on them to disable/enable them manually, so they, too, would work if the Internet went down. Yet another thing I can't complain about the Meross smart plugs.
I'm afraid I can only come up with one problem with the Meross Smart Wi-Fi Plug Mini. I can't find anything in my house left to automate.