Ōura Health Limited is a health technology consumer electronics company based in Oulu, Finland, founded in 2013. Their most popular product is the Ōura Ring, a wearable now in its third generation. The second generation product was named one of Time Magazine's 100 Best Inventions for 2020.
The Ōura Ring (3rd Gen) is a ring that incorporates a number of biometric sensors to measure body temperature, blood oxygen levels, and other health-based parameters. The ring connects to a phone or tablet via a Bluetooth link to an app that provides access to back-end processing that then provides a number of derived values to help the wearer determine how well they are meeting activity and sleep quality goals.
Features
The ring is available in four styles/finishes:
Silver ($299)
Black ($299)
Stealth ($399)
Gold ($399)
Sensors:
Seven temperature sensors
Green LED heart rate sensor
3D accelerometer
Comes with an inductive charger and 6 months of free service (then $5.99/mo.)
My Thoughts
Spoiler – After a week of use, I like the ring and it appears to work as advertised.
Good:
Charges quickly, can go about a week before needing to recharge
Comfortable – can wear it continuously without it being obtrusive
Lightweight~ 5 grams, made of durable titanium
Ease of use and setup: Literally took less than 10 minutes to set up with the app (iOS)
iOS app is very good, few bugs, snappy, presents data in plenty of different ways
No connectivity issues (so far); ring links to iPhone, downloads the data
The ring is waterproof to 100m/328 ft
Apple Health and Google Fit compatible; can import data from these apps
Less than good:
Definitely a luxury item: $299 – 399, plus $5.99/mo. after the first six months
Several promised features have been delayed into 2022. This includes workout heart rate and SpO2 measurement.
Appears that most backend processing is server-based, so limited processing on the phone. Not clear how much functionality is local if Internet-challenged.
Using the ring:
The Ōura website is somewhat sparse but well designed and has the essential product information. Ordering online was easy and the automated system provided sufficient information as to when the ring would be delivered. Ōura mails out a set of plastic sizing rings prior to completing the order so that the proper size can be determined.
In normal everyday use, the ring is unobtrusive and has a fairly elegant look. Ōura recommends wearing it on the index or middle finger.
Mine is silver. Being titanium, it is very lightweight, lighter than I expected based on the size of the ring. I have been wearing it continuously for about a week and I don't really notice it, and I'm usually sensitive to that kind of thing.
The ring's data tracks three key metrics: Activity, Sleep, and Readiness. The measurements for all three are reported as a value between 0 and 100. Typical values for me have been activity levels between 80 and 100, sleep scores between 75 and 95, and readiness levels of around 75 – 85. There are many other contributors to each of these scores but in general, their values are only shown as bar graphs, not specific values.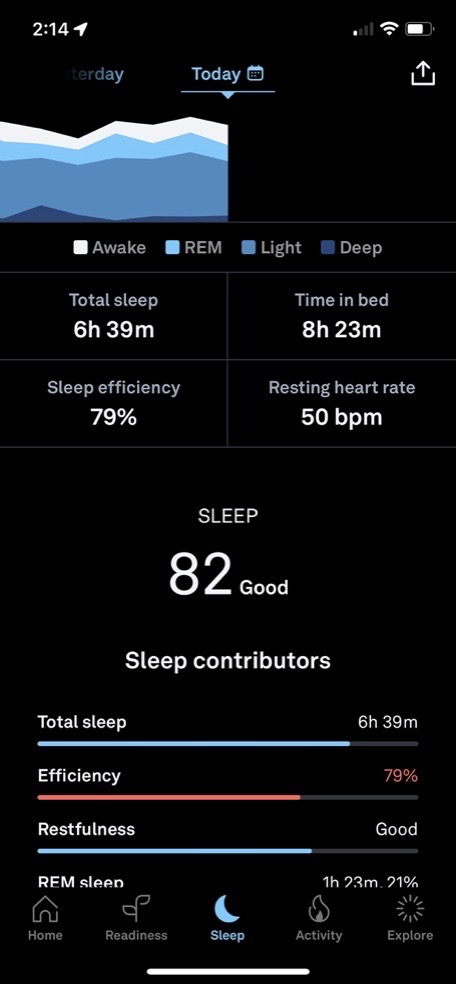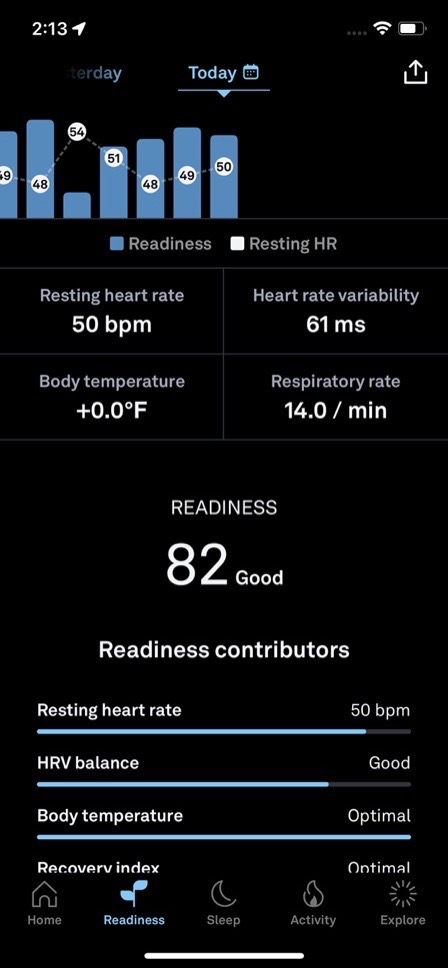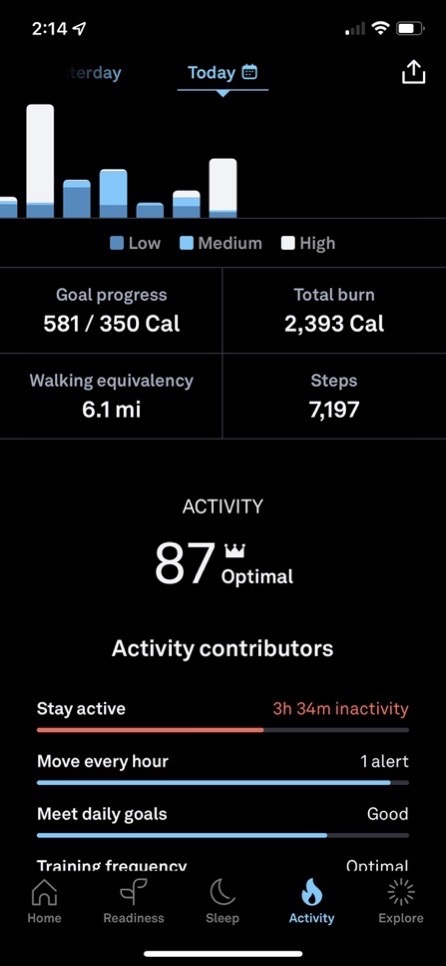 I check my sleep score and associated data, such as heart rate and heart rate variability (HRV) when I first wake up. The ring is pretty accurate about knowing when I go to bed, go to sleep, wake, and get up out of bed due to the 3D accelerometer. Then I check my "readiness" score, which is calculated from both the previous day's activity level and the sleep level of the previous night. It's an indicator of how physically ready your body is for the day. Then throughout the day, I track my activity level.
There were apparently complaints about the accuracy of the second-generation ring measurements. As a result, this latest generation has been specifically designed to provide much higher accuracy. To date, I've seen good correlation (heart rate, activity level, steps, etc.) with my Apple Watch equivalents. And I appreciate that even though it currently can't track my workout heart rate it can import that information from my Apple Health app.
Given the number of temperature sensors in the ring, it's a little surprising that very little of that data is provided. There's a single body temperature reading that's provided as part of the readiness data, but that's about it. The ring is still calibrating my specific body temperature, a process that could take up to two weeks. I may get more information after that happens.
The ring attempts to identify and track your progress in order to provide recommendations for better health. It is now recommending my optimal bedtime, for example. And it can distinguish between when I'm just sitting and when I've taken a nap. After the nap, it prompted me to confirm that I did indeed nap. That also goes into the calculations.
Ōura does also provide a number of tutorials and other information within the app, and it's useful and well produced. This material has some similarities with that provided by Apple's Fitness+ and includes meditation, breathwork, and sleep videos.
So far, I haven't had to use Ōura customer support. There have been a number of negative online comments since the rollout of the Generation 3 product, indicating perhaps that Ōura was unprepared for the popularity of the ring and did not have enough support staff in place to deal with the tidal wave of customer issues and questions. Hopefully, this is a temporary condition and will subside. But currently, if you have a problem you may have a hard time getting it resolved quickly.