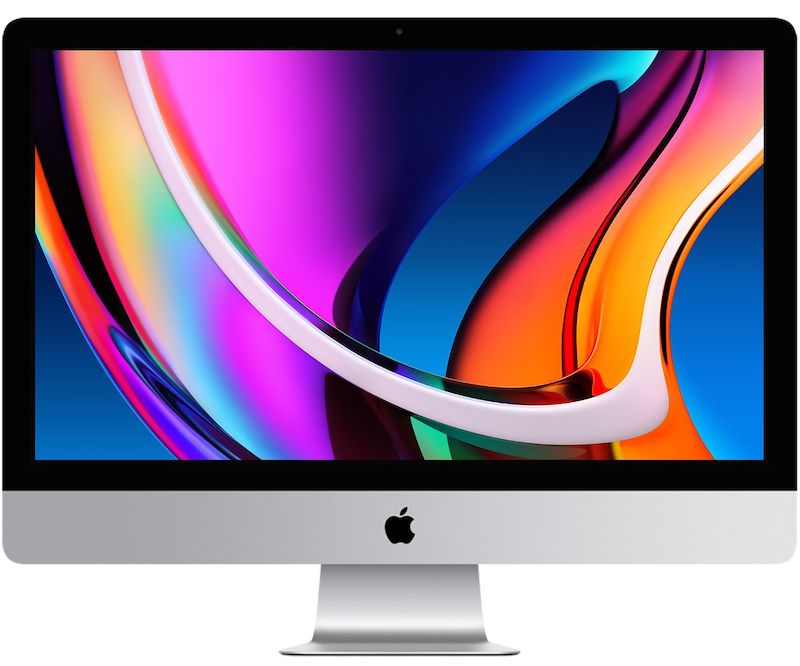 iMacs have spectacular screens, especially the 5K iMac. Like all Macs, they seem to last a very long time. The desire for a new Mac is normally well before the end of the useful life of an iMac. Many people wish they could repurpose aging iMacs as secondary displays, but iMacs newer than mid-2014 don't support target display mode. I've never understood why Apple doesn't let us have target display mode on the newer iMacs, and it's a real shame.
If Apple made a display that didn't cost $5000, we'd probably not be so sad about this but other than the LG 5K Ultrafine (which is a great display), we have literally no other options as good as the 27" 5K iMac. This is so frustrating to those who have a gorgeous 27" display sitting in the closet trapped in the body of an older iMac.
Lovers of the 27" iMac are also impatient right now because we've got so many other models of Macs that run circles around it with their sexy Apple Silicon processors and unified memory architecture. They want an Apple Silicon 27" iMac and they want it now.
I feel their pain because Steve is one of those people itching for an Apple Silicon 27" iMac. Now don't feel too sorry for him, since he has a 14" M1 Max MacBook Pro. Here's the interesting thing, though. With a 27" LG Ultrafine display hooked to his 5-year-old iMac, he finds that a better machine to work with most of the time than his wicked-fast MacBook Pro. All those gorgeous, high-resolution pixels are more compelling than the speed of the machine.
I get that, but I also really think it would make more sense to use the more capable Mac for the live show. The demands on his machine are really high as he ingests two video feeds from me across our internal network, combines that with his video feed, and pushes it all of it up to YouTube. The 5-year old Intel i9 iMac can do the job, but boy does it complain with super-loud fans.
The Solution – Luna Display
There is a solution to all of this and I think it could be applicable to a lot of you out there even if you don't have Steve's exact setup.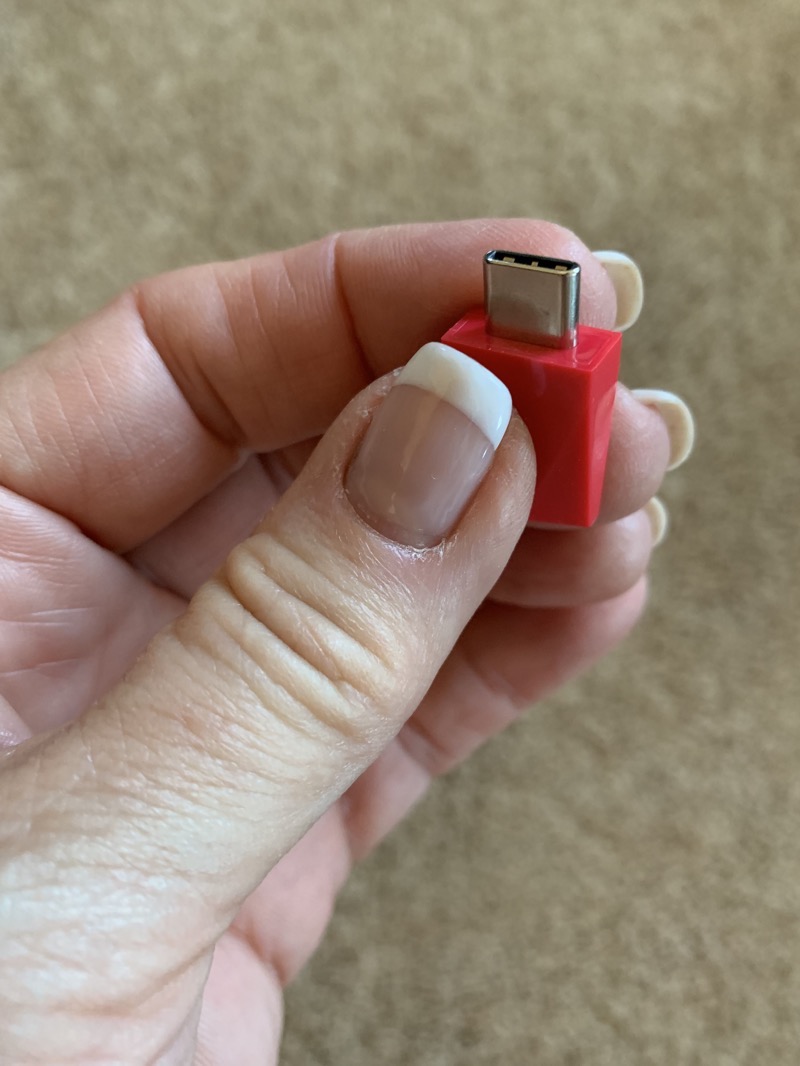 In 2018 I told you about a $130 chicklet-sized USB-C dongle called Luna Display from Astropad that you could plug into your Mac and drive your iPad as a secondary display using some software on both devices. Back then it was pretty darn cool, but it got somewhat Sherlocked when Apple came out with Sidecar.
I still liked the Luna Display solution better than Sidecar because you get the entire screen instead of that weird truncated display with buttons of Sidecar, but Sidecar being free made it pretty compelling.
The great news is that the folks at Astropad have been working on new software to give us amazing capability with Luna Display. You can now use a second Mac as a display for your Mac (or PC!) I know that sounds crazy but I've tested it extensively and it's pretty magical.
To perform this miracle of engineering, you install the Primary Luna Display app on your primary Mac or PC, and you'll install what they call the Secondary Luna Display app on the Mac that will be just a display. To be clear, either a Mac or PC can be the primary machine, but only a Mac or iPad can be the secondary display.
Luna Display can drive a secondary Mac using WiFi, but that isn't really going to give you the performance you need. To get the best results, you'll want to connect to the secondary Mac using a Thunderbolt cable. I tested using Thunderbolt from my MacBook Pro to the dock Steve uses for his iMac and LG display, hoping to drive both that way, but cursor movement was jumpy and weird, and scrolling wasn't as clear as we would have liked. You also have the option of running Luna Display over Ethernet but I didn't actually have a way to test that easily.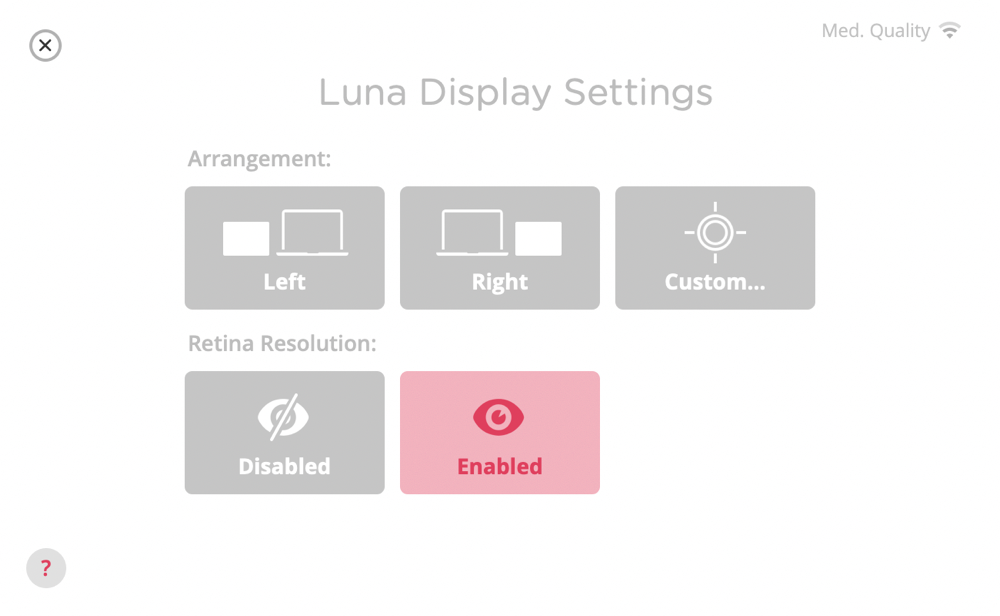 With Luna Display Primary running on the host machine and Luna Display Secondary running on the secondary Mac, and Thunderbolt connection made, after doing the permissions dance you should see your primary machine displaying to the secondary Mac. You'll also see a Luna Display Settings window with options for Arrangement and Retina Resolution.
Arrangement gives you two very basic options, one showing the secondary Mac on the left and one on the right. If this works for you, great, or you can hit the third button that says Custom which launches the Displays preference pane. From there you can arrange the screens as you would with any secondary display. (I'm not sure what it launches on Windows so I'll just stick to describing the Mac menus from here on out.)
By default, Retina Resolution is not enabled, but hopefully, I've convinced you to use Thunderbolt so there's no reason not to get the full resolution of whatever Mac you use as a secondary display.
In my tests using a 14" MacBook Pro connected to Steve's 2017 27" iMac, the iMac's display looked absolutely perfect using Luna Display to drive it. Scrolling is smooth, the text is gorgeous and the cursor movement is nearly perfect. I say "nearly" because Steve says he feels some very small lag, but I really couldn't feel it.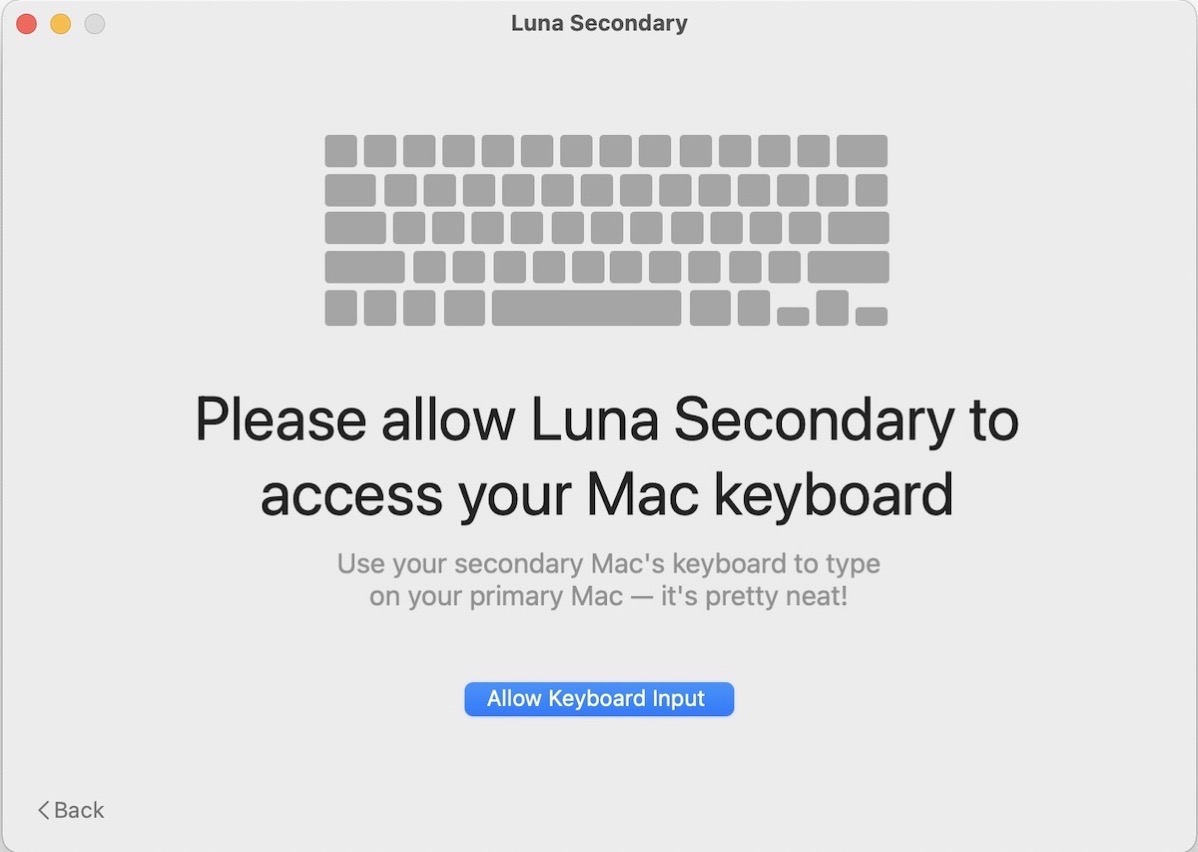 When you start up Luna Display in this mode for the first time, the app will pop up a window suggesting you allow the secondary Mac's keyboard to play along too. As they say in the explanation "it's pretty neat!" I'll have to agree. Steve has an external Magic Keyboard and Trackpad and when we allowed keyboard input, we were able to use it to drive the MacBook Pro. It was pretty neat but also kinda freaky.
The ultimate test was to also connect his LG 5K display to the MacBook Pro in addition to the iMac. I can report that using all direct Thunderbolt connections, the 14" MacBook Pro was able to drive the iMac via Luna Display and the LG both at full 5K resolution.
While I was doing my testing, Barry Fulk happened to visit. I mentioned that I was working on a review of the new Mac-to-Mac capability of Luna Display and he immediately endorsed it. When he's working from home, he uses Luna Display to drive his iMac's screen from his M1 MacBook Pro. His computers are right next to his router, so he can connect both the primary and secondary computers to Ethernet and he says the performance is flawless. how's that for an endorsement?
Not Just for iMacs as Displays
I can think of a lot of combos that would work really well. How about a new M1 Mac mini to drive a 27" iMac? Or what if you've got a new laptop and an older Mac laptop? I tested that configuration as well.
I set up my 2016 15" Intel MacBook Pro as a secondary display to my 2020 14" M1 MacBook Pro via Thunderbolt and it worked perfectly. I have one caution though. If you run a configuration like this without plugging in power, the primary Mac will actually drain the battery of the secondary Mac laptop.
You might not even notice this is happening. Since the secondary Mac laptop is acting as a screen for the primary Mac, the battery indicator you may have showing in the menu bar is for the primary, not secondary Mac. The folks at Astropad realize this because on the Luna Display app screen it tells you (in very light grey text) the battery level of the secondary Mac. Keep an eye on this, especially since an older Mac laptop you're repurposing may not have the best battery life. In my test, the secondary Mac drained from 100% to 49% before I noticed it, while my primary Mac had gone from 80-84%!
Luna Display Preferences
Let's take a walk through some of the more interesting preferences for Luna Display. On the Connectivity tab, there's a section entitled Wi-Fi Connection Mode. When I first fired up Luna Display, it had defaulted to Office mode. In this mode, pairing must be via a hard-wired connection or using what they call manual Wi-Fi. The idea is that if you're in an office setting where multiple people are running Luna Display, you don't want devices connecting to each other over Wi-Fi without explicit permission by the secondary device.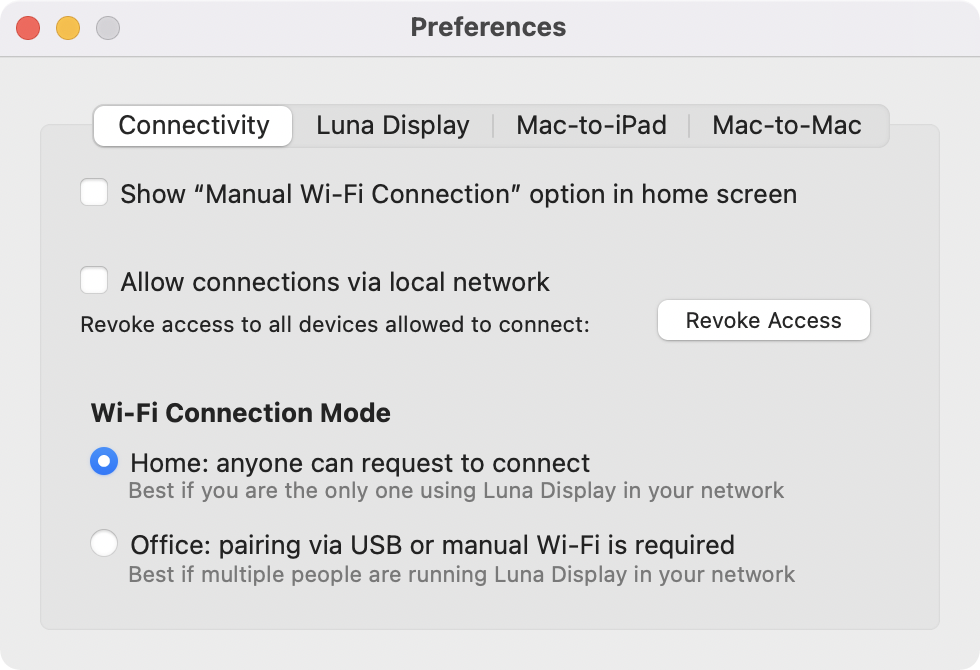 In manual Wi-Fi mode, when you launch Luna Display on both devices, you'll get a screen on each device showing a QR code and on the secondary device, a place to enter the IP address of the host machine. If your secondary device is an iPad you can easily scan the QR code with the iPad's camera, but that would be a wee bit tricky with a secondary Mac.
If you're not in a multi-Luna Display environment, it's probably easier to switch over to Home mode where any device can request to connect to any other device. As I said earlier, a Thunderbolt connection is ideal but if you need to go with Wi-Fi this mode works as well.
In the next tab, creatively named Luna Display, you can choose whether or not to automatically open the Luna Display app when you insert the physical device, and you can choose the default position left/right of the primary computer and the secondary display. I highly recommend paying attention to this setting. I didn't at first and it was very head bendy to have to run my cursor to the far left to get to the computer to the right in order to flip the relative positions each time!
In this same tab, here's a setting for Max Resolution and Max Refresh Rate. The maximum resolution can be set to 5K, 4K, or Automatic, and the maximum refresh rate can be 60Hz, 45Hz, 30Hz, or Automatic. I played around with these settings and to be honest saw no difference, so I put them back to Automatic on both.
In the Mac-to-iPad Preference, you can set the iPad to be in Teleprompter Mode. I haven't ever used any kind of teleprompter, but my understanding is that "it's all done with mirrors". In order to make the display oriented correctly for the reader, the iPad's display needs to be flipped upside down, and that's exactly what enabling Teleprompter Mode does in Luna Display.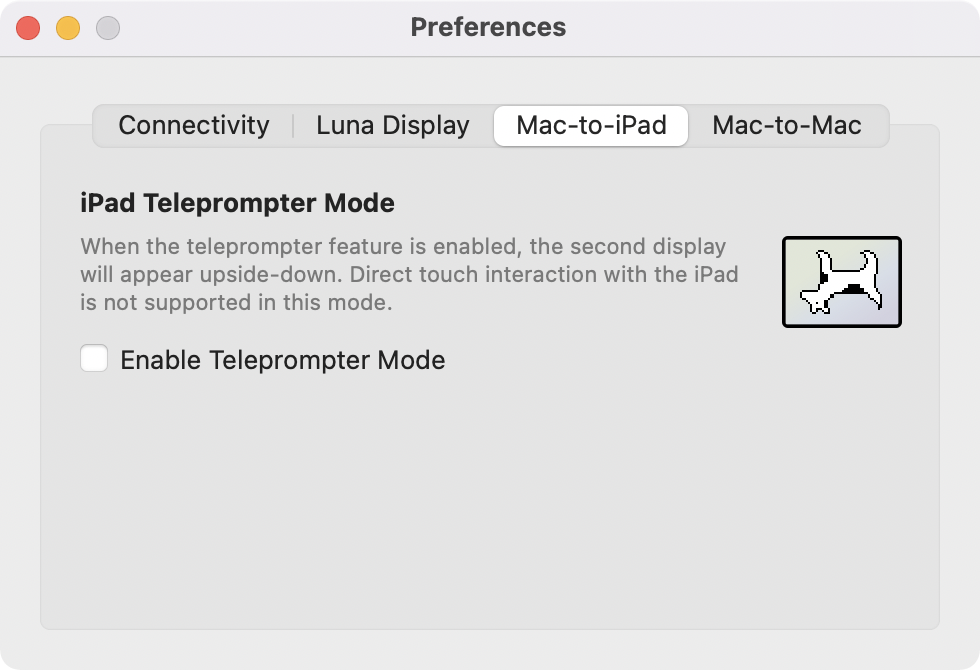 In the Mac-to-Mac Preferences, you can set several different ways to connect the two computers. The default is to allow any network interface, but you can force it to WiFi only, Ethernet only (computer to computer or both plugged into your router), or Thunderbolt only.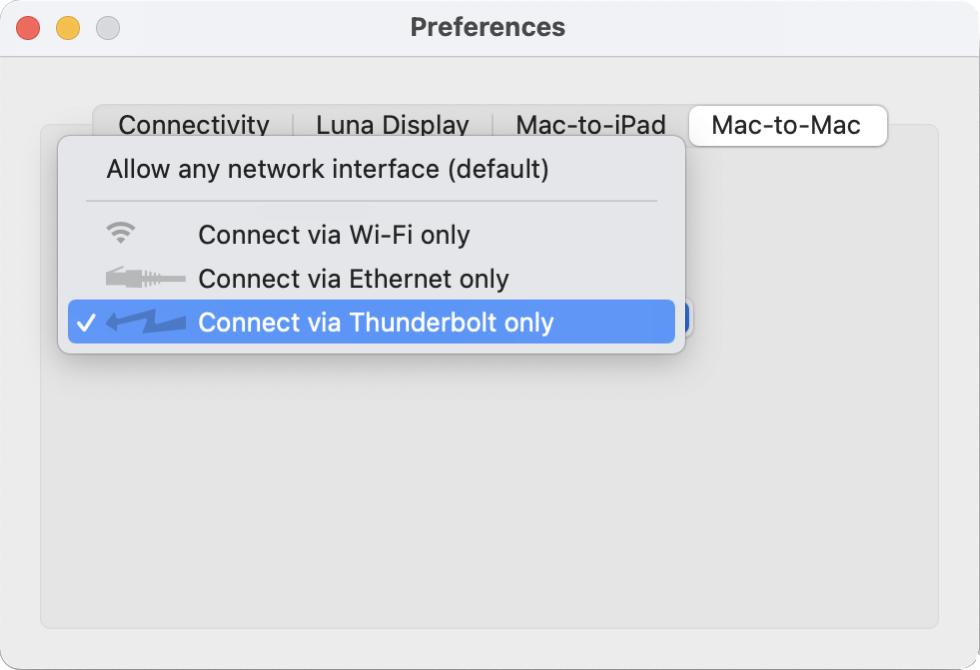 If you hold down the option key when you open up Luna Display Preferences, you get a debug menu with even geekier controls. There are some even more advanced settings you can play around with if you like. You can control the GPU acceleration by choosing Metal, OpenCL, or CPU. you can also change the Liquid Engine Version between v2 and v3 but I have no clue what that is.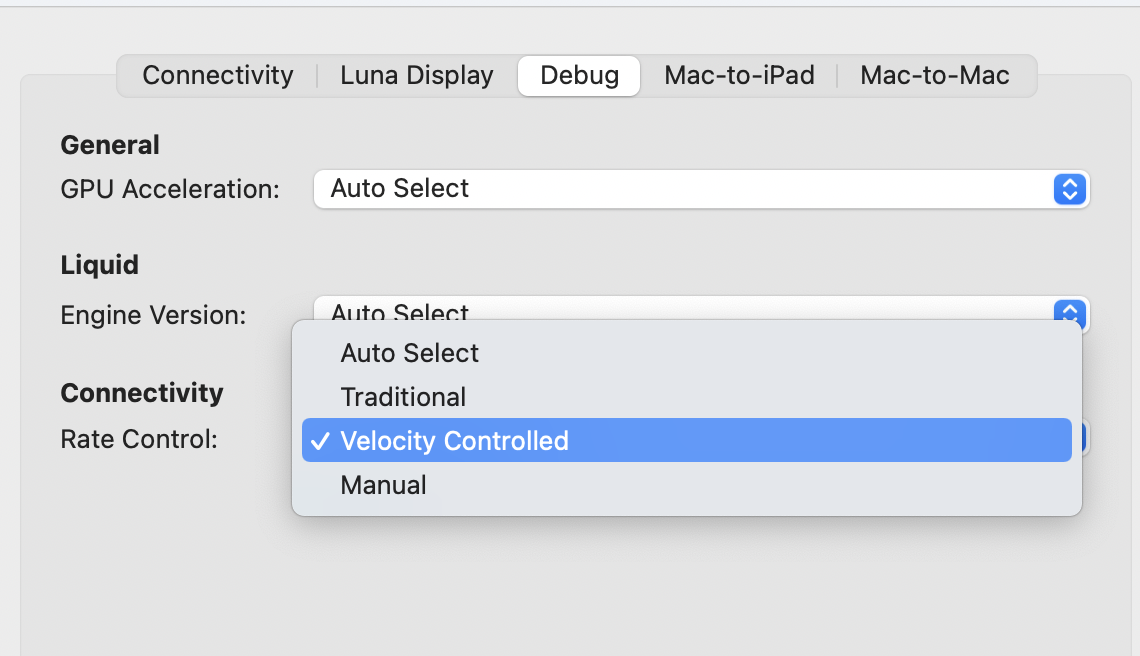 Bottom Line
The bottom line is that if you've got an older Mac with a perfectly good screen, and you need a second display, I think AstroPad is a pretty solid way to give that older machine a new lease on life. $130 sounded expensive when Luna Display worked only on the iPad, but if you can have a 5K display for your new Apple Silicon Mac, it could actually save you money. I also love that existing Luna Display owners (like me!) get all this great capability without paying an extra dime.