This week Steve is getting a Mac Studio with the M1 Max and next week he's supposed to get his Studio Display. As you can imagine, he's pretty excited. He's currently sporting a 27″ iMac quad-core i7 from 2017 along with a 27″ LG 5K display. He added an OWC Thunderbolt 3 dock so he could connect the following peripherals:
Logitech c920 webcam
Elgato Wave XLR audio interface for his mic and headphones (because Marty Sobo told us to)
Seagate HDD for Time Machine backup
Samsung T5 SSD for Carbon Copy Cloner backup
Blue-Ray Burner (which he actually uses to rip our disks to our PLEX library)
Qi charger for his iPhone
HP C4480 Printer
Ethernet
When we ordered the Mac Studio and Studio Display, I was looking at all those lovely ports on the two units and it got me thinking. Will Steve even need a dock when he gets these two devices? Since diagramming is evidently my new hobby, I whipped open the draw.io app and went to town mapping out Steve's current setup and the new computer layout.
On the advice of Adam Engst, I took the time to find photos of each of the devices and used those instead of blocks to represent all of them. That's a LOT more work because to get the arrows in draw.io to "stick" to the images, I need to erase the white space from around the image using the Instant Alpha tool in Preview, and then crop the image down super tight to the edges. It makes a much cooler diagram but I wanted you to appreciate my extra work!
With his current setup using the OWC dock, he has a few unused ports:
iMac: 3 unused USB-C ports
LG 5K: he's got 1 unused USB-C port
OWC dock: he doesn't use one of the USB-A ports
Spare Ethernet port on the iMac since he uses the one on the dock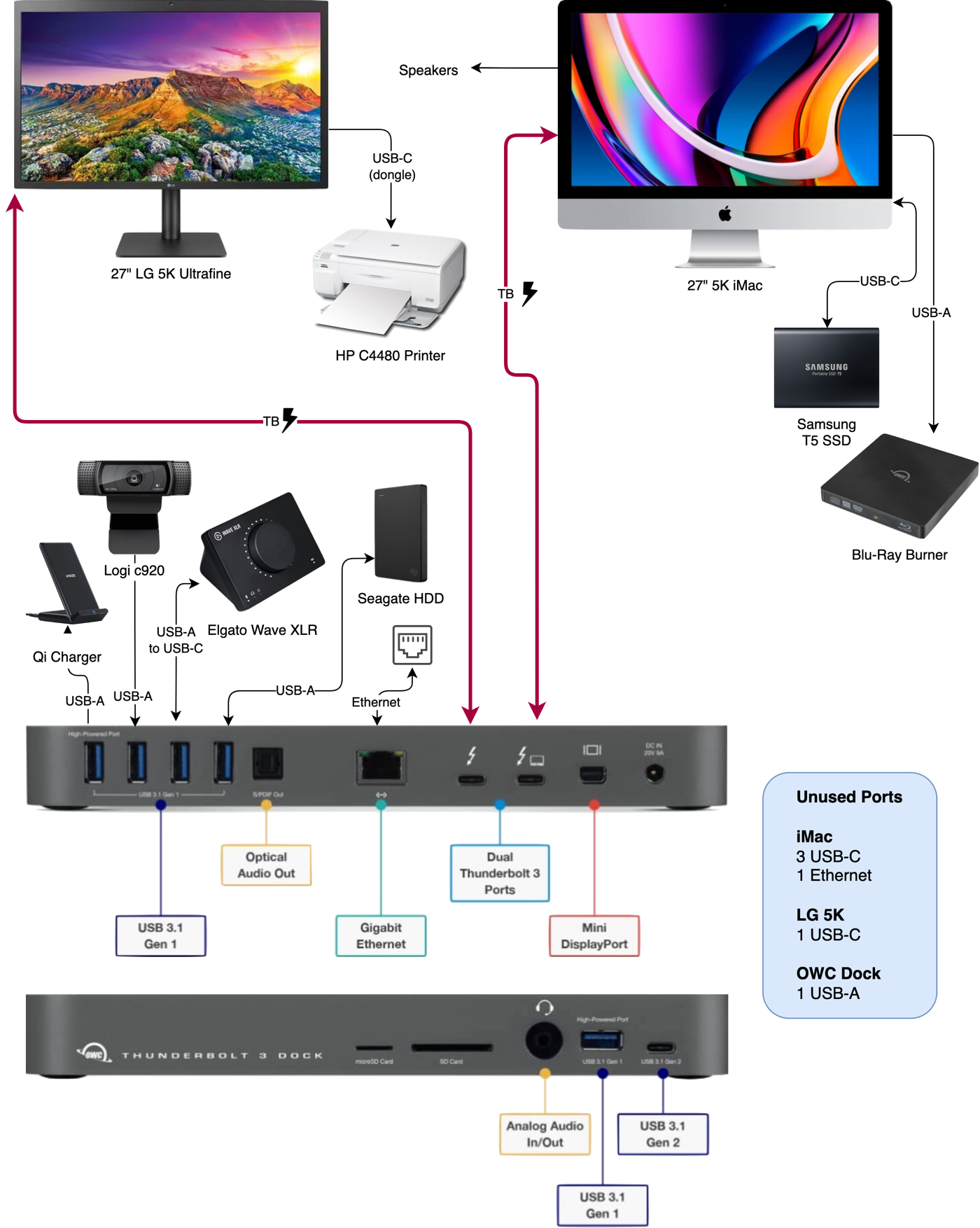 Next, I laid out all of Steve's peripherals using the ports on the Mac Studio, Studio Display, and LG 5K. My guess was correct that he can have all of his devices plugged in without needing a dock. But it's even better than that. Without the dock, he will have a plethora of open ports:
On the Mac Studio: 2 USB-C on the front and 2 Thunderbolt 4/USB-C on the back, along with an HDMI port he doesn't need
On the Studio Display: 1 USB-C
On the LG 5K: 1 USB-C
There's one more consideration. The Studio Display comes with a built-in webcam. Many, but not all people who received review units have reported that the quality of the camera isn't good. Apple has promised an update to fix the issues people have reported. If we assume that they do fix these problems, then Steve could abandon his Logitech c920 webcam and just use the camera in the display.
If that works out, instead of 5 unused USB ports on his original setup, he would have 7 USB-C ports, 2 of which are actually Thunderbolt 4 – all without the complexity of using a dock.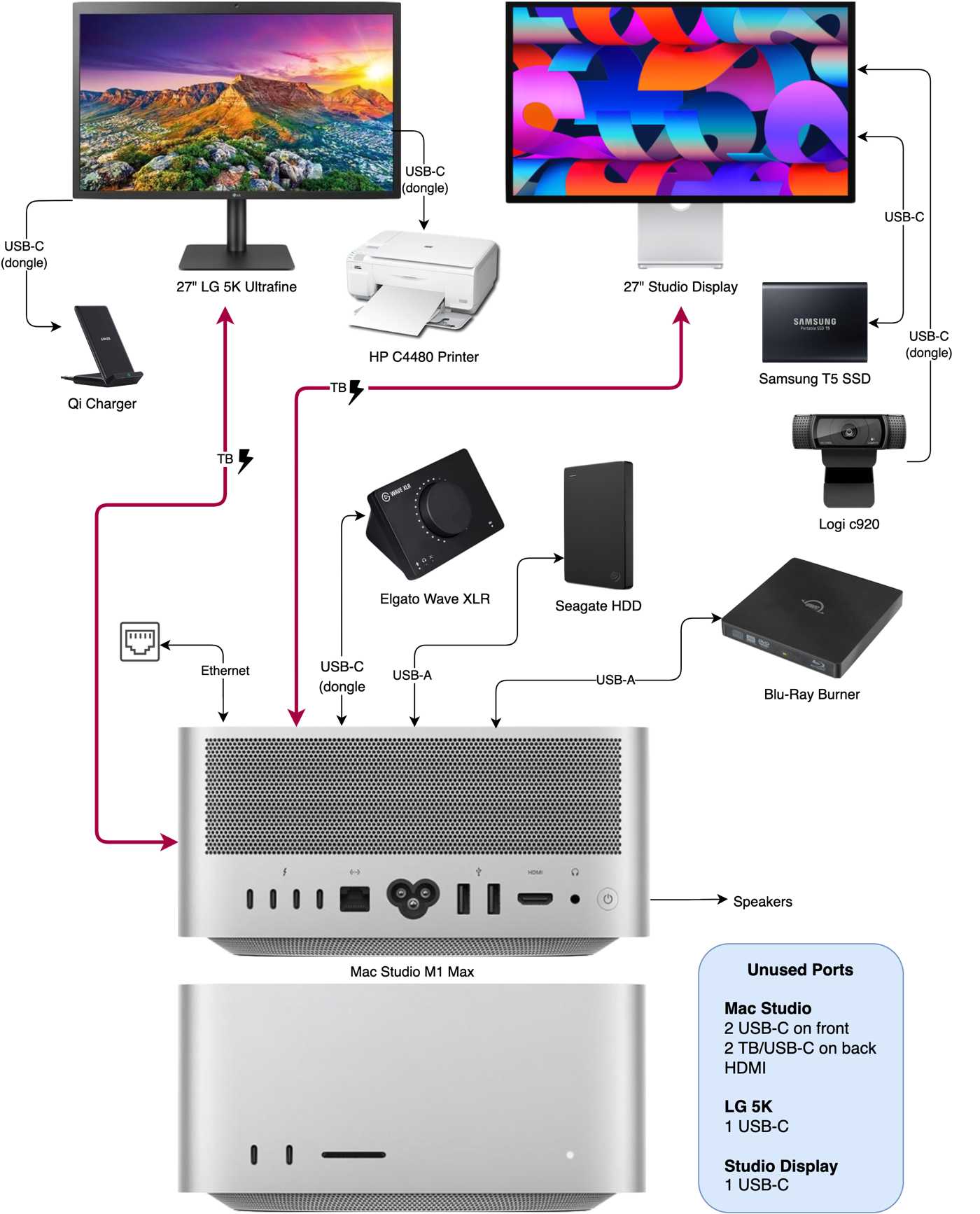 The bottom line is that if you're looking at getting a Mac Studio and a Studio Display, you very likely don't need a dock to go with it. Even with Steve's belt and suspenders approach to backups by having two hard drives, his use of a Blu-Ray burner and a printer (all of which probably don't even need to be plugged in all the time), and that he works on a podcast, he's still got gobs of modern and very useful ports left over.
Think of not buying a dock as saving $300 on your purchase – you can hardly afford not to buy the new hotness!