Hi, this is Allison Sheridan of the NosillaCast Apple Podcast, hosted at Podfeet.com, a technology geek podcast with an EVER so slight Apple bias. Today is Sunday, May 29, 2022, and this is show number 890.
June 6th is the WWDC Keynote, and as always, Steve and I will be in the live Podfeet chatroom to exclaim with delight and/or disappointment at what Apple announces. If you'd like to join us and all of the other NosillaCastaways who join in the fun, head over to podfeet.com/chat at 10am Pacific Time on Monday June 6th. I used Bart's awesome web app called This-Ti.me (get it? This Time?) to generate a link you can use to see what time it will be wherever you will be on June 6th: this-ti.me/…
As a reminder, Steve and I will not be talking over the keynote, we'll be busily typing away like everyone else so you won't miss a thing.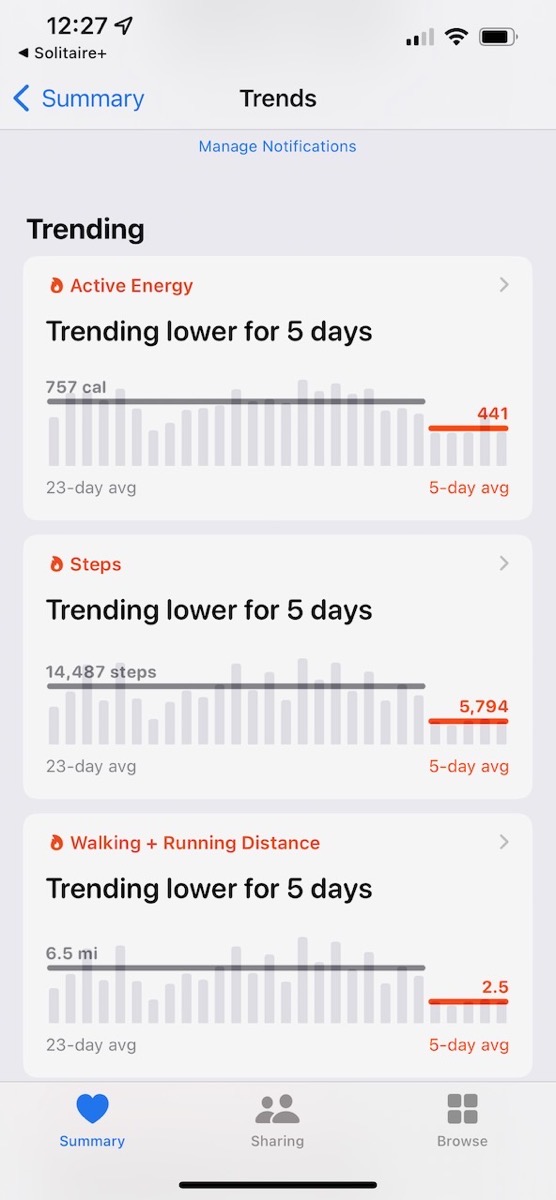 What I'm not excited about is that I did something really bad to my knee on Monday. I was about a mile and a half in when something popped and then my knee started yelling "NO NO NO!" I limped the mile and a half back, went to the doctor's and they don't think anything is torn so that's good. I've been icing and compressing and elevating and Advilling like crazy and I think it's somewhat better, but I still can't walk a block without pain.
I have a couple of observations about this:
The Apple watch lasts a very long time if you don't exercise. I went to bed with 51% left the other day! I normally work out at least an hour and half a day and I go to bed with maybe 20% if I'm lucky on the Series 7.
Activity is very concerned about me. It's been sending me notifications, and then today it made me go look at Health because all of my numbers were way down. At noon today while I was talking to Bart, I noticed I'd burned 141 calories so far. I almost always overachieve my goal of 680 for the day!
There's a lot of time left in the day when you don't work out for an hour and a half.
With that, let's get into the show.
On Friday I had the great fun of being on the Daily Tech News Show with Tom and Sarah and Roger. We talked about how Microsoft revealed it's refocusing away from development of its current iteration of a game streaming device for TVs with a new approach, and what we think about Telegram setting up a paid version of its current service, amongst other things. We also talked about a study I did this week on choosing a VPN. You're going to get the long-playing version of that study on VPNs in this very episode of the NosillaCast.
If you'd like to catch this episode of Daily Tech News Show, look for DTNS #4285 in your podcatcher of choice, or follow the link in the shownotes.
Blog Posts
You know how much it helps keep the show going that people are willing to support the work we do here at the Podfeet Podcasts through Patreon ongoing pledges, and Paypal one-off donations. But there's another way you can show your support, and that's through using my referral links. Referral links are a way for you to get something free (usually) on something you were going to buy anyway, and I get some free stuff too.
I've been accumulating more and more referral links over time for services I actually use myself, and I've done two things with them. If you go to podfeet.com, there's been a "Support the Show" button for a long time. It takes you to the bottom of the page where I've got big buttons for Patreon and PayPal. But now there's a cute icon showing two people sharing a bag of money. If you click that icon it takes you to a dedicated page filled with referral links that I'll keep adding to as time goes on.
If that sounds like a lot of work to find that list, how about just looking at the shownotes right in your podcatcher? I've put of of the referral links there too!
Now I said you get free stuff for doing this. I'll give you some examples. Recently someone used the Parallels Toolbox referral link when they subscribed to it, and they got 3 months on top of their subscription and so did I! Bob and Chris joined Setapp using my referral link and they got a free month of the service and so did I. Whenver someone buys a MacSparky Field Guide with my referral link, they get 15% credit towards their next Field Guide and I get the same. I've got referral links for Backblaze backups that gets you a free month, Google Fi that gets you $20 credit, and you just heard me say that I've got a PIA referral link. Get this, by the time you're hearing this, three people have already signed up for PIA using that referral link!
I said at the beginning of this that you "mostly" get free stuff. The one exception in the list is Eufy. I've been buying their cameras to replace my Wyze cams after Wyze lied to us for three years about a bad security problem, and if you spend $200 on cameras from Eufy, I get $40 and you get nothing but a warm feeling in your heart that you helped me out. I'm buying the inexpensive indoor cameras for around $30 so you'd have to work pretty hard to spend $200 that much, but I figured I'd throw it in just in case.
I know this was a long "pledge break" but since there's something in it for you, I thought you'd allow it.
That's going to wind this up for this week. Did you know you can email me at [email protected] any time you like? If you have a question or a suggestion just send it on over. You can follow me on Twitter at @podfeet. If you want to join the conversation, you can join our Slack community at podfeet.com/slack where you can talk to me and all of the other lovely NosillaCastaways. Remember, everything good starts with podfeet.com. You can support the show at podfeet.com/patreon or with a one-time donation at podfeet.com/paypal.  And if you want to join in the fun of the live show, head on over to podfeet.com/live on Sunday nights at 5pm Pacific Time and join the friendly and enthusiastic NosillaCastaways.   Thanks for listening, and stay subscribed.