Hi, this is Allison Sheridan of the NosillaCast Apple Podcast, hosted at Podfeet.com, a technology geek podcast with an EVER so slight Apple bias. Today is Sunday, July 3, 2022, and this is show number 895.
Well, Steve and my trip to Iceland is drawing very near. I'll be doing the show a week from now on July 10th as usual.
But there will be no live show on the following dates:
Remember, Bart and Allister, really need your help with creating the shows on the 17th and 24th of July. We've got two promised but not delivered recordings, and one actual recording, but we need a lot more. Please dust off your mics, grab a piece of hardware you like, and tell us about it. Or think about a cool iOS tool you haven't heard talked about on the show. Maybe you want to tell me how I'm wrong about hating on the SD card slot and HDMI port on the new Macs. Or maybe how I'm wrong and that CarPlay really is the bee's knees. I'm 100% certain I've said something on the show that you disagree with (I'm looking at you @sTim), make a recording and tell us about it.
I will have little to no Internets on the ship, so you can include me on distribution, but make sure to send them to both:
[email protected] and [email protected]
Thank you in advance from both of them – let's keep the 17-year streak going!
This week I got to be a guest on Bart Busschots's awesome Let's Talk Apple podcast along with Adam Christianson of the MacCast. If you haven't listened before, It's a show that takes a long perspective on the latest month of Mac news. Bart started by updating us on the latest pressures across the globe on Apple about their App Store and how legal regulators in the US and Germany completely misunderstand what Apple and Google do to protect users' privacy.
Bart gave us an update on all of the different unionization efforts at Apple, and we ate our vegetables by talking about the latest legal rulings for Apple. I enjoyed our conversation about the EU's plans to demand that all phones, tablets, and other portable devices must support USB-C charging by the end of 2024 and how curious the landscape could become if a new connector is invented and the effect of this on wireless charging.
The meat of the conversation was the recent announcements at WWDC. Because Let's Talk Apple isn't a "try to get the news scoop first" kind of show, we had the luxury of a few weeks for the news to settle out so we could see which changes Apple is bringing are the most interesting.
Talking to Bart about anything is always fun, and Let's Talk Apple is no exception. Check out LTA 106 for June 2022 in your podcatcher of choice.
Curious Permissions Problem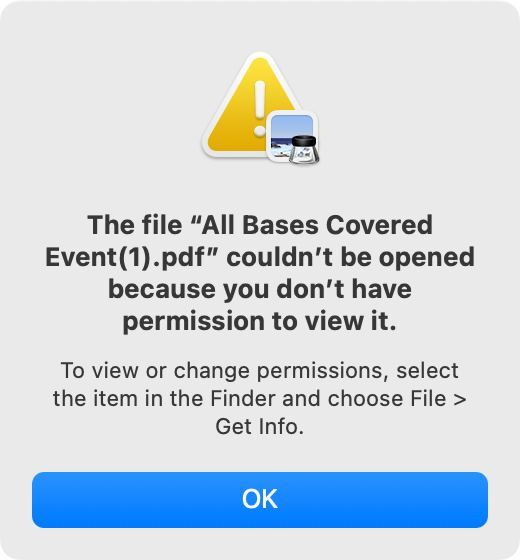 I can add files to my Synology from my MacBook Pro from my allison account, but once I put them there, I cannot open them from the Finder. I get an error saying I don't have permission to open them. This is after using Go → Connect to Server via SMB.
Get Info on the files while they're on the Synology says that I have read/write permissions from the allison account.
I can download them from the web interface and open them.
I can also drag them onto my Mac from the mounted share and then open them.
I can open these same files from my secondary user account (screencastsonline) on the MacBook Pro
I can open these same files from my Mac mini which is logged into the same allison iCloud account and using the shared credentials for the Synology via iCloud keychain.
Steps I tried to resolve the problem:
Saw a suggestion that System Integrity Protection could be involved. I had just recently disabled SIP temporarily to uninstall a recalcitrant audio driver, but I had re-enabled it. As a test, I disabled SIP again but I still couldn't open the files. I reenabled SIP.
Ran Onyx maintenance scripts. Without rebooting (which it should do) it tells me I have to go into Disk Utility in Recovery and repair the disk.
When I run disk first aid in recovery, it says everything is fine.
Rerunning Onyx after this again tells me the disk needs to be repaired.
Reinstalled macOS over the top from recovery
Ed Tobias helped me work on all of these ideas. In the very beginning, he tried to get me to delete my Keychain entry but I refused because I'd worked so hard to fix that darn thing (see podfeet.com/blog/2022/05/keychain-server-broken)
He offered it again as a solution and after a reboot, I was able to recreate and it worked
Still don't understand why the Mac mini could log in with the same entry from iCloud Keychain
Blog Posts
I've noticed lately that most of the people I've been telling you about being awesome Patreon subscribers are people who've been supporting the show for a long time, but have decided to increase their patronage. I don't know if you realize it, but a very small percentage of the listeners and readers provide financial support to cover the costs of doing the shows. If you've been thinking of starting to support the show, now is an excellent time to show the value you get for all the work we do here at the Podfeet Podcasts. Head on over to podfeet.com/patreon and show your support.
That's going to wind this up for this week. Did you know you can email me at [email protected] any time you like? If you have a question or a suggestion just send it on over. You can follow me on Twitter at @podfeet. If you want to join the conversation, you can join our Slack community at podfeet.com/slack where you can talk to me and all of the other lovely NosillaCastaways. Remember, everything good starts with podfeet.com. You can support the show at podfeet.com/patreon or with a one-time donation at podfeet.com/paypal.  And if you want to join in the fun of the live show, head on over to podfeet.com/live on Sunday nights at 5pm Pacific Time and join the friendly and enthusiastic NosillaCastaways.   Thanks for listening, and stay subscribed.