Qi Easel Chargers Were Great
Like most people, Steve and I sprinkle charging options for our iPhones around the house. While Qi charging seems easier than plugging in a Lightning cable, we found that setting a phone down exactly right on a flat charger mat didn't work that well. It was too easy to miss and not realize that you weren't charging.
And then we discovered easel chargers. These are basically a tilted stand to hold your phone and by design, it aligns the coils correctly so you rarely return to an uncharged phone. I used one for nighttime charging and Steve used one at his desk. He likes to have his phone in a position where he can see the screen while he's on his computer, and have it charge at the same time. These easel Qi chargers, like the one he had from Anker, are usually less than $20 and solved the right problem for both of us.
We bought two MagSafe charger pucks right after getting our first iPhone 12 Pros with MagSafe but they didn't get much use. They worked well enough, but having the phone lying down on our desks or bedside tables wasn't quite what we wanted. We wanted to be able to see our phones while they were charging. The easel stands were the clear winners.
The Camera Bump Keeps Getting Bigger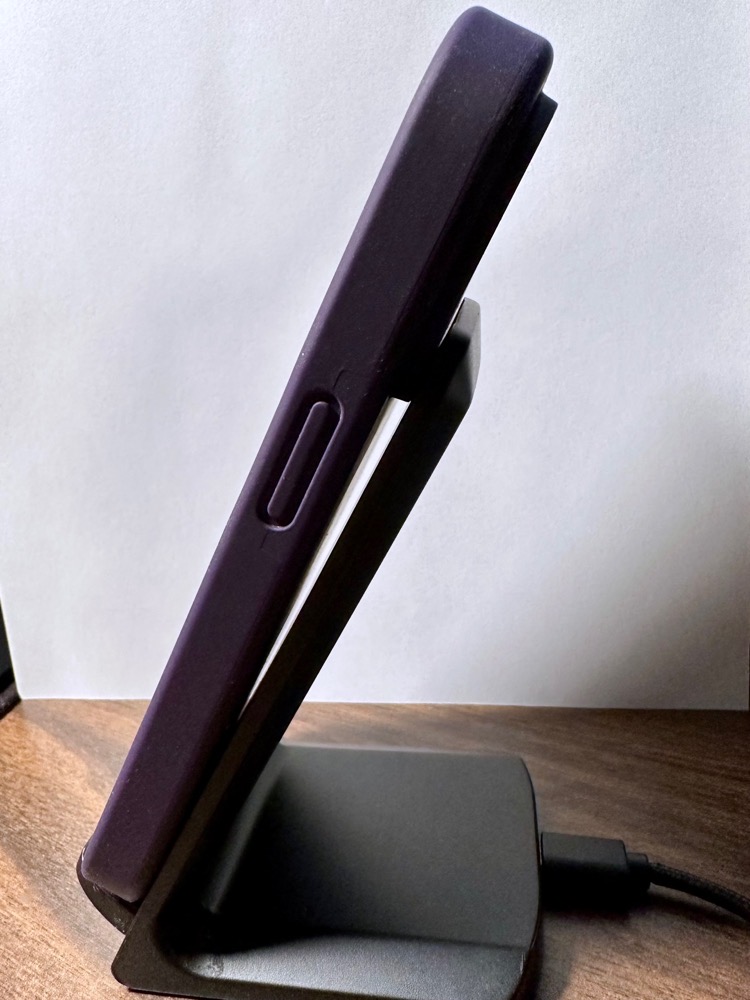 The iPhone 13 Pro had a darn big camera bump, but then the iPhone 14 Pro came along and said, "Hold my beer." A few people have been talking about how the phone doesn't lie flat on a table, but it also doesn't lie flat against an easel charger.
With our phones in our new cases, the camera bump tilts the phone so far away from the easel's back that the coils in the phone and charger can no longer interact, and charging fails to occur. Without a case, the phone is a smidge closer and can charge in the easel but we don't trust ourselves without cases.
Qi charging on its best day isn't the most efficient way to charge. Any air gap at all and you've got a lot of energy loss. Even back when phones were flat without camera bumps, any case would reduce the efficiency of that type of charging.
Time to Move to MagSafe
When we discovered our iPhones 14 Pro wouldn't charge on our easel stands, we decommissioned them and dusted off our MagSafe chargers. At my desk, I don't mind just setting the phone down flat, but Steve really didn't like that solution. He couldn't see his phone while it was charging at his desk.
On his bedside table, Steve has the Belkin MagSafe 3-in-1 Wireless Charger in black. It's beautiful and elegant. It holds your phone and watch suspended a good 3 inches in the air, it has a very heavy base so it doesn't move around when you pull off your phone, and it comes with the MagSafe and Apple Watch charging pucks built in. It also has a spot to charge your AirPods case, but neither of us use AirPods. The Belkin 3-in-1 is very expensive at $150, but it's an elegant solution to the problem. Remember it comes with $70 worth of charging pucks, but it still costs a grip.
I replaced my easel stand and an Apple Watch charging stand with the same 3-in-1 charging stand from Belkin but I bought mine in white. My bedside table is now far less cluttered and there's only one wire to hide.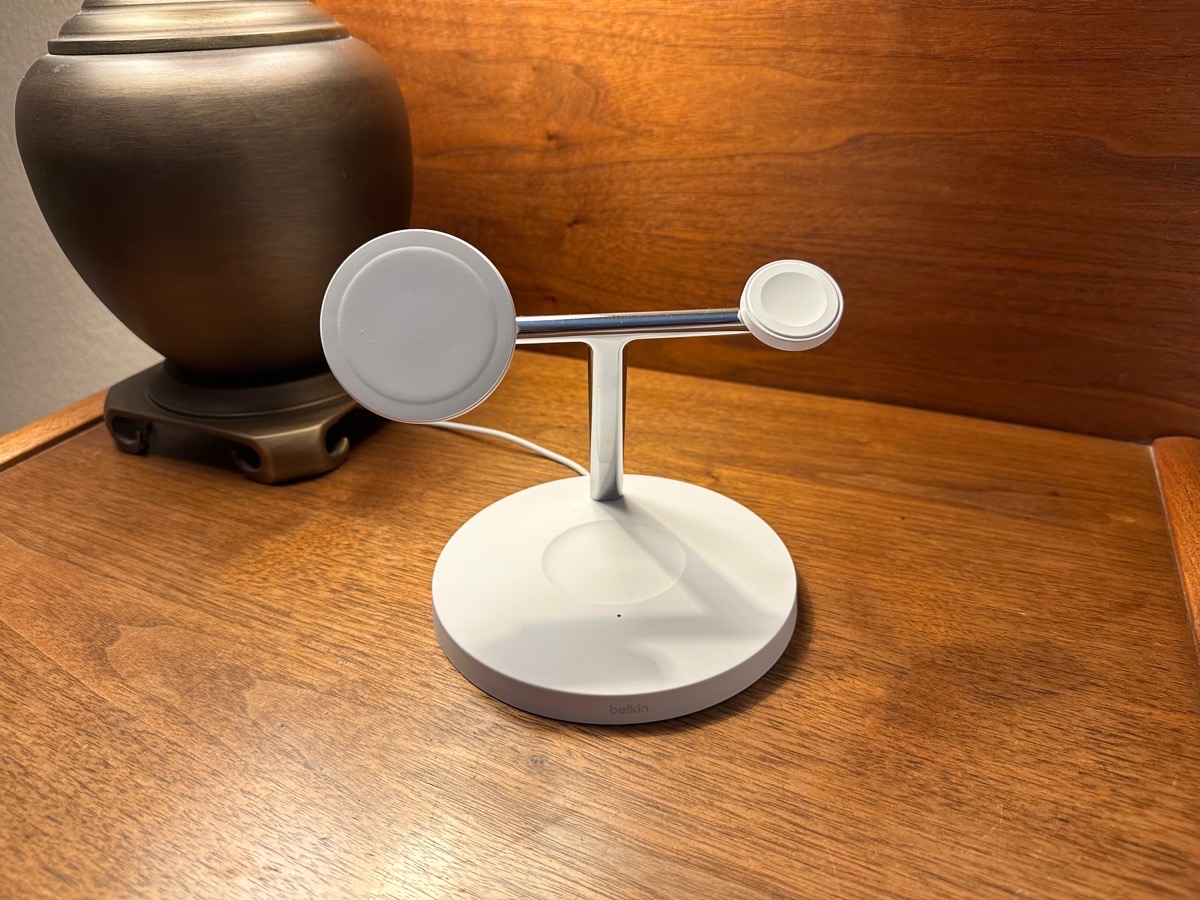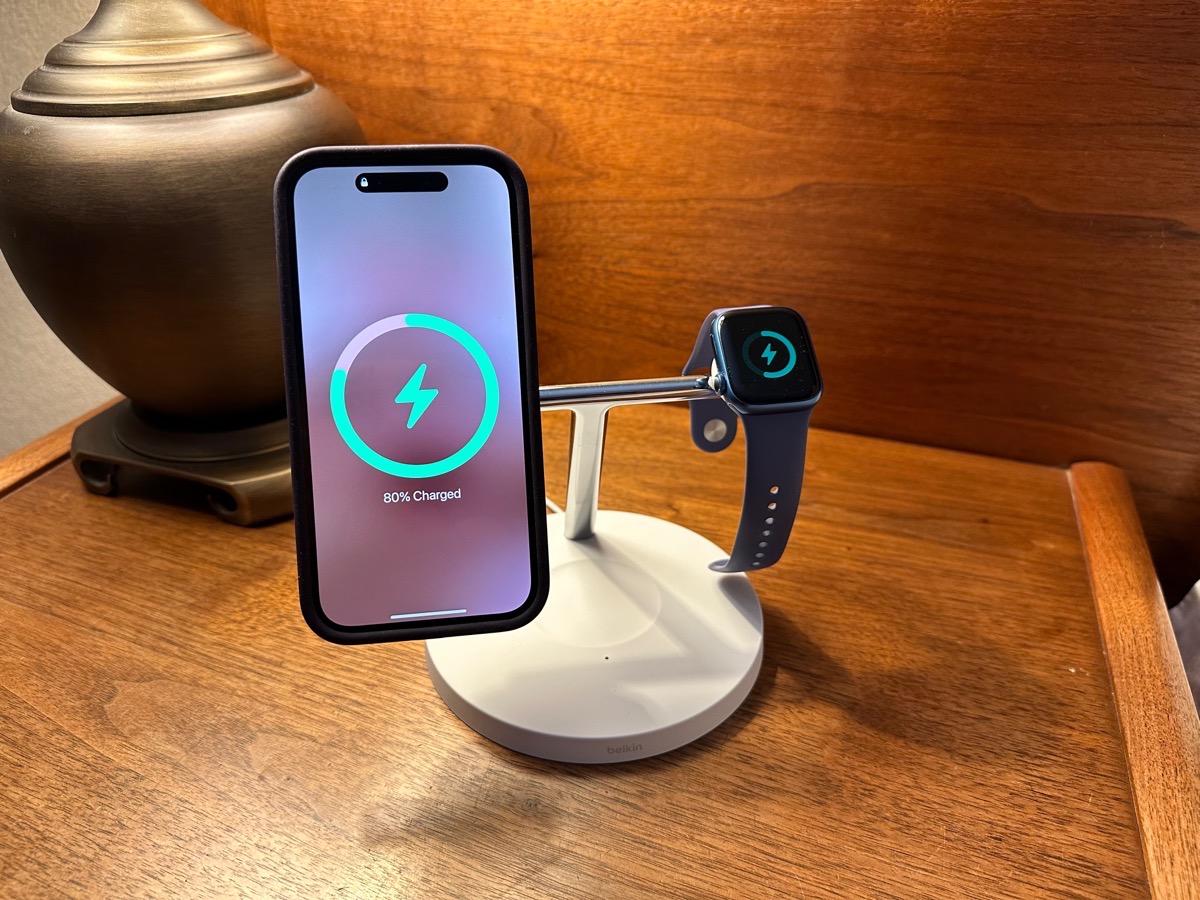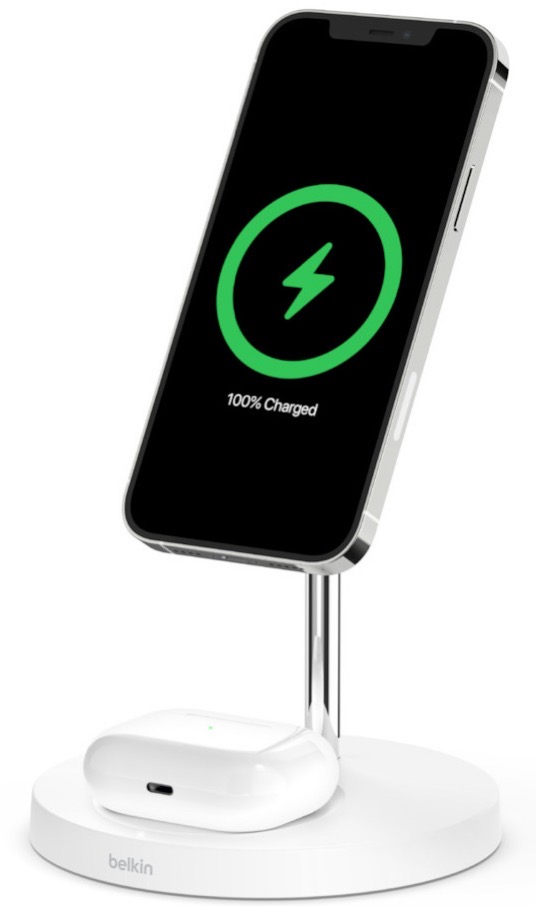 The Belkin 3-in-1 wasn't the right solution for Steve's desk though, because it holds the phone up so high in the air that it would block his displays. He also didn't need to charge his watch at his desk very often so that would have been a waste of money and space.
Belkin also sells a $99 MagSafe 2-in-1 stand that charges an iPhone (again suspended in air) with a spot to charge AirPods on the base. The Boost Charge Pro 2-in-1 MagSafe stand is smaller, so wouldn't block his displays as much as the 3-in-1, but it was still much taller than the old easel stand. He wanted a MagSafe charger that put his phone as low to the desk as possible.
Both of us spent a long time searching for a solution for Steve's desk. This week Steve and I met up with good friend and NosillaCastaway Norbert Frassa for lunch, and as one does, I chose a restaurant as close as possible to an Apple Store. We didn't need anything but we went in there anyway.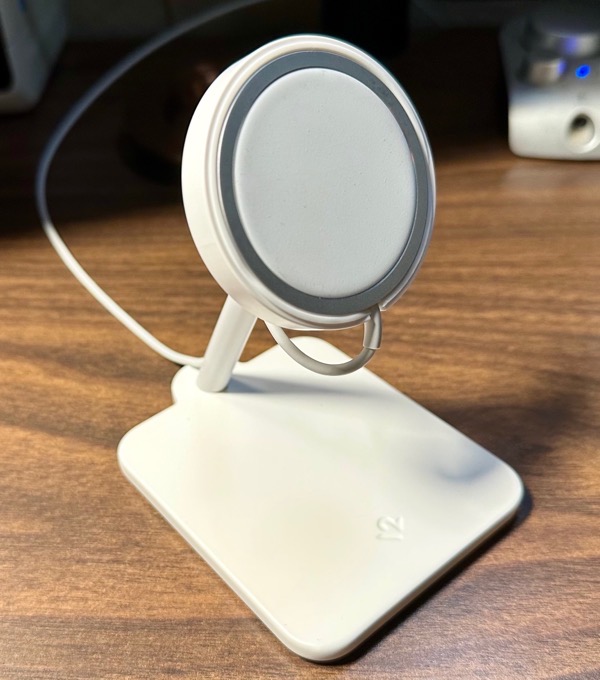 While we were perusing things we didn't need at the Apple Store, we explained to Norbert the problem Steve was trying to solve. Norbert noticed they carried a stand from Twelve South, one of the favored vendors of many Apple fans. The stand is called the Twelve South Forté for MagSafe Charger and it runs $40. That's a lot less than the Belkin solutions, but pay attention to the wording. It does not say, "with" MagSafe Charger, it says, "for" MagSafe Charger. In other words, you have to supply your own.
The MagSafe charger by itself is another $39, so if you don't already own one, you're looking at $80 for this combo, which is not that much less than the $100 Belkin MagSafe charger stand. Luckily, as I mentioned earlier, Steve has a MagSafe charger that was collecting dust. Steve looked at the Forté and decided to buy it. Spoiler; it's perfect for him.
The Twelve South Forté is a very simple white design. It has a small square base, maybe half the size of an iPhone Pro, with a cylindrical post coming up at an angle toward you. There is a circular piece at the top into which you squish your MagSafe charger puck. The charger puck's cable comes out of the bottom edge of the circular part, and then feeds into a channel in the white post at the back to mostly hide the cable.
The design could be improved to more effectively hide the cable; when your phone isn't on the charger, you can see the cable sticking out a bit from the bottom of the circle. Compared to the clean design of Belkin's MagSafe charger stands, it's a little funky but it's not bad at all.
One of the key features of the Forté is that the circular puck area is articulated so you can tilt the angle of the phone to your liking. You can even rotate it to point the screen straight up, though I don't know why you'd want to. Since it's MagSafe, you can put your phone in portrait or landscape position, or even at a diagonal if you're some kind of anarchist.
The most important feature to Steve is that the phone sits very close to the desk, thereby not blocking his screens any more than necessary. He's delighted that he was able to find a good solution with the characteristics he needed, and only spend an extra $40.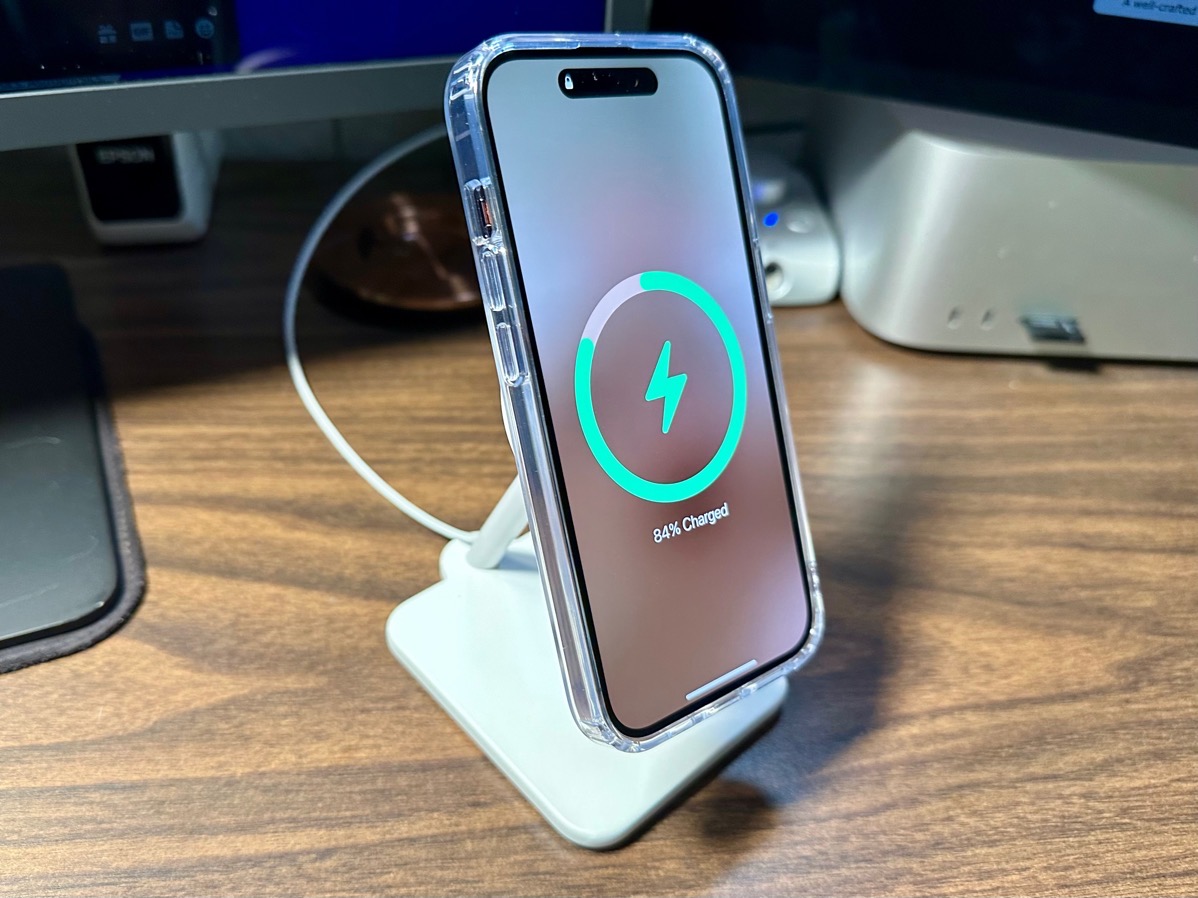 Belkin Has Another Solution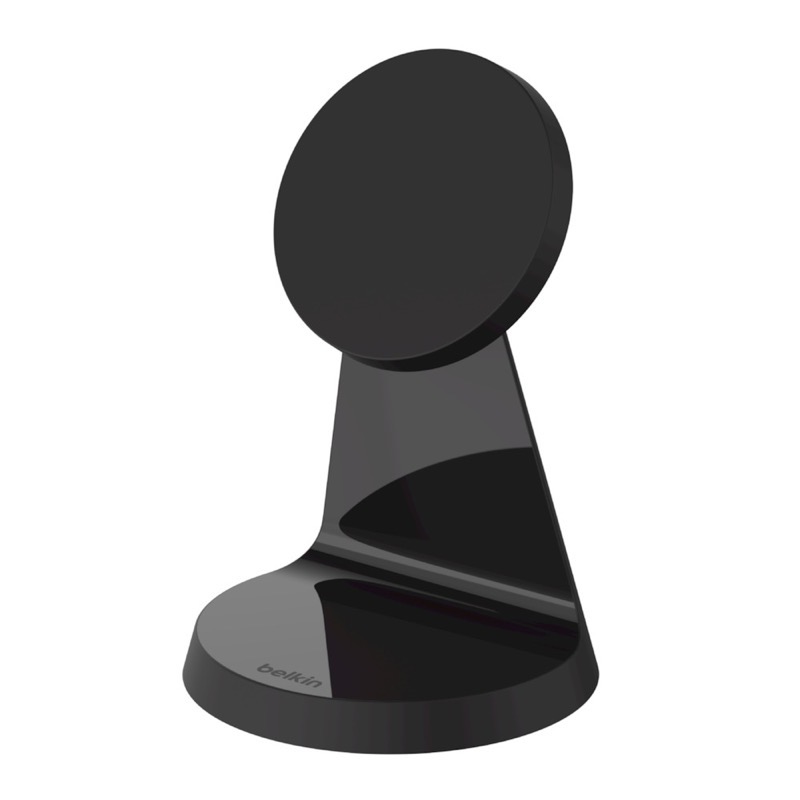 In my earlier searches on Belkin's site, I think I missed another option. After we bought the Twelve South Forté which Steve likes very much, I found that Belkin sells what they call a Boost↑Charge Magnetic Wireless Charger Stand. It holds the phone pretty low and supports both landscape and portrait positions, but isn't articulated like the Forté.
It's not MagSafe, but it's magnetic and they say, "The perfect alignment of MagSafe delivers efficient and secure charging, with easy one-handed placement." The Boost↑Charge products charge at 7.5W, while MagSafe charges at 15W which would charge your phone much more quickly.
The Boost↑Charge Magnetic Wireless Charger Stand is only $25, but that's without a USB-C cable and power supply. If you have your own power supply, that's a great price and they only charge $10 more to buy it from them if you don't. This charging stand comes in black or white.
Solution for Steve's Car
We have one more charging problem to be solved for Steve. His Tesla Model Y came with a pair of built-in Qi charging pads. They're located under the giant screen and are tilted so you can see the phone but they're low enough that it's not very tempting to look at them while you're driving. Since there is a big display with all of the actionable information such as navigation and control of podcasts, you really shouldn't be messing with the phone anyway.
This Qi charging solution has worked great since he got his car last year. But the giant camera bump causes the same problem in Steve's car as it did with the easel stands. The phone is tilted so far away from the surface that his phone no longer will charge on the Qi charging pad.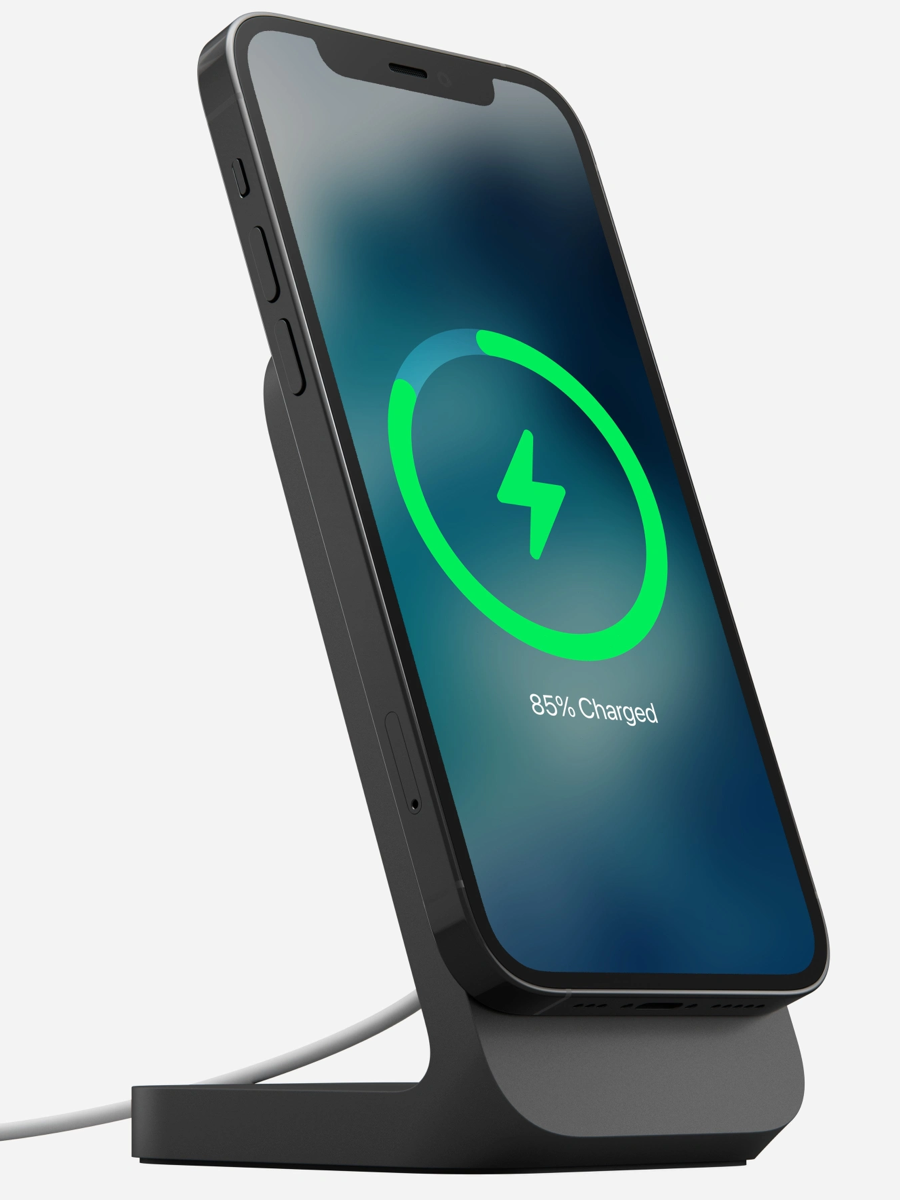 My Tesla Model 3 is a couple of years older than his Model Y, and it didn't come with the Qi charging pads. Steve bought me a third-party solution from Nomad which looks identical to what came with his car. The design of the Nomad must be slightly different because my iPhone 14 Pro even with the giant camera bump can still charge. I haven't done scientific tests, but it appears to be very slow, as that gap is still ginormous so there must be a lot of loss.
I was looking for a link to the Nomad Qi charging solution we bought for my car to put in the show notes, but they don't make it any longer, probably because the cars come with them now. But guess what I DID find? Yet another MagSafe stand. This one is simply called the Nomad MagSafe Mount Stand.
It's simply an angled piece of zinc alloy with a slot to pop in a MagSafe puck. They say they used zinc alloy so it's heavy enough to stay on the desk when pulling your phone off of the MagSafe charger. The Nomad MagSafe Mount Stand will run you $60 and comes in Carbide (black) or Silver. I may buy one of these for me.
Anywho, none of this helps Steve solve his problem of charging in his car. We may have to resort to putting MagSafe charging pucks double-back taped to the Qi charging pads, and then running the cable underneath to the included USB ports.
The bright white pucks would look super bad with our black interiors, so I'm trying to think of a way to cover them with something black that would also hold down the charging puck when we try to pull away our phones. We may have to resort to getting Pat Dengler to 3D print us a solution.
After I wrote this up, Pat came over with her Tesla Model Y and showed Steve how she uses and charges her phone in her car. She told him about a company called MagBak that sells a magnetic case that has a very powerful magnet. They sell a lot of different products that work with the MagBak case, including mounts for all kinds of cars. She bought the MagBak Wireless Charger for Tesla Model 3 | Model Y for $100 and the case for another $55.
The MagBak for Tesla is a MagSafe-compatible mount that you stick to the back of the Tesla display, and it gives you a nice, flush mount to stick your magnetic MagBak encased phone. The MagBak then connects via a cable to the 12V outlet in the armrest. I'm dubious of running wires unseen, but Pat showed us that you absolutely do not see the cable.
While it was pretty nifty, Steve wasn't really up for the whole MagBak system, but he put Pat's MagBak case on his phone and tried it on the Qi charging pad in his Tesla and the phone charged. It's altogether possible that the MagBak case is just thinner than the original one he bought, and that's why it works, but it's a really nice case with a fantastic feel. It's not as sticky as the silicone cases we've had in the past, but it's not as slick as a leather case. It's just right.
I'm sure it's still slow to charge this way, but if he's happy, I'm happy.