One of the great joys of doing this podcast is the friends I've made all over the world. One of the great friends I've made from the podcast is Helma in the Netherlands. She's the mastermind behind the creation of the Taming the Terminal book. She's the one who helps me when I'm stuck programming.
Recently Helma was trying to explain to me in text something cool she got for her new iPhone 14 Pro and I didn't understand what it was. So she sent me one!
The product is from a company called Ringke, and it's a camera protector. When I bought my Kimguard iPhone 14 Pro case, it came with a glass screen protector (which I don't use) and a wee tiny protective glass lens cover.
I chose not to use the glass lens cover because I figured that Apple had gone to a great deal of care to design and manufacture the glass on the cameras, and adding a piece of glass that came free with a $20 iPhone case would most likely degrade the images I would capture with my phone.
The Ringke camera protector isn't a piece of glass that goes over your lenses. It's actually a piece of metal with holes cut out of it for the lenses, which when stuck with already-attached double-backed tape to your phone provides a ledge just slightly taller than your lenses.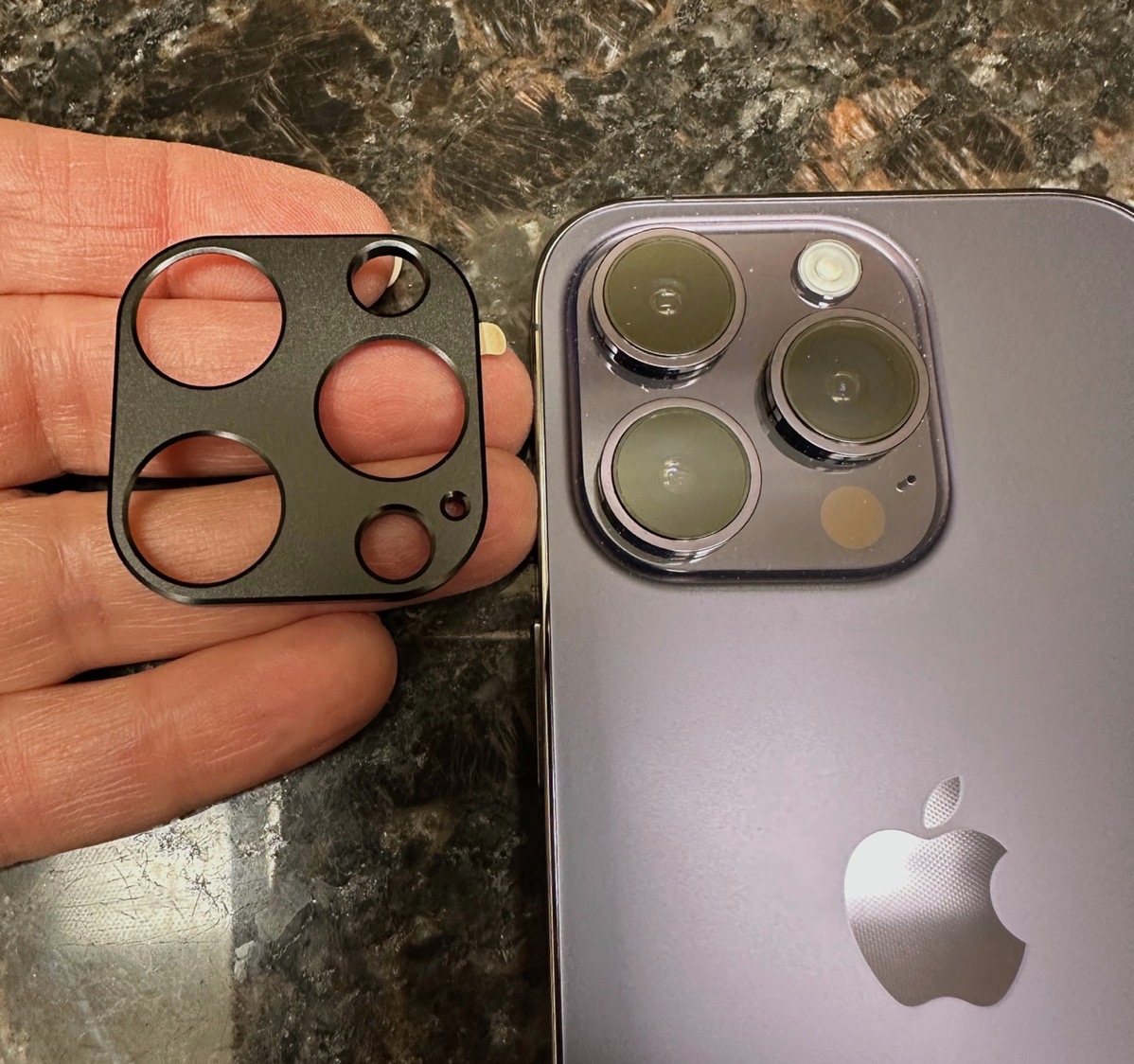 The main purpose of the camera protector is to allow you to set your phone down knowing that the lenses are not hitting the surface. It also looks really cool. The camera protector she got me is a very dark grey aluminum and it looks beautiful on the phone.
I have to say that it seems to accentuate just how big the camera plateau is on the iPhone 14 Pro because it fills in the gaps between the lenses. In reality, it only sticks up a couple of millimeters.
You can buy the Camera Styling Helma sent me for $13 on Amazon.
Ringke doesn't just make protection for the iPhone 14 Pro. They make protection for a wide variety of iPhones, Samsung phones, Apple Watches, Pixel phones, OnePlus and more. They even make protection for foldable phones. I put a link in the shownotes to the Ringke website where they list every device they make a product for and it's a long list.
The main website shows you what they make, but you can't buy from that link, and what they actually sell seems to be a subset of what they make. I'll explain in a moment why I say that. To buy from Ringke I'd suggest starting at www.ringkestore.com, or you can buy from the Ringke store inside Amazon.
I was so enamored with the iPhone camera styling from Ringke that I started poking around on ringke.com to see what else I might need.
My Apple Watch is blue and it's a very pretty color, but it's a tad difficult to find the right watchband to go with that color of blue. A lot of my watch bands which looked great with my unopinionated plain aluminium watches have been gathering dust because they just don't go with that gorgeous blue.
When Apple introduced the stainless steel watch, I drooled over it but when I tried it on in the store, I found it to be way too heavy for my liking. It didn't break my heart that I preferred the aluminum model at close to half the cost. But I still loved the look of the stainless.
In my poking around on the very long list of products from Ringke, I found that they have styling options for the Apple Watch, including stainless steel full-frame styling. The full frame style comes in two mating pieces to cover both the face and back sides of the Apple Watch.
The frame has cutouts for the button and Digital Crown and leaves the face of the watch open. The back piece is designed to still allow you to charge the watch, which would be a silly oversight if it didn't.
I was a little worried that since it's actually stainless steel, it might add a lot of weight to my watch but I checked the specs and the new bezel is thin enough that it doesn't add significant weight.
I hopped over to Amazon and bought the "Stylish Stainless Steel Frame" for my Apple Watch Series 7 41mm Apple Watch for $19. Since the Series 7 and 8 are the same size, it would fit on either model. (Also available on the Ringke Store at https://www.ringkestore.com/products/apple-watch-series-7-41mm-41-01.
When the stainless steel frame arrived, I was originally disappointed. Remember when I said that everything on the Ringke website isn't available on the Ringke Store (or Amazon)? Turns out they don't actually sell the full-frame, two-piece styling. What I had purchased was just the front bezel styling.
My fear was that it would look stupid to have my watch be stainless on the top half and the lower half blue. As it turns out, it's not noticeable at all. From my vantage point, I pretty much only see stainless with a blue Digital Crown. It looks amazing.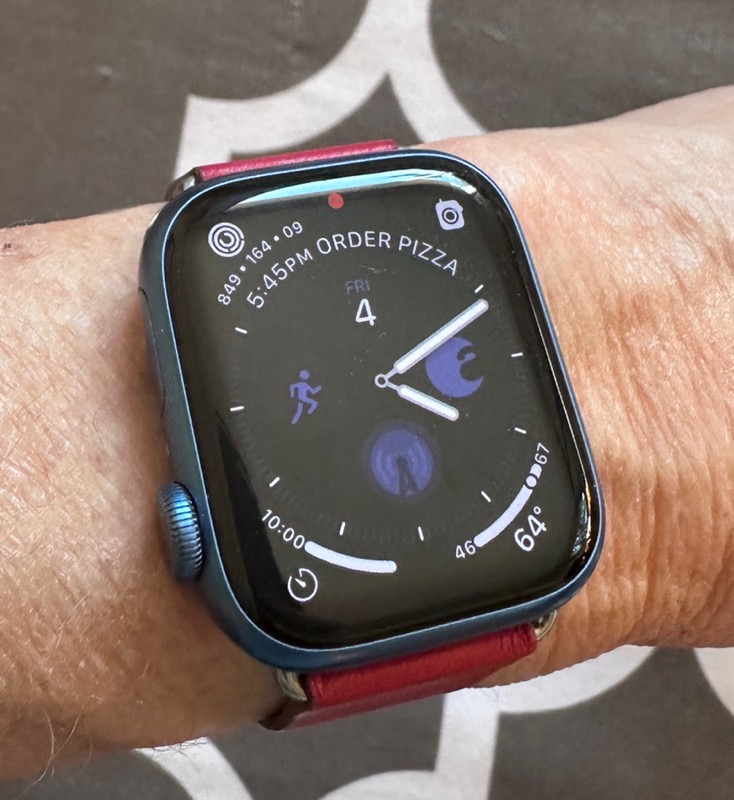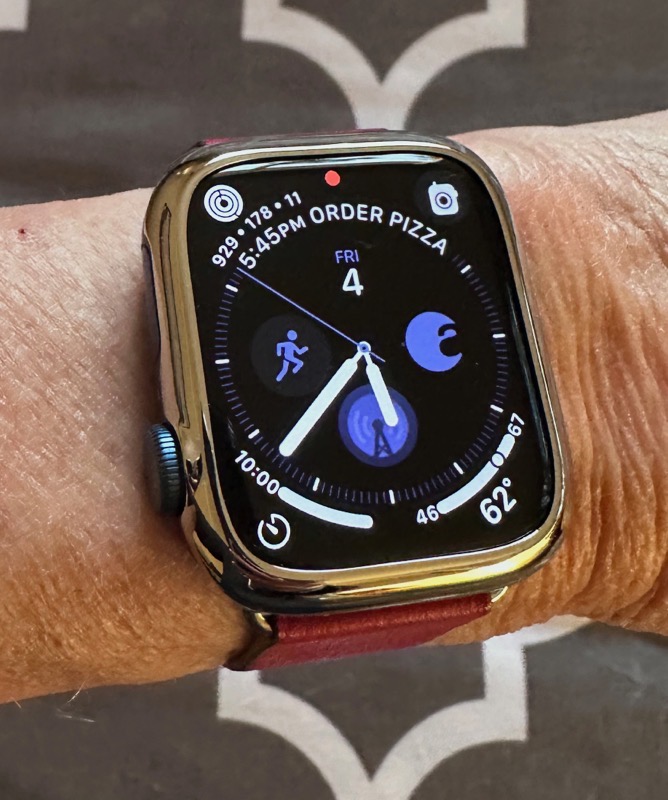 If someone got close enough to me to peer at the side of my watch, they could definitely see that it's not a full stainless watch, but let's face it, it's really all about how it looks to me!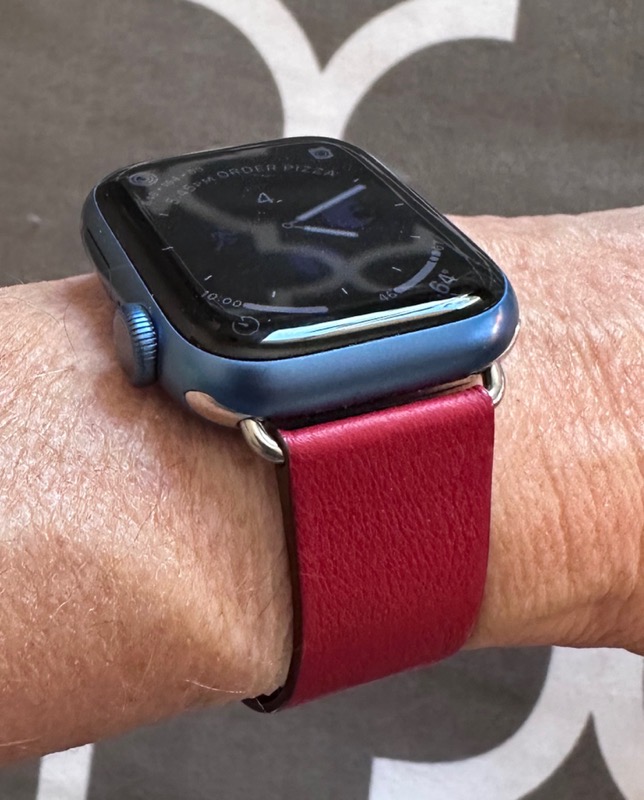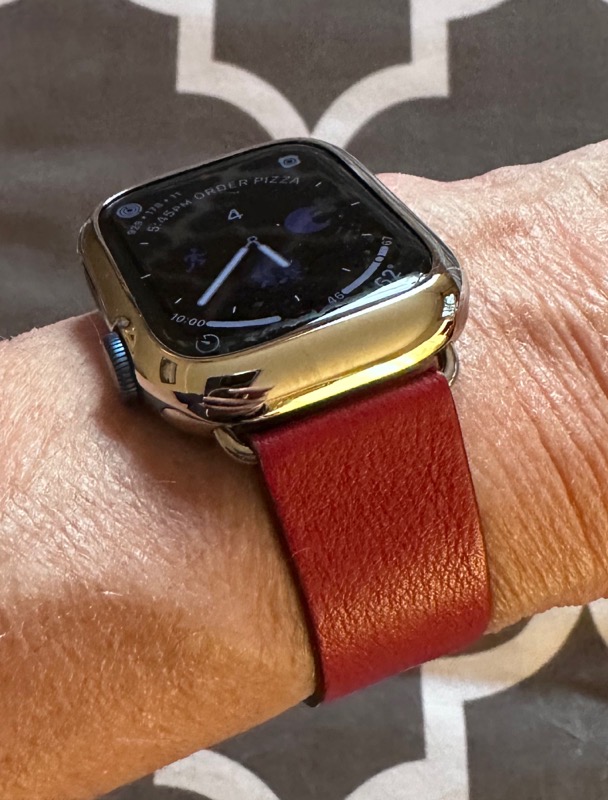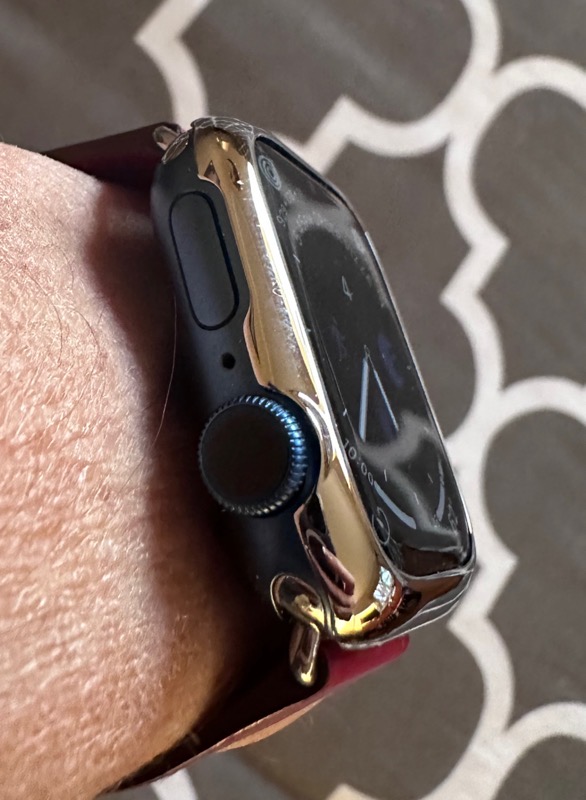 The Ringke front bezel styling attaches to the watch with four tiny pieces of very thin, double-backed tape that are already secured to the bezel. They provided little tabs sticking out so it's easy to peel off the top layer to expose the sticky part. Pop it on the watch and you're done.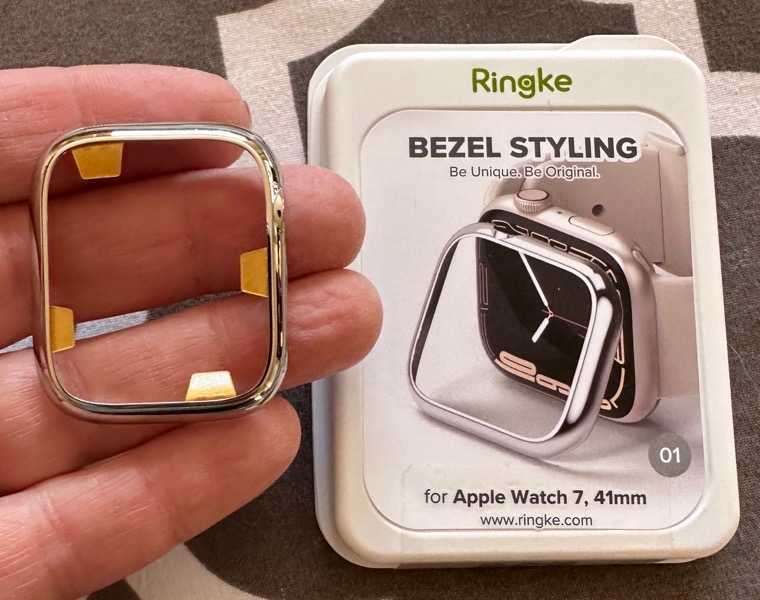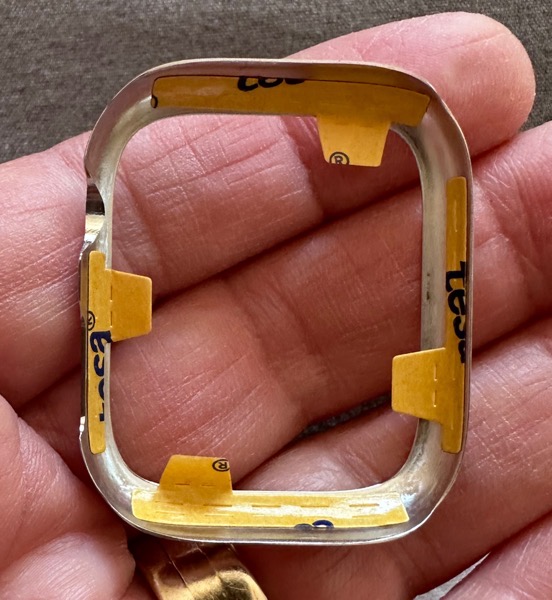 They also included a sheet with four more custom-cut pieces of tape. They said that repeated removal would make it less likely to stick well and I presume that's why you might want a second set of tapes. My plan is to keep it on for a long time if it agrees to stick with me. I've decided to discontinue showering with my watch on just in case that would degrade the stickiness.
Bottom Line
For only $19, I feel like I have a brand-new watch. I can wear all of my bands again, and I have the stainless look I've always envied but without the weight. It doesn't look exactly like a stainless steel watch, but it makes me really happy.
Check out the Ringke Store for fun ideas to make your devices feel new again or to protect them from harm.