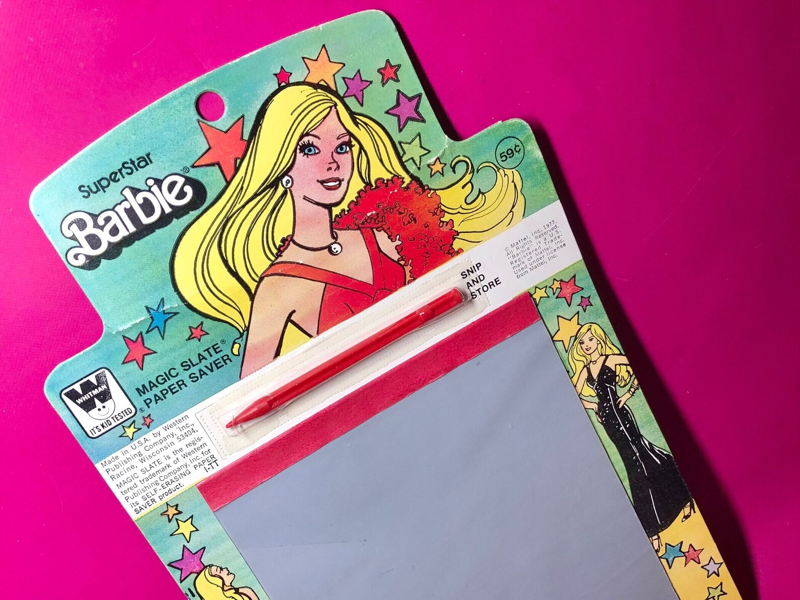 I'd like to tell you about a little tech gadget that won't have you moaning about what I did to your wallet. It's called Boogie Board, and it's not the kind you use to ride ocean waves.
Boogie Board is a whole lineup of thin, rewritable tablets. Think of Boogie Board as a place to just jot down a quick note while on a phone call and then when you take action on that note, you can click a button to clear the screen.
If you're old enough, you may remember the Hasbro Magic Slate Paper Saver, which was a thin film you could write on and then peel it up and it would erase. Boogie Board is kind of the reincarnation of that idea except it doesn't wear out like the Magic Slate.
Jot Writing Tablet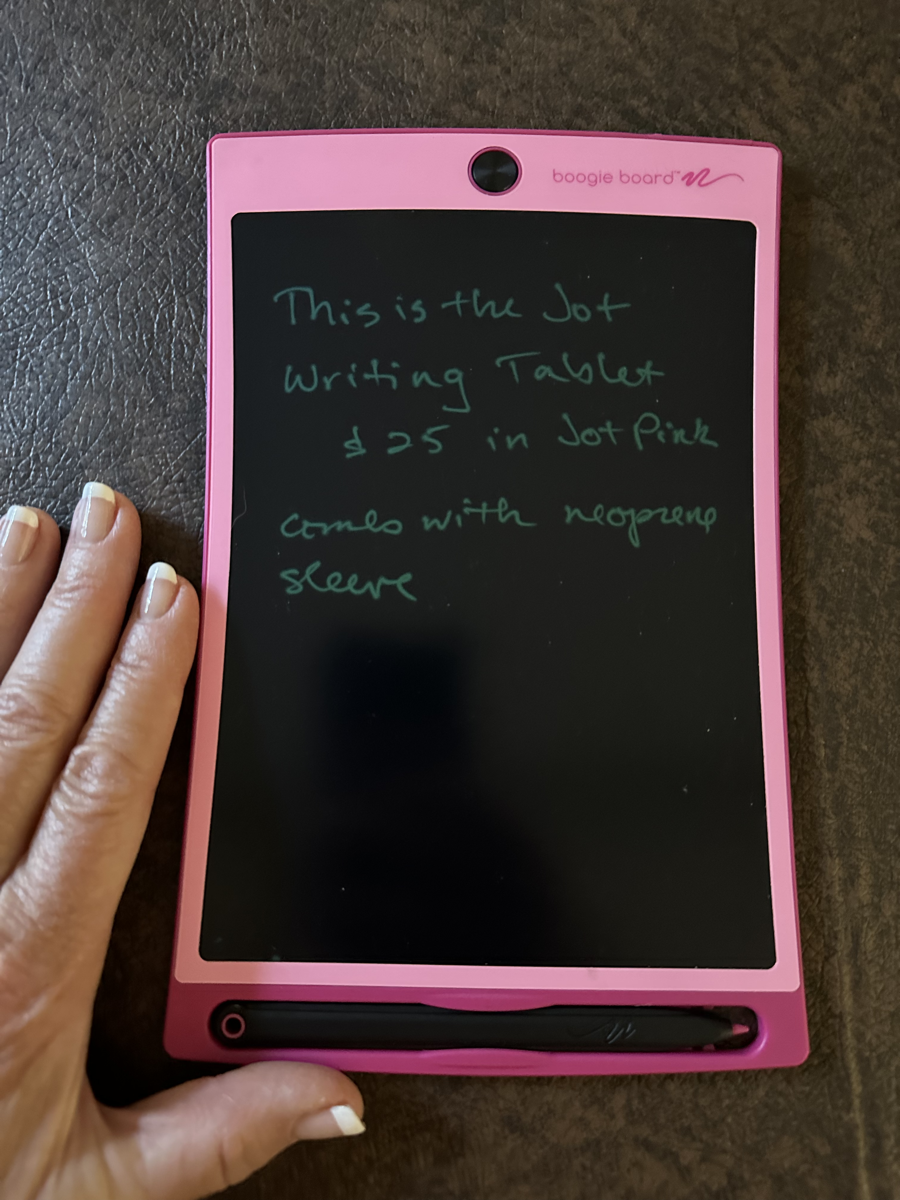 The Boogie Board I have is the Jot Writing Tablet (in Jot Pink of course) for $25 from myboogieboard.com/… It's 8.5" tall, 5.5" wide, and only about 1/8" thick (3mm). It's super lightweight at 3.8oz. It comes small plastic stylus that clips into a little slot below the screen. If you misplace the stylus, you can actually write on any Boogie Board with your fingernail. I also got the neoprene sleeve for the Jot Writing Tablet which is another $10. I like the sleeve because it ensures the stylus stays in place and protects the screen when I carry it around.
When you scribble your notes and drawings on the Jot Boogie Board, the text is a light turquoise color. It's legible but it's not super crisp as you would might expect from a tablet like an iPad. Then again, it's $25 and its whole job is to be erased soon after writing.
The back of the Jot Writing tablet has two magnets so you can stick it to the fridge to write reminders to the family.
After you no longer need the note or drawing you created on a Boogie Board, you simply click the button at the top and your Boogie Board is perfectly clear again. This does mean you need to make sure not to click it until you're sure you're finished with the information. One day I was using it and had it upside down so the button was at the bottom and I accidentally clicked the erase button with my palm. I won't make that mistake again (I hope).
Blackboard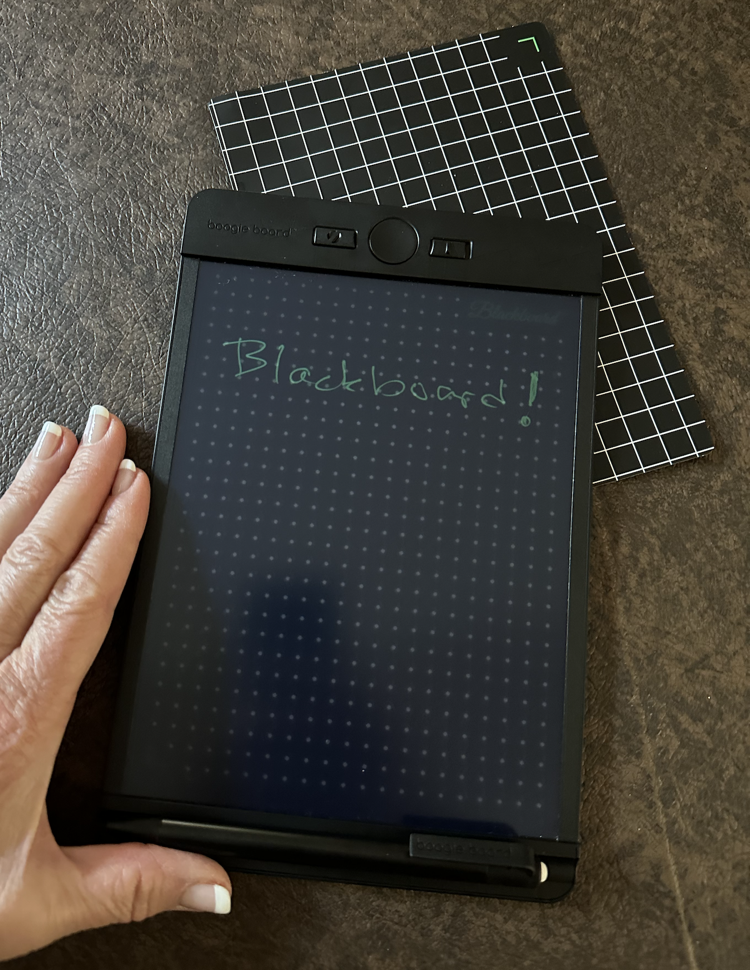 The one thing I wish Boogie Boards had was the ability to erase just part of what I've written. The Blackboard line of Boogie Boards does, in theory, allow you to erase part of the screen.
I bought the Note-size version of Boogie Board's Blackboard™ Smart Scan Reusable Notebook which runs $30. It's slightly larger with a 5.5"x 7.25" screen and sports a heftier stylus with an eraser. The stylus sticks to the Blackboard magnetically. That sounds like a good thing, but I often pick up the Blackboard only to find the stylus has gotten knocked off. I don't lose track of the stylus on the Jot nearly as often since it clicks into a little slot.
I was disappointed in the Blackboard's erasure capabilities. It has a rather involved calibration process where you write a list of numbers down the screen and click two buttons, erasing one number each time you click the buttons. When you start, the eraser just smudges over the number. Each time you click the two buttons, the text gets slightly dimmer which also makes the smudging dimmer. You're instructed to keep clicking and testing erasure until you get down to an acceptable balance of dimness of your text and lack of smudginess from erasing. In my experiments, I never found an acceptable balance. I want the displayed writing to remain bright and the eraser to completely erase what I've written.
I worked with customer support and a lovely gentleman named Chris helped to make sure I was following the process correctly. When he determined I was following the steps but I wasn't happy with the results, he offered to send me a different Boogie Board to replace the Blackboard, and didn't make me send the Blackboard back. That's how I ended up with the Jot which I find quite pleasing.
But here's the interesting thing – there's something I really like about the Blackboard that has led me to use it pretty often in spite of not being able to erase.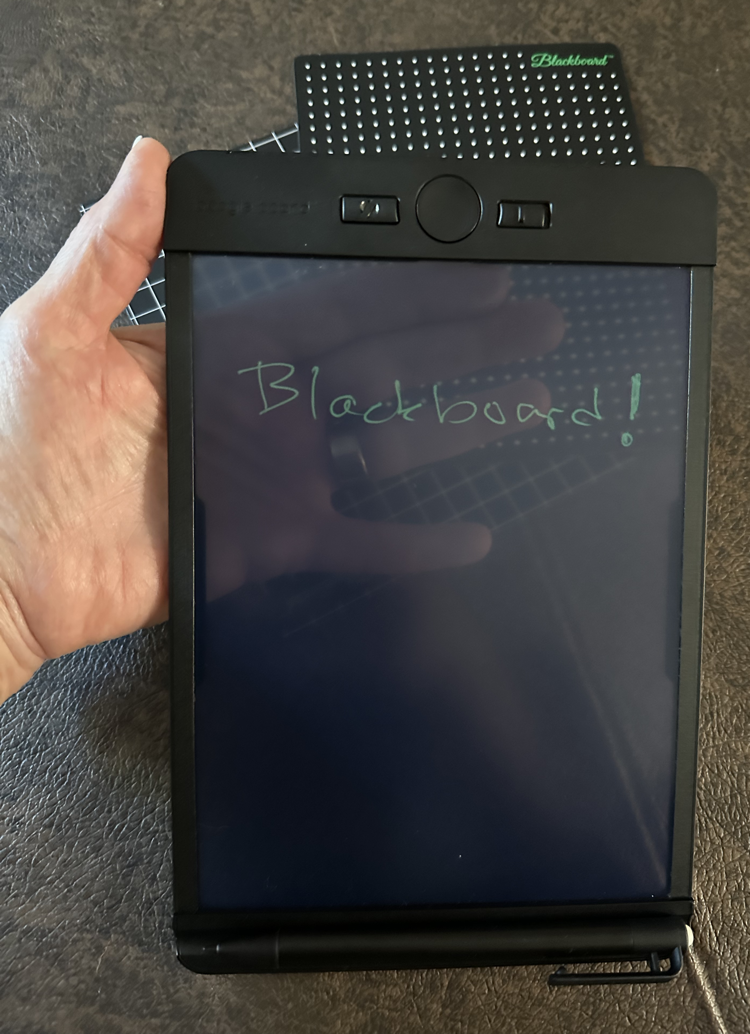 The Blackboard's display is actually semi-transparent, unlike the fully opaque display of the Jot. On the back of the Blackboard, you can slide in different templates to change the background. It comes with two pieces of stiff plastic-coated paper. One has a grid of dots on a black background, and the flip side is solid black. The second has white gridlines on black, and on the flip side, it has white lines on black.
With all of these options, the Blackboard Boogie Board has become our tool of choice to use when playing card games. We've got a new game from Steve's mom called Ouisi in which you lay out a series of cards with pictures on them in a 5 x 5 grid. As the dealer, you choose 5 cards that you're trying to get the other players to guess by saying just one word. You have to keep track of which 5 cards you chose (which is harder than you would think.)
We use the Blackboard with its grid background to mark off the cards for each round. It's easily cleared with the click of the button as the dealer position rotates amongst the players.
I know that seems like a very specialized use case, but it's perfect for the job. We even brought the Blackboard with us on vacation to wine country recently because it was so much easier than finding scrap paper and a pencil. I lost the stylus in the back of Steve's car for a day or so (black pencil in a black car) because the magnet isn't very strong. We used my Apple Pencil on the Blackboard during the trip until I discovered the stylus in the trunk. Luckily the Apple Pencil hadn't fallen off my iPad like it usually does when traveling too.
Because the Blackboard is translucent, the writing on it isn't quite as bright as the Jot, but those changeable templates give it value for me. I guess I should confess to Chris that I'm using both of the Boogie Boards!
Boogie Boards for Kids
Before I ever bought a Boogie Board for myself, I bought two of them for two of my grandkids. Forbes was 6 at the time, so I bought him the Jot™ Kids Writing Tablet for $25. It's very similar to my Jot Tablet, but it comes with a plastic protective cover which seems like a good idea with kids. The only downside is that the Jot Kids only came in blue or orange, and I know he'd prefer my hot pink version.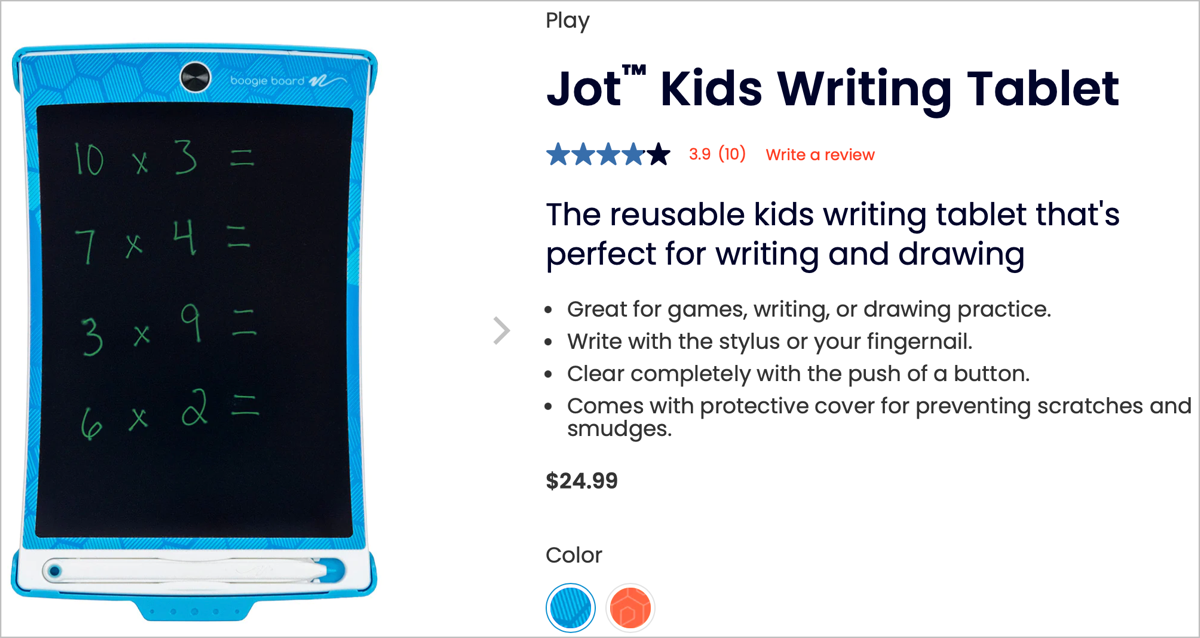 Siena was barely 2 so I bought her the Scribble n' Play® Kids Drawing Tablet for $30. The Scribble n' Play is very different from the other Boogie Boards. Attached at the top and bottom are four thick styluses for drawing different patterns on the screen. When you drag these styluses across the screen, instead of leaving a single color mark, they draw a rainbow pattern. It's great fun for the wee ones to create unique, colorful drawings every time.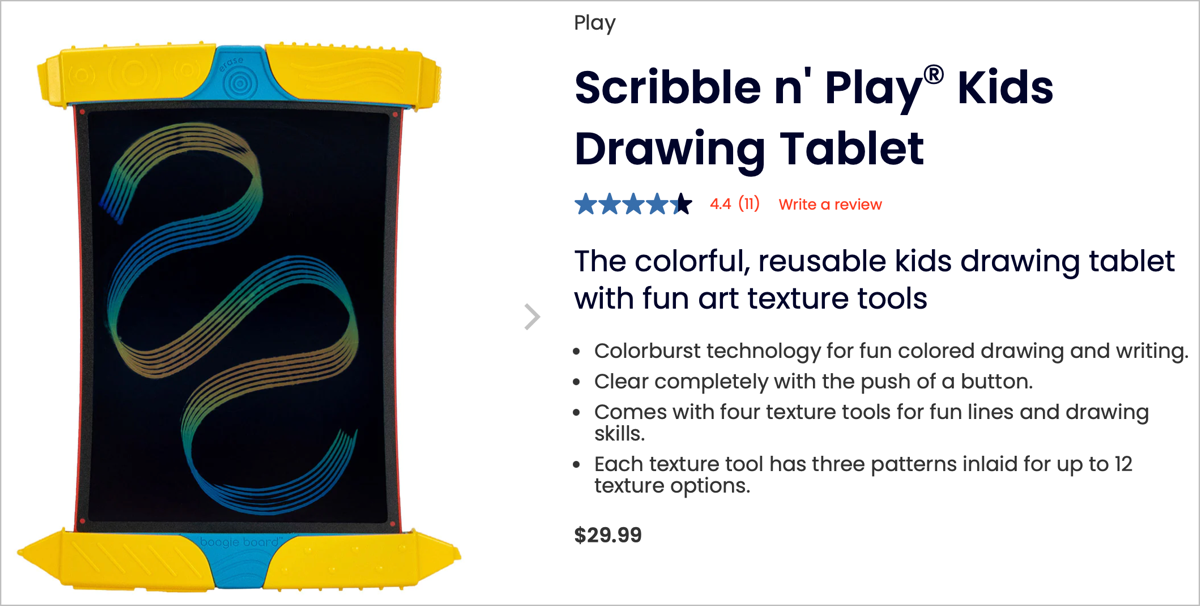 With both kids, I was amazed at how quickly and happily they erased their masterpieces. I feel a certain attachment to anything I've created, but kids don't seem to have any regrets when they gleefully press the button and start over. It seems to be the best feature of the Boogie Board to them.
Boogie Board also sell accident protection for their devices, and at $5.50 for 2 years, I decided to buy it for the kids' Boogie Boards. So far in more than a year of use, they haven't broken them so I haven't had to exercise the warranty.
If you're a parent of small children and you want to keep them entertained while in a restaurant, but you're resisting the temptation to hand them a phone and watch them turn into Zombies, you might find the Boogie Boards for kids to do the trick. They're a small and light addition to the diaper bag when going out. I know my kids love having these for their children.
You may be wondering what powers the Boogie Board line of tablets. They have a thin, replaceable battery inside a nearly hidden little door. I only know that because I went looking for it, or I'd never have noticed it.
Even More Options
I said at the beginning that Boogie Board has a vast selection of tablets and I wasn't kidding. I've described Boogie Boards that are more for casual use, but they also sell them for work environments. They sell a professional version of the Blackboard for $140 that uses a "Smart Pen" that allows you to transfer your notes to your Bluetooth-connected devices.
They sell tablets for pretty much every need in between.
They even sell the technology on what I would call reusable sticky notes. They call them VersaNotes™ and they're small rounded squares of the same thin-film material as the tablets but in different colors. Each has a tiny button in the corner so you can erase the note, and behind that button is a magnet so you can put these on a refrigerator, file cabinet, or magnetic whiteboard.
The 4"x4" starter pack comes with 4 different colored VersaNotes™ for $25 and comes with a stylus. You can buy expansion packs of 4 more without the stylus for $17. You can also get VersaNotes in 4"x6" size for a little bit more money. I haven't tried them myself but they look pretty nifty.
Bottom Line
Boogie Board have so many more options than I've even described here, I highly encourage you to go to myboogieboard.com and check out all of the kid and grownup versions of this useful technology.
The best way I can describe how delightful Boogie Boards are is via this anecdote:
We had our friends Diane and Bill over recently and we played the game I described earlier. When I showed them the Boogie Board to do the scoring, Diane's reaction was, "Why have you never told me about Boogie Boards before now???"