A few months ago, Sandy Foster gave us a review of the Anker Magnetic Phone Grip. This device sticks to a MagSafe phone and gives you a little ring to slip your finger through to hold the phone securely in your hand. Think Pop Socket but with a ring instead of a post sticking up. Sandy bought the lilac one, because, why not?
I was intrigued by this and bought one for myself, and after just a couple of days of use, I found that I truly missed it if I forgot to stick it on in the morning after charging my phone. My phone simply doesn't feel secure in my hand without it now. I've been using it ever since Sandy recommended it.
Let's switch gears for a moment and I'll come back to why I mentioned the Anker phone grip.
Steve and I often record the live show while visiting our daughter Lindsay and her family. We're constantly trying to optimize our setup so that the visual and audio experience is as good as possible for the live viewers and the normal podcast listeners.
As you can imagine, we drag along a fair bit of equipment to pull this off. We've both got laptops and microphones and mic interfaces, and cables galore. We used to carry along our Logitech c920 cameras on travel, but the cameras in the more recent MacBook Pros are pretty decent so we took them off the packing list.
Decent video was fine for a while, but when Continuity Camera came out – the feature that lets you use the fantastic camera in your iPhone as your video source – that sounded like something we would like to use.
When I first tested out Continuity Camera, I found it to be pretty unreliable, even while wired via Lightning. In my more recent tests, it seems to be much more predictable.
In order to use Continuity Camera, you need to have some sort of mount to hold up the phone at a good height to capture your beautiful face. On our most recent trip to see the kids, we used Goby tripod stands to hold up the iPhones. The cameras worked really well and we were able to place the cameras where we wanted them, but it was one more thing on the overly crowded desk space and one more piece of rather large gear we had to carry along.
Goby tripods have almost infinitely flexible legs that allow you to wrap them around tree limbs or on uneven rock surfaces when hiking. That flexibility is a disadvantage when you just want something to stand on a flat desk. It caused a lot of faffing about trying to get the phones horizontally level for recording.
Most people use a mount to attach their phones to their displays. If you search for "Continuity Camera mount" on Amazon, you'll find a plethora of options to choose from. The ones most people like have a simple lip to hang over a laptop display and then have a magnet on the other side for the MagSafe connector to hold the phone with the high-resolution back camera facing you. If you don't have a MagSafe iPhone, there are options that let you just rest the phone in a little tray behind the screen.
I was perusing these many options on Amazon when I noticed the iPhone Mount with MagSafe for Mac Notebooks by Belkin for $30 (also available directly from Belkin at belkin.com/…. That's about double the cost of most of the other MagSafe mounts but this one serves a double purpose.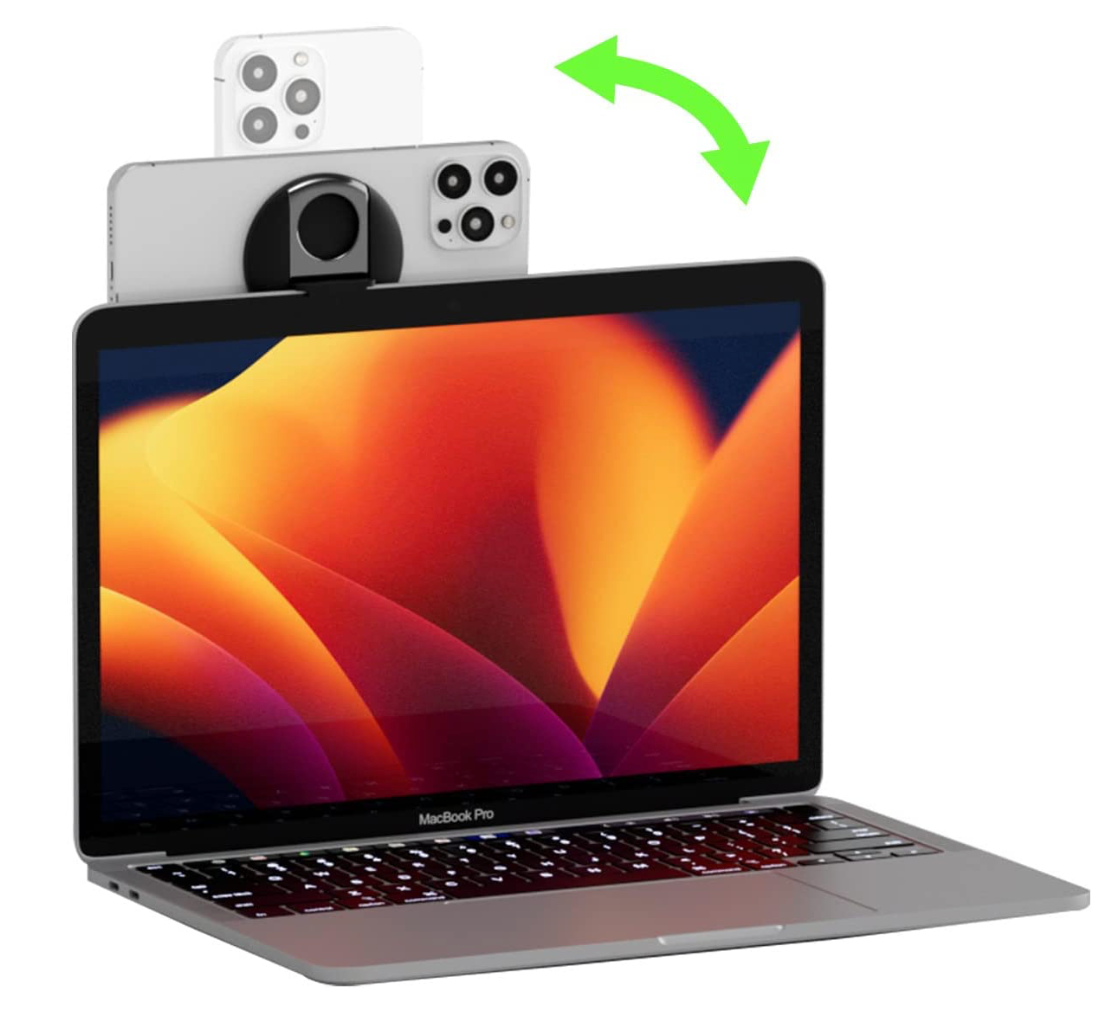 The Belkin MagSafe mount sticks to the back of your phone as expected. It has a little shelf thing that pops out of the circle to let the mount rest on the top of your laptop screen so the good camera is facing you. It's made of that nice rubberized material that's really soft to the touch.
Additionally, it has a ring that rotates out, just like Sandy's Anker phone grip. With this one device, I get a Continuity Camera mount and a phone grip all in one device.
Which is Better?
I still like the Anker device, so to help you decide which one you might like, let's do a trade study.
The ring that you slip your finger into on the Anker is a nice smooth surface so it feels really nice. The Belkin is a bit sharper-edged – not uncomfortable at all but doesn't make you think, "ooh, that's smooth."
I carry my phone on top of my laptop when I move rooms in my house, and I noticed that the Anker feels like the metal would scratch the surface of the laptop, so I have to flip the phone over so the rubber case I use is touching the laptop. On the Belkin, the rubber sticks up higher than the ring so the metal never hits anything. I've noticed that the little metal piece that says Anker on it is getting scratched up so I know it's been hitting things.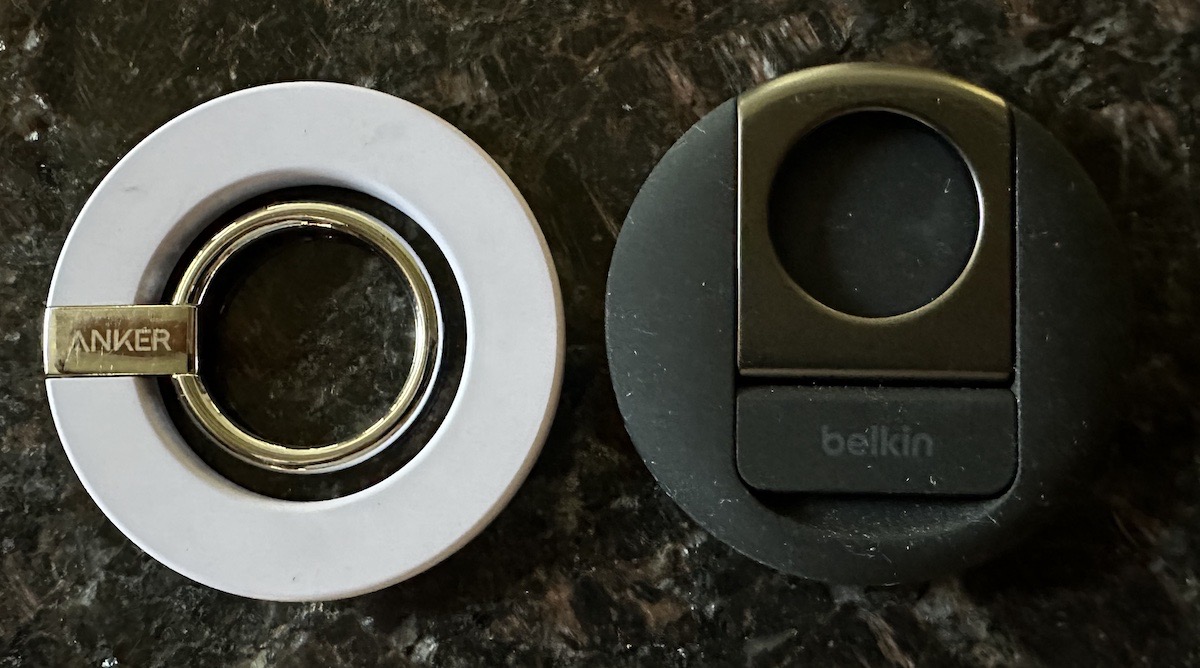 I have long fingernails, but it's still a little bit of a challenge to get my nail under the ring to flip it out on the Anker. I asked Steve to do it, and he simply couldn't. He pulled it off, flipped the ring out, and then popped it back on. The Belkin's ring flips out from the edge of the circle, so you can much more easily pry it up than the Anker.
I've mentioned the nice soft rubber on the Belkin – but it's a lint magnet! I find myself rubbing it to remove lint pretty often. The Anker is a small, flatter plastic ring and it always looks pretty in all its lilac glory.
The Anker weighs 1 oz even, while the Belkin weighs 1.3 oz. That's still not much, but it is 30% heavier than the Anker. They're the same diameter and about the same thickness.
Both the Anker and the Belkin also allow you to set your iPhone up at an angle which is nice for watching a video or even reading something when your hands are busy. I find I use this feature on both of them all the time. Since both are circular, you can rotate them to watch something in either portrait or landscape mode. I have a slight preference for the Belkin because it can hold the phone up at a higher angle.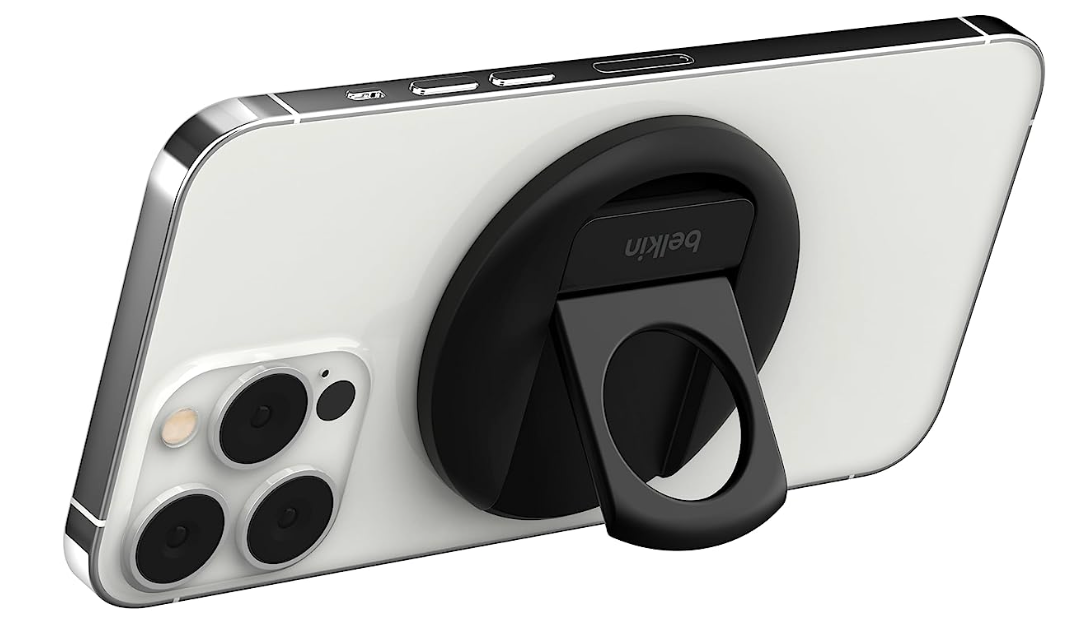 The Anker is half the cost at $16, vs. $30 for the Belkin, but if you need or want a mount for using Continuity Camera, you get two devices in one.
But the Anker comes in lilac but on the Belkin site, they only have boring black available. They claim a white one is an option but it only says "Notify me when available." However, if you buy through Amazon you can get it in white and it's only $26. I just bought myself the white one and I'll give Steve the black Belkin. I should mention that not only does the Anker come in lilac, but it also comes in boring black, white, or a lovely baby blue.
Whichever one you choose, if you're looking for a way to securely hold your iPhone, I think you'll be happy.