Hi, this is Allison Sheridan of the NosillaCast Apple Podcast, hosted at Podfeet.com, a technology geek podcast with an EVER so slight Apple bias. Today is Sunday, October 1, 2023, and this is show number 960.
We met Steven Goetz!
If you've been listening to the NosillaCast for a long time, or even a short time, you'll have heard me mention Steven Goetz many many times. We became friends through the podcast but I don't actually remember how long ago that was. I'm thinking it's at least 10 years ago, but maybe longer.
Over the years I've leaned on him for about a zillion tech questions. I can get him to research just about anything for me. He's got a particular affinity for photography questions, but it also extends to things as complex as setting up a Synology. We have great fun together and we chat at least three times a day through Telegram.
You might be wondering why I'm telling you all of this. Well, it's because last Friday, we got to meet Steven in person! Steve, our daughter Lindsay, and I all traveled to upstate New York to a wedding. I realized that it was 2 hours from Niagra Falls, and Steven lives 2 hours from Niagra Falls up in Canada. We started plotting whether we could pull off a meetup months ago. The ironic thing is that Lindsay and her husband Nolan were in Toronto a few years ago, and Steven drove out to meet them there, so Lindsay actually met Steven before I did!
We had a great time even though we only got to spend a few hours together. I keep saying I never expected what I would gain from doing the podcast, and my friendship with Steven is one of the most precious and unexpected of all.
I put a couple of photos into the shownotes in case you want to see proof!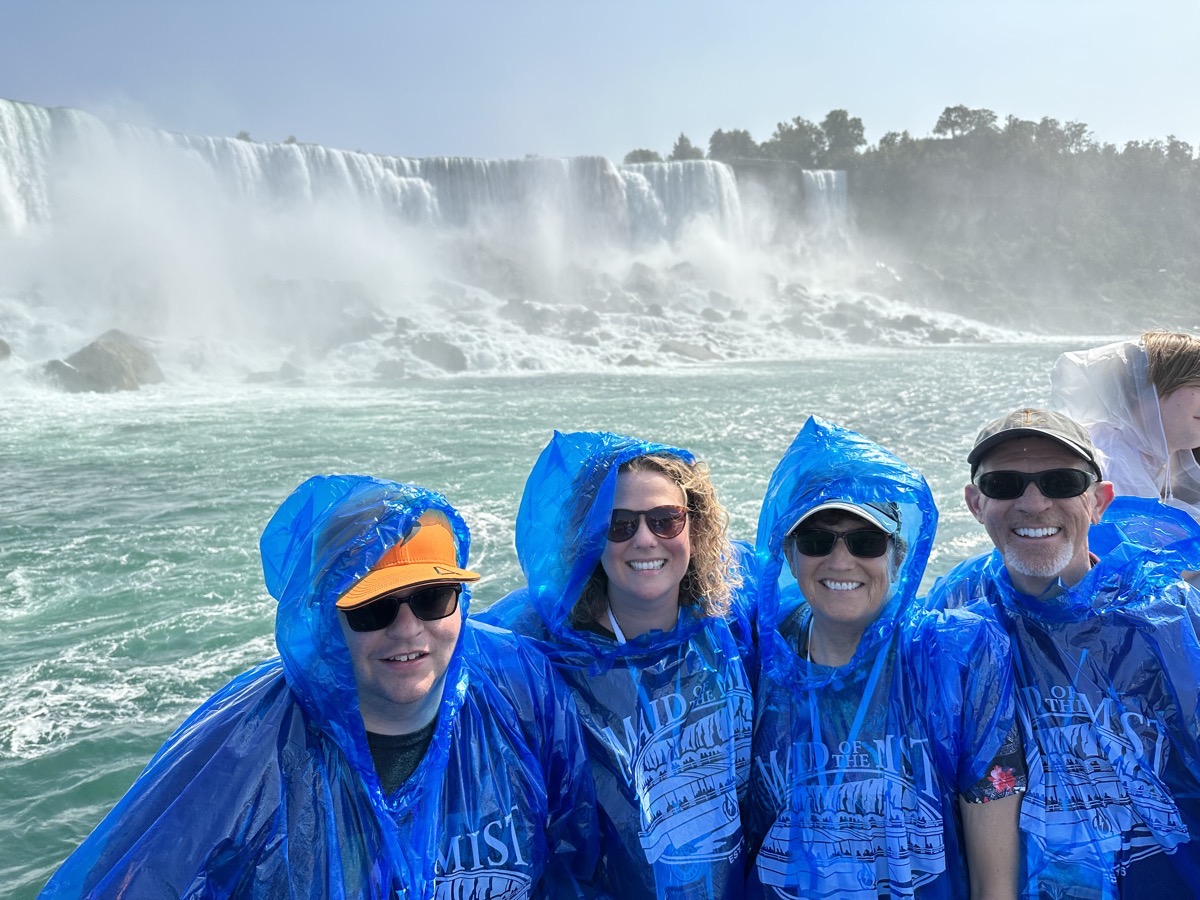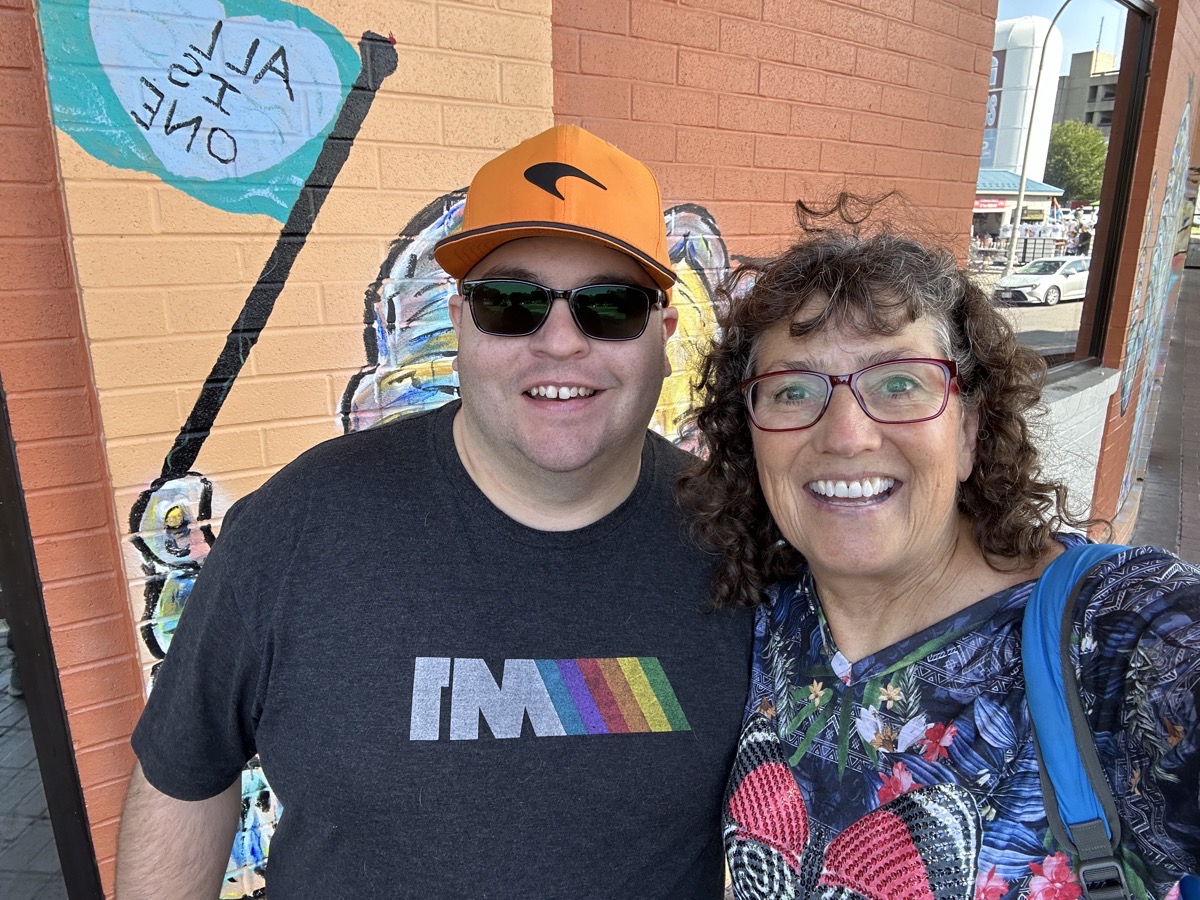 This week I had the great pleasure of being a guest on Tom Merritt's show called "A Word with Tom Merritt". It's an interesting show – he and the guest choose a single word to have a conversation about. There's no structure to speak of and it's great fun because Tom is just great fun to talk to. We chose the word "demo" for our conversation and I'll leave it to you to find out where we went with it.
I put a direct link to this episode in the shownotes, but I highly recommend you subscribe to A Word with Tom Merritt in your podcatcher of choice.
I just noticed that he also published an "extra" episode of A Word that's audio that landed on the cutting room floor in the official episode. Maybe check out the link in the shownotes to that episode too.
Also this week I got to play with Mikah Sargent and Dan Moren on Clockwise again, this time joined by the awesome Jeremy Burge. As always the four panelists bring four topics to the group and this time we talked about:
Our Favorite (or Least-Favorite) macOS Sonoma Features
Our Harrowing AppleCare Stories (this was my topic and you'll hear why)
Whether We Use Smart Phone Cases
Did We Upgrade to iPhone 15?
Jeremy is hilarious and I adore Dan and Mikah so it's an awful lot of fun. Check out #522: Take That, Jason Snell! in your podcatcher of choice.
Now that I'm done plugging my own appearances, I want to also plug a fantastic episode of the Kilowatt Podcast with Bodie Grimm. Bart joined Bodie for part 3 of his "Super Awesome EV Journey". Bart is a Tesla Model 3 driver and will be replacing it early next year. He's gone on a quest to find a car that's at least as good as the Model 3 and yet not under the capricious control of Elon Musk. This episode is part 3 of his journey and it looks like he may very well have found his next car. You can find this episode at the link in the shownotes, or better yet just subscribe to Kilowatt in your podcatcher of choice.
Articles
=== Read the email response from my email to Tim Cook (in the comments section) ===
If you enjoy the NosillaCast, Chit Chat Across the Pond, or Programming By Stealth, and you find that you get value out of the shows, it would be terrific if you would consider supporting the show financially. Servers, software, and hardware to make the show go aren't free, so the folks who donate regularly through podfeet.com/patreon and those who do one-time donations through podfeet.com/paypal are who keep the show afloat. Join them and gain my undying gratitude!
That's going to wind this up for this week. Did you know you can email me at [email protected] any time you like? If you have a question or a suggestion just send it on over. You can follow me on Mastodon at @[email protected]. Remember, everything good starts with podfeet.com. If you want to join the conversation, you can join our Slack community at podfeet.com/slack where you can talk to me and all of the other lovely NosillaCastaways. You can support the show at podfeet.com/patreon or with a one-time donation at podfeet.com/paypal.  And if you want to join in the fun of the live show, head on over to podfeet.com/live on Sunday nights at 5 PM Pacific Time and join the friendly and enthusiastic NosillaCastaways.   Thanks for listening, and stay subscribed.