Guest post by Denise (@Deverelle) Crown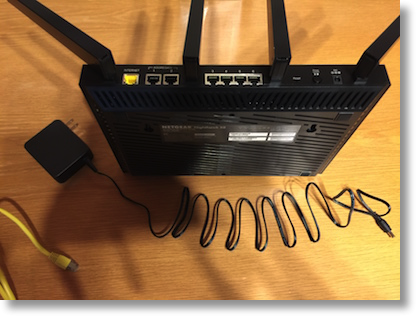 Well Castaways, it was time to replace our router.
Our ISP caps our bandwidth to 450 GB per month and several times a year they assert we use double this or more. We don't stream a lot of movies, our cloud data is pretty static, and we have a stupidly complex password, so this runaway bandwidth is a mystery I cannot solve with our aged Airport Express router.
We also need the ability to manage a lot of WiFi devices.
The wiring closet is at the far back of the house, which has always caused connectivity problems in the front of the house.
Wanting a router that would be current for a few years, I chose the tri-band Netgear Nighthawk X8 AC5300 Smart WiFi Router. I purchased it on Amazon using Allison's banner and paid a whopping $359.99. It's definitely an investment.
As the dedicated network and software tech in my house, I dreaded this project like the plague. I removed all the old equipment, crossed my fingers and plugged in this huge beast.
Continue reading "Netgear Nighthawk X8 AC5300 Smart WiFi Router by Denise Crown"