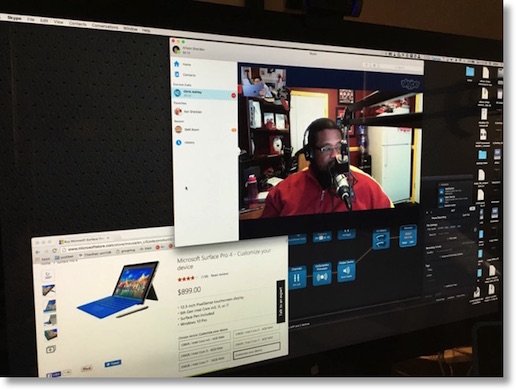 In this week's show Chris Ashley from the SMR Podcast (smrpodcast.com) joins us to talk about all of the cool new hardware products from Microsoft.
We talk Microsoft Band, Surface Pro 4, Surface Book and the new 950 Windows Phone. We talk about how great it is that Microsoft, Google and Apple now build on each other's ideas which is only good for us, and how Microsoft makes some amazing tools for the Mac and iOS. It's a really fun conversation with one of my favorite people.
Chris told me he'd never forgive me if he caught me taking a photo with the iPad Pro…so I took this photo of him on my screen with my iPad!

mp3 download
In the conversation we talk about how Rod Simmons from the SMR podcast brought his Surface Book over to our house and we compared the tablet portion to the iPad Pro. Here's a photo showing the comparison.