Some of my most popular tutorials over the years on podfeet.com have been the ones explaining how to make address labels during the holidays. Years ago it involved using Excel to organize the labels, exporting them to a csv file, and then using Word to do a mail merge to make the labels. I remember my friend Diane and me spending HOURS getting this to work each year.
A few years ago Apple simplified everything by making it possible to print labels right from the Contacts application.

I created a tutorial for that a few years back and I reference it every year. I get great feedback on how I explain all of the steps you will do wrong, how to back out of them and then do it right. I did it this way because EVERY time I run through this procedure, I do certain steps the wrong way and have to back out and do it right. For example, you'll create a group in Contacts called Holiday Cards, and then select print, choose your label type … and there will be only one label on the page. That's because you have to select all in the group before you ask it to print, but I forget that every … single … time.
This year I'm excited to add an improvement to my label-making instructions. When you set up your labels to print, you can change the font and font size, but Apple will override that font size if a line is particularly long and would run off of the sticker. That's great, but if you've got a couple with different last names that are a bit long, you'll end up with a 3 point font.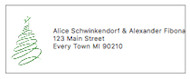 Last night I figured out how to add a line feed in the name fields! I had to experiment for about a half hour till I found the combo, but if you use control-shift-enter it works! Now instead of one long line for the two names, I can spread it across two lines.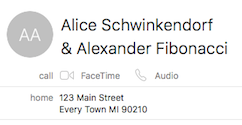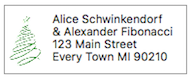 I would suggest that if you need to do this, you make a separate vcard for the couple just for mailing purposes because it confuses the heck out of Apple Mail. I tried to send an email to a friend of mine with the line feed in her title and it wouldn't send. When I cancelled the send it had erased her email address, and this failure was repeatable. It's kind of a pain but I've had to separate my friends' contacts so I can tell their phone numbers apart – so I guess this isn't too much more trouble. I think I'll keep their address in their combined contacts, and everything else in their individual contacts.
I put a link in the blog post to the new and improved tutorial on making labels, made of course with my beloved Clarify! And don't forget to check out my easier tutorial, the one on how to create custom-made return address labels. It's easy to follow but Apple doesn't make it intuitive how to do this!