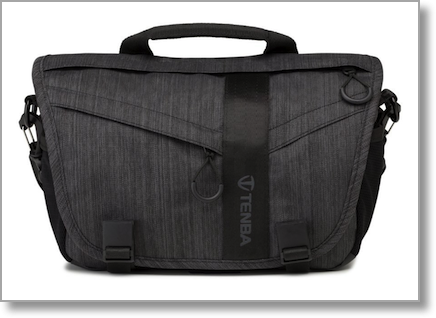 I've sung the virtues of owning a mirrorless camera before with the major delight being that they are much smaller and lighter than digital SLR cameras, without sacrificing photographic quality. Traditional SLRs (single lens reflex) cameras, whether digital or analog, use a system of mirrors to provide the photographer with a view through the lens so that they can see the precise framing of the photo. The photographer is actually looking through the lens prior to hitting the shutter button.
When the shutter button is pressed, those mirrors flip up out of the way, which allows the sensor (or film) to now be able to "see" through the lens. After the sensor/film has been exposed for the chosen shutter speed, the mirrors flip back down and the photographer can see through the lens again. As you can imagine, the mirrors and the mechanical hinge that flips the mirrors up and down weigh a lot.
With these new, smaller cameras, there are no mirrors and of course no mechanical hinge. Instead of an optical viewfinder as on an SLR, the viewfinder is actually a tiny little digital screen that displays exactly what the sensor sees. Not only has the weight of the mirrors and hinge been removed, the volume required to flip that mirror out of the way has been eliminated.

I bought an Olympus OM-D E-M10 mirrorless camera last year and it has been joyous. It cut the weight by 40% from my DLSR, and almost more importantly it cut the physical size by nearly half. Even better, the interchangeable lenses for these little cameras are tiny and light as well. I can carry 3 lenses that weigh less than one of my old, larger lenses. Because it's so much smaller, I carry it with me far more often than I did my DSLR.
There has been only one problem. I haven't been able to find a camera bag that is designed for my diminutive device. Every bag I could find was HUGE in comparison and designed for much larger cameras. I've bought bags online and sent them back, I've wandered the aisles of Samy's camera in real life, and perused bags on B&H Photo and not found anything to fit my needs. Photographer Trey Ratcliff teamed up with Peak Design to create the Every Day Messenger Bag and it's a terrific bag with the photographer in mind, but it's about twice as big as what I need. I finally gave up trying to find a good bag and instead bought a thin, bright orange shaving kit at REI that held all the parts but gave no protection and was pretty darn ugly.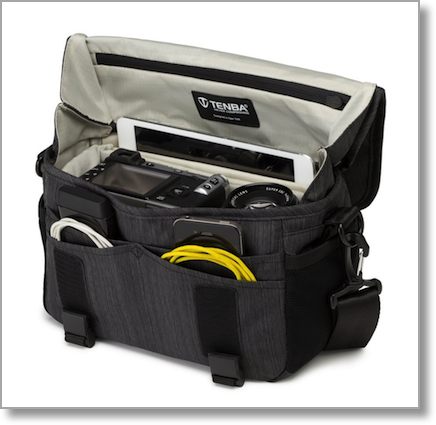 But this Christmas I did more research and finally found the perfect bag to fit my needs. It's called the Tenba DNA 8 Messenger Bag. The Tenba DNA 8 Messenger bag is 5 x 7.5 x 10.5 inches so it's VERY small and only weighs 1.3 lbs. Perceptive husband Steve gave me one of these delightful bags as a Christmas gift. He selected the Graphite color which is a real dark grey and it's also available in Olive green, Cobalt blue and Dark Copper. All four colors are deep and gorgeous. The bag will run you around $90 on Amazon.
Small is good but only if things fit inside properly. The bag comes with a rectangular soft box insert and smaller flaps of soft material you can rearrange to fit your components and hold them firmly in place with velcro. I found that I could stack my 45mm portrait lens and 14-150mm zoom lens vertically even with a flap of the soft foam in between to protect both lenses and still close the bag. On the opposite side I can cram in my charger and its cable and still fit the camera lens down in the middle with my new macro lens which is pretty long. You would probably arrange things differently but I found it really flexible to set up the way I liked it.
The bag closes with a large flap that holds to the front of the bag with large velcro areas so you can stuff the bag or keep in lean and still close the bag neatly. Once the velcro is in place, there are two adjustable straps that come up to close it more firmly. They close with the "Fidlock patenented magnetic clips which allow blind, drop-on attachment and a fast unique slide release". That's a direct quote from Tenba, but it perfectly describes the attachment points. They're really easy to use and they even come with a little arrow reminding you that they slide sideways to connect magnetically.
There's a small zipper on the front where I've put my spare battery, and a large flat pocket on the back where I've stuck the accessories I rarely use. I mentioned that the interior protective foam sits inside the bag, which means there's a nice slot at the back between the bag and the box that they show fits an iPad mini quite nicely. Maybe I can justify a 3rd iPad now!
Photographers go nuts about camera bags that have quick top access so you can reach right down in to get to stuff, and the Tenba provides this access as well. I thought it would be too tight to pull the camera out this way because it's just a straight zipper, but it works perfectly and will make lens swapping a bit easier.
The Tenba case came with a really nice waterproof cover that encases the bag easily with elastic edges and little knobs that fit in holes to hold it tight. It's reversible with black on one side and a shiny silver on the other so it can fit your mood of how flashy you want to be. I probably won't ever use this since it hasn't rained since 1987 around here but thought I should mention it.
I'm thrilled to finally have a tiny, light bag and still holds three lenses, my camera, batteries, charger and cables and provides good protection from impact. Check out the Tenba DNA 8 Messenger Bag, or if you have a larger camera they make their Messenger bag for those as well.