Barry Fulk was the guest on Chit Chat Across the Pond this week to talk Mobile Device Management (which is way more interesting than it sounds!) I also got to be on the SMR Podcast with Chris Ashley to talk about Apple and the FBI. I go on a rant about Apple pushing a bad update that blocks their own Ethernet driver. I'll talk about the fun Pat Dengler and I had tearing apart two MacBook Airs to make one working machine. We'll talk to Arkamys about their 360 degree audio for immersive video, then I'll explain why Photos made me buy a hub. We'll talk to MagTarget about their iPhone mount/charger and I'll explain how once again the answer to a problem is 2.4GHz separation. Finally we'll talk to new Matter about their MOD-t 3D Printer.

mp3 download

Hi this is Allison Sheridan of the NosillaCast Mac Podcast, hosted at Podfeet.com, a technology geek podcast with an EVER so slight Macintosh bias. Today is Sunday February 28, 2016 and this is show number 564.
This week's Chit Chat Across the Pond was really interesting. I had Barry Fulk on the show to talk about Mobile Device Management, also known as MDM. You might have heard that acronym recently in connection with the Apple vs. FBI case. The county of San Bernadino that owned the phone that was assigned to the terrorist who attacked their employees, had the phone under MDM but didn't configure it properly so that they could get into the phone. Barry walks us through how MDM works and what he's allowed to do to protect the company data and even medical information that has to meet the stringent HIPPA requirements. I really encourage you guys to do a search for Chit Chat Across the Pond in your favorite podcatcher to listen to this episode and to get all of the Chit Chat Across the Ponds as they come out.
This week I had the great pleasure to hang with my good friend Chris Ashley on the SMR Podcast. Robb and Rod were both out but Chris and I went through the latest news and intricacies of the Apple vs. FBI case. Actually I think of it as the FBI vs. the people and their privacy and security case. We also discussed what a dummy Chris is for going to see Zoolander 2 instead of Deadpool and we walk about the new hotness that came out of Barcelona's Mobile World Congress. Check it out at smrpodcast.com. Chris called this episode, "Chit chat across DC"!
Ethernet Mistake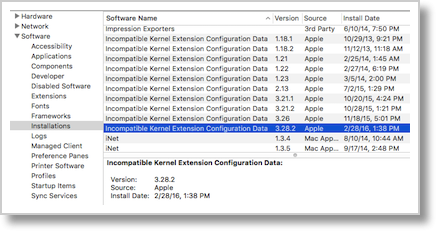 Before we get started I want to go on an rant about a big booboo Apple did today. Apple has a built in anti-malware tool called XProtect. This runs in the background and keeps you safer online. It keeps you safe by blacklisting things. So far this sounds terrific, doesn't it?
Yesterday, Andrew Dickinson posted in our Facebook group (over at podfeet.com/facebook) that Apple had pushed out an update that actually blacklisted Apple's own Ethernet driver! Andrew and Joe LaGreca went back and forth and were able to really help each other thanks to the new group. I read happily that they were working together and didn't think too much about diving into the actual problem they were discussing because there appeared to be a fix out.
I suppose you can say this is a bad mistake but mistakes do happen and we must forgive humans, but there's two parts to this that make me angry beyond the original mistake.
I was not home when this story broke on Saturday morning according to MacRumors, but this afternoon, on the 28th, all of our Macs got pushed the bad update. Why on earth is Apple STILL push this update if they knew the problem was there yesterday??? We know they knew about it, because they published a fix for it before they pushed the update to me.
Worse yet, the Apple solution page is riddled with problems. First of all it is a very non-muggle friendly solution that involves issuing a Terminal command via sudo. Secondly they neglect to mention that sudo requires an admin password. The solution requires you to have working wifi which is a big assumption. Third, in those instructions where they've confirmed you have NO network connectivity, they say to go back to this article on Safari and copy/paste the command. Well how the heck are you supposed to get to this command if you have no Internet access???
I decided not to do the fix before the show so the live show might be not as smooth as it normally does since I don't have a working Ethernet. I'm not a happy Apple customer right now!
Blog Posts
That's going to wind this up for this week. Don't forget to send in your Dumb Questions, comments and suggestions by emailing me at [email protected], follow me on twitter @podfeet. Check out the NosillaCast Google Plus Community too – lots of fun over there! If you want to join in the fun of the live show, head on over to podfeet.com/live on Sunday nights at 5pm Pacific Time and join the friendly and enthusiastic NosillaCastaways. Thanks for listening, and stay subscribed.