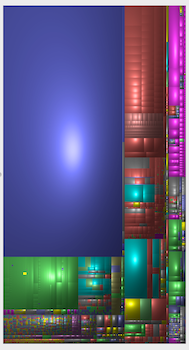 They say that the first step to recovery is admitting you have a problem. Well, I have a photos problem. I really like to take photos, edit photos, organize and find photos and I love them like they're my children. I wouldn't leave them home in a box, I want to have them with me at all times so I can take them out and play with them.
I bought a Retina MacBook Pro in 2013 with a 1TB SSD so that I could always have all of my photos with me, but over time things are getting in the way of that.
A few years ago, Bart convinced me that I should shoot RAW photos instead of JPG. Instead of nicely compressed 2MB photos, my RAW photos run around 16MB each. I also do an audio podcast or two you might have heard of and those files start to stack up. Somehow NosillaCast + Chit Chat Across the Pond is greater than the original NosillaCast. Each week I create about 6GB of new files.I'm also doing screencasting for Don McAllister's ScreenCasts Online. The last one I did with the 3 camera shoot for Astropad and Duet Display was 18GB when I was done! I use selective sync on Dropbox but I need these files visible on two accounts on my MacBook Pro so that 18GB is on there twice!
As you might suspect, that 1TB drive is getting a bit snug these days. I set up Hazel rules to move my podcast files off of my Mac and onto my Drobo once they're a couple of weeks old and that has helped but the other day I checked and I only had 26GB left!
I keep hoping that maybe it's something else causing the problem, but whenever I run a tool like Disk Inventory X, that shows you graphically where all your disk space has wandered off to, there's always this GIANT box representing my photo library. At last check it was inching up on 400GB. I have 60K photos and that would be around 7MB per photo so that sounds about right.
With the advent of iCloud Photo Library, I have optimized images on all my other devices, but it just seems to me to be a good idea to have the real photos somewhere in my control, and not to trust Apple to have them in the cloud. You're with me there, right?
But then I got to thinking, I don't actually drag my MacBook Pro around that much any more now that I have the 12″ MacBook, so maybe I could think of it like a desktop and hang a drive off of it. Victor Cajiao did a very compelling review of the MyDigitalSSD SSD with wicked fast speeds. Seemed like a great option but it only goes up to 500GB. With a 400GB photo library I'd outgrow that really quickly.
Then I heard Andy Ihnatko talking about the Samsung T1 SSD with 450MB/sec transfer rates. This one goes up to 1TB which would work much better for me. It's not cheap at $379 but compared to where those prices have come from it feels like a bargain.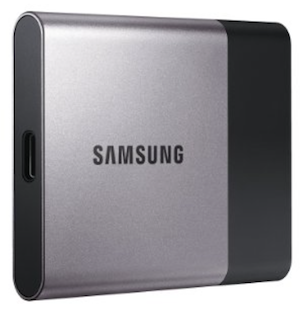 Right as I was ready to hit buy, I saw something about the Samsung T3. Well T3 has to be WAY better than T1, right? It's a bigger number and everything. I did some reading on Samsung's site and it promises the same 450MB/sec transfers, but unlike the T1, you can buy the T3 up to 2TB ( even I'm not that much of a disk hog) The T3 has one more feature that made a difference to me: it has USB-C and It comes with a USB-C to USB-A cable so it would plug right into my MacBook Pro, but it would also connect directly to my MacBook without a dongle. How cool is that? There are only 2 downsides to the T3 from Samsung. It's a smidge more money at $430, and it's not out until the 29th of February. I'm not good at waiting but I bought it anyway.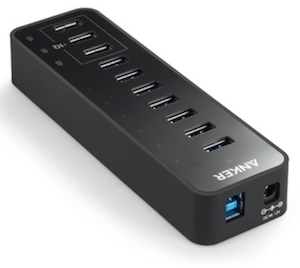 But all of this fun really has one more thing I needed before I could even get started. I bought a hub from Anker. I've been swapping plugs between my backup drive and my Logitech c920 camera for the past couple of years because all of the ports on my Apple Cinema Display (which acts as a hub are filled up with other things, so it's been time for a hub for a long time. The forcing function though is when the T3 gets here, I'm going to need a way to keep it plugged in all the time so that CrashPlan will continue to back up my photos (Crashplan supports connected and network drives).
The hub I bought is the Anker 10-Port, 60W, USB 3 version that comes with 7 data transfer ports and 3 of what they call PowerIQ charging ports for mobile devices. These PowerIQ ports detect your device to deliver its fastest possible charge up to 2.1 amps per port, while the remaining 7 ports charge at speeds of up to 0.9 amps each. You can buy cheaper hubs, but I wanted a powered hub, and lots of ports so the Anker 10-port hub for $38 on Amazon met my needs.
Of course I'll let you know how this grand experiment works out when I get the Samsung SSD. I have a local backup, a CrashPlan backup and the photos are in iCloud, but maybe I'll make a copy on the Drobo too. And maybe the backup Drobo.