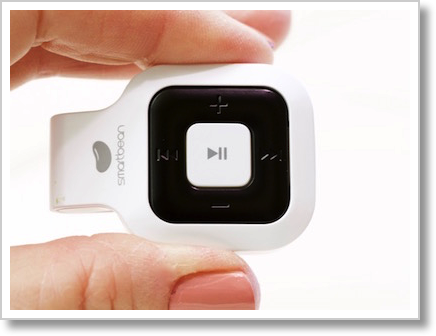 On Chit Chat Across the Pond last week, Dave Hamilton and I talked about the repercussions if Apple removes the analog headphone jack. During this conversation we talked about Bluetooth and Dave mentioned a little device he uses called the Antec Smartbean. While I was recording with Dave, I bought my own Smartbean through Amazon for a grand total of $12 (with free Prime shipping).
Smartbean is a 1.25 x 1.25 x 0.5 inch device with a built-in clip that turns wired headphones and speakers into Bluetooth devices. It's pretty close to the size of the old square iPod Nano, a little smaller but thicker.
I was especially interested in the Smartbean and in my conversation with Dave I mentioned how much trouble I have pairing Bluetooth devices and how I get audio dropouts with all of them. I figured the Smartbean wouldn't be any different.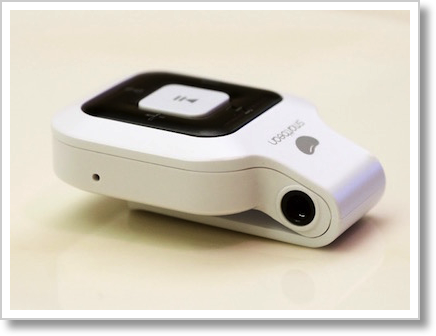 I went for a run with the Smartbean and my favorite standard headphones plugged into it. Not once did the sound cut out on me, no matter how I contorted myself. The sound was so much better than my Bluetooth headphones, it was a delight.
All this is well and good but how easy is it to pair with your devices? On the front of the Smartbean is a play/pause button in the middle of it, so using my vast knowledge of how stuff works, I pressed and held that button. I was rewarded with a blinking blue light and I heard "power on" in my headphones. I held it down again and this time the light blinked red, and I heard "power off." Ok, pretty intuitive so far. What if I press and hold the button a bit longer? As I hoped, it said "power on" followed by "pairing." Perfect! I looked for Smartbean in the Bluetooth section on my iPhone Settings and found it immediately and when selected, the Smartbean reported "paired' into my headphones. PERFECT experience.
I turned them off again and did a normal power on, and this time I was rewarded with the words "connected". I also noticed that the lights changed behavior again in a super intuitive way. If I play audio from my iPhone to the Smartbean, the light blinks blue every few seconds. But if I stop playback and forget to turn off the Smartbean, it changes to blinking red to indicate it's in standby mode.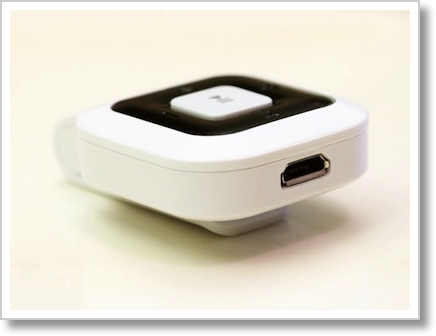 This is a good point to give you some specs. According to Antec, the Smartbean will give you 6 hours of "talk" time and 130 hours standby. That standby time might be the most useful thing. How often have you forgotten to turn off a Bluetooth device? If you have an iOS device you can swipe down from the top of the screen to reveal a battery section for all Bluetooth-connected devices, including the Smartbean. Smartbean comes with a microUSB cable for charging.
I mentioned that the square center button is play/pause which controlled my iPhone playback as expected, and it also has up/down volume buttons on either side of the center, and skip ahead/back buttons on the opposite two sides. Those buttons obeyed my podcatcher, where I have it set to 10 seconds back and 45 seconds forward. Even better, these buttons were all in logical position if I used the clip that's part of the Smartbean to clip it to my clothes on my left side. So up volume was up and jump ahead was to my right.
I was so happy with the Smartbean and my headphones that Steve and I plugged it into all kinds of speakers around the house just to see how many of them we could make Bluetooth capable. We have a set of old analog computer speakers that Kyle just gave back to us and with no wires up our sleeves, we were able to play audio from a computer to those speakers.
Smartbean even comes with a double ended audio jack so you could plug this into a car stereo's analog jack and suddenly, for the grand sum of $12, you've got audio to your car speakers over Bluetooth. How cool is that?
The Smartbean from Antec comes in a plethora of color options, all black, all white, white with black accents, silver, baby blue, and even pink if you're of that persuasion. I put a link in the notes to the Smartbean on Amazon for $12. Be sure to use that link instead of buying direct from Antec because it's $40 from their website. It's worth $40 but at $12 you can sprinkle them around your life.