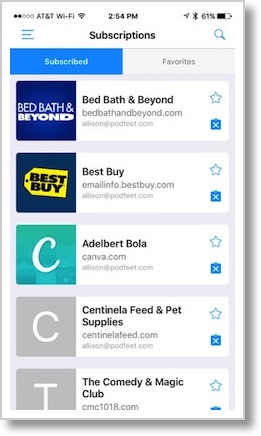 When I was working, triaging my email to make sure I didn't miss important stuff was a critical part of my day. Now that I'm a full time layabout with a podcast for entertainment, my emails are less of a problem. Because of that I haven't ever investigated the high end email tools for power users.
But even the most casual user has problems to be solved in email. I don't think I've met anyone who doesn't believe the Apple's Mail app for iOS could stand some improvements. The free app entitled simply Email from EasilyDo might be something that makes you happy and if you're on Android they have an app for you too. I went into this without a particular problem to be solved and found myself delighted with EasilyDo Email.
I'm going to start with the downside, EasilyDo Email is only available for the iPhone/iPod Touch, not for the iPad. I like it enough that I want it at least on my iPad.
Like others, I've become frustrated with Apple Mail on iOS for a couple of reasons. It is really slow to fetch email and search has become almost unusable. Do you get tons of emails from companies you did business with in some way but they decided to put you on their email newsletter list? Let's take a look at EasilyDo Email and see what it can do.
Continue reading "EasilyDo Email for IOS and Android Might Make Your Life Easier"