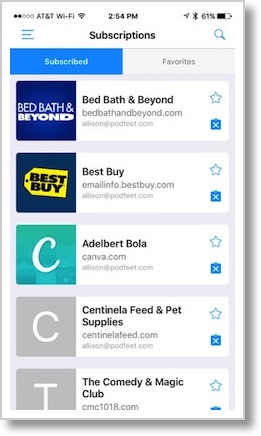 When I was working, triaging my email to make sure I didn't miss important stuff was a critical part of my day. Now that I'm a full time layabout with a podcast for entertainment, my emails are less of a problem. Because of that I haven't ever investigated the high end email tools for power users.
But even the most casual user has problems to be solved in email. I don't think I've met anyone who doesn't believe the Apple's Mail app for iOS could stand some improvements. The free app entitled simply Email from EasilyDo might be something that makes you happy and if you're on Android they have an app for you too. I went into this without a particular problem to be solved and found myself delighted with EasilyDo Email.
I'm going to start with the downside, EasilyDo Email is only available for the iPhone/iPod Touch, not for the iPad. I like it enough that I want it at least on my iPad.
Like others, I've become frustrated with Apple Mail on iOS for a couple of reasons. It is really slow to fetch email and search has become almost unusable. Do you get tons of emails from companies you did business with in some way but they decided to put you on their email newsletter list? Let's take a look at EasilyDo Email and see what it can do.

Upon Launching EasilyDo Email you're invited to add an account, with Gmail, iCloud, Yahoo, Outlook, AOL and Other as options. Enter your credentials, just like any other email application. EasilyDo Email gives you email inboxes for each account, along with an aggregated inbox for all accounts. You can tap an icon to see all unread emails in one consolidated view.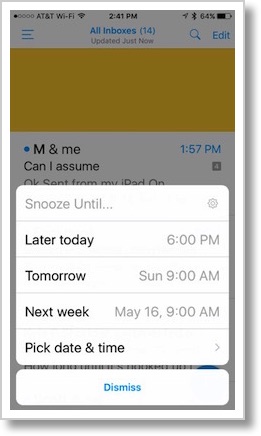 When you're looking at email in the list view, you can use swipe gestures to quickly triage. A full swipe to the left gives you a full delete, a half-way swipe archives the email. Full swipe to the right marks the email as read, and a half swipe to the right allows you to snooze the email. This is super cool. It pops up an window that says Snooze Until… and you can make it later today, tomorrow, next week, or pick a day and time. I love this feature. I'll be at Starbucks waiting for my coffee and see an email and I want to make sure I notice it when I get home, so normally I change it to unread, but sometimes I forget.
Search in EasilyDo Email is a beautiful thing. As you start typing, it starts showing you emails real time that meet the search criteria. It highlights the search term in blue so you can see whether it's in the body or subject of an email. If relevant, it starts a list of email addresses that match the search as well. I started searching for podfeet and above the emails it found, it showed me [email protected], [email protected] and [email protected]. I tapped on [email protected] and it showed me emails From: Allison or To: Allison. I'm not 100% convinced it finds everything it should but that will be something to watch over time. At least it quickly finds what it finds!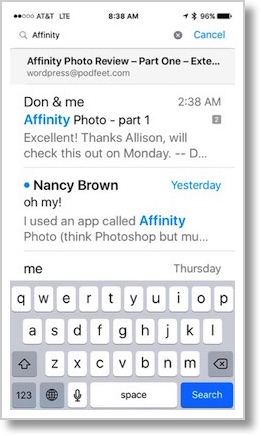 Have you ever sent an email and RIGHT when you hit send you realize you forgot the attachment, or you used the wrong email address? With EasilyDo Email you get an "undo send" button that lasts just a few seconds but maybe it's enough time to stop those catastrophic emails.
All menus in EasilyDo Email are easy to interpret and easy to navigate. I haven't found myself wondering what a button does. For example, back in the accounts list, I can see my snoozed emails and see emails with an Attachment. There's an Edit List button which allows me to turn on/off things like unread, snoozed and attachments buttons to add icons for flagged, today, spam, all archive, all sent, all trash, and more. There are those little hamburger buttons to the right of each item which means you can reorder them to your liking.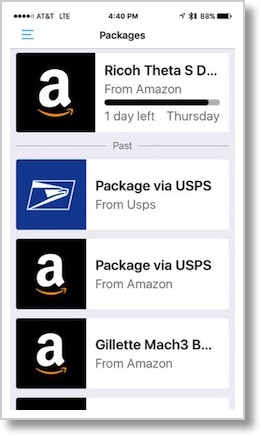 Below all of these are some magical categories that are the real power of EasilyDo Email. Subscriptions is my favorite. One tap and EasilyDo Email scans through your emails and finds those that are standardized email newsletters. The formatting is beautiful with big beautiful icons from the companies sending you the email. I can see Bed Bath & Beyond and Best Buy which I actually like, but also Bitter Patching Systems and Adelbert Bola. What the heck are those? Each subscription has a star to favorite and an x to unsubscribe. Seriously, one button unsubscribe. I noticed that over time EasilyDo Email finds more and more so they must be running an algorithm against my email that takes a while. It's fun though, every day or so I go through and tap a few more and it makes me feel powerful!
There's a button for Travel and again, big beautiful icons. I can see my flight to Hawaii in there, which makes me sad of course because under a heading that says, "past". Sigh. I miss the turtles. It also showed me a flight to Portland from San Diego that Lindsay took. I like that too.
The next button is for Packages, which came in super handy this week. I'd ordered a present for Steve (more on that later) and the Packages section had a giant UPS log AND a giant Amazon logo. It pulled the relevant data out of the mail into an easily-readable format, showing me who it was from, the carrier, the tracking number and the order number. I didn't have to read my own email to get right to what I needed to know. The only hard part was hiding it from Steve!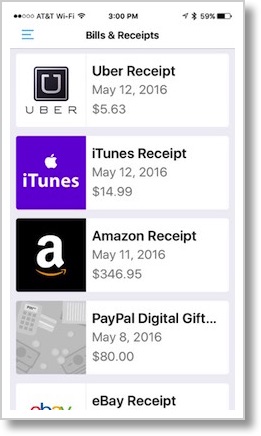 You can also easily jump to Bills & Receipts. The first time I tried it, I did it on my Apple ID email and it was hilarious because all it showed was receipts where I sent money to Apple! Again with the pretty icons so you can easily jump to your Uber receipt or an Amazon receipt without even having to read. Really visually pleasing.
The last button is for Entertainment, which isn't the most valuable to me, but it did show me a wedding I'm invited to, a couple of Eventbrite invitations from NAB and some OpenTable dinner reservations.
In settings you can do normal things like change your signature by email account, and change notifications by email account. Maybe you want your phone to play sound on one account, but not on other accounts. Remember those swipe gestures I told you about? You can change those in settings too. One of my favorite things you can mess with in Settings is what to do after you delete or archive an email. I swear that Apple Mail has a random number generator deciding whether to move up a message or down a message. In EasilyDo Email you get to set whether it goes to the next message, the previous message, or back to the email list. Love that level of control.
EasilyDo Email will also send notifications to your Apple Watch if you're of that persuasion. You can't do too much but you can mark the email as read, delete which helps eliminate later triage effort, or you can just dismiss the message without changes. I wish you could do a quick reply but it's not a huge deal.
I chatted a bit with Bart about how EasilyDo Email is doing all of these cool things for you. They do have a web service you can sign up for that does many cool enhanced things for you, and that's where they make their money. It's good that they have a business model to support this free email app.
However, I'm not entirely certain that they don't send your email through their servers in order to give you the cool features like analyzing unsubscribe, packages and more. They do say they don't store your email on their servers, but they also do say that they reserve the right to sell your non-personally identifiable information. So they can make money the same way Google does off of your Gmail. If this makes you queasy, maybe EasilyDo Email isn't for you, but if you're ok with that, then check out EasilyDo Email at easilydomail.com/…