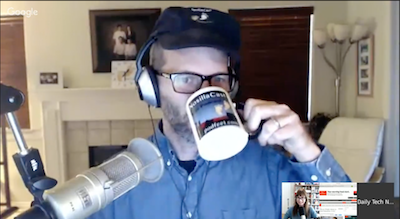 I've mentioned many times before that one of my favorite podcasts is the Daily Tech News Show hosted by Tom Merritt. He broadcasts from his home in Southern California, and when he moved down Steve and I became friends with him. We seem to have very similar setups for running our podcasts, using Macs, and we both use Verizon FiOS Internet service.
Unfortunately, on April 1st, Verizon sold its FiOS business in California, Texas and Florida to a company called Frontier Communications. I say unfortunately because the transition has been anything but smooth. There have been billing problems, inability to access premium channels (like HBO right before Game of Thrones kicked off), the tech support appeared to have been moved off shore over night (which turns out not to be quite true) and worst of all people have been having complete outages.

On Saturday I happened to see a Facebook post from Tom that his Frontier FiOS network was down, and that Frontier was telling him they couldn't get to him until Tuesday! While I would pretty much slit my throat if I didn't have Internet for even a full day, this is Tom's actual business, and he pays for a business account with 300mbps up and down, so to be down for three days is untenable.
I shot Tom a note and suggested that he come to our house to broadcast on Monday. He held out hope that maybe Frontier would come out sooner than they said but on Monday morning he threw his MacBook Pro and a mixer under his arm and headed over to our house.
We set Tom's MacBook Pro up to the right of my 27″ Apple Cinema Display, and connected the chimera cable that provides power, USB and display port. Next we plugged in my USB 3 hub (the one I've convinced to stop interfering with everything) and gave him gigabit Ethernet via a Thunderbolt dongle to connect him to the new Netgear X8 router.
Since his Mac was going to be way over on the right side, I thought it would be helpful if he used my Magic keyboard and trackpad. I love these two devices, especially because pairing is a matter of plugging in a lightning cable from the Mac to each device and they're instantly paired. No fiddling around with menus and looking for available Bluetooth devices. it worked like a champ so he had control immediately.
We plugged Tom's mixer directly into his Mac via USB, and connected my Heil PR40 into his mixer. So far so good. He uses Soundboard on an iPad to insert audio clips, like his intro music, recordings from listeners, or silly soundbites like a guy pronouncing the company Xiaomi. He plugged the iPad into the mixer, and my headphones into the jack on his Mac.
There was only one problem. When he's at home, he uses a second mixer to provide what's called "mix minus", which is a technique that allows Tom to record both sides of the Google Hangout on Air conversation, and allow the audience to hear both sides, but for him to only hear ONE side and not his own voice.
I suggested that he could use Audio Hijack to perform this function for him, and he explained that he couldn't use Audio Hijack for the task because it introduces a slight lag when you monitor your own voice. If you've ever tried to talk while hearing your own voice slightly delayed, you'll understand that it drives you crazy. That's when I got to show off the Experimental Low Latency Mode Dave Hamilton introduced to me. You turn on low latency mode by holding down the option key when you launch Audio Hijack. Once I learned about this mode, it was the first time I'd been able to monitor my own voice since I've been doing the podcast.
Tom and I did a test Google Hangout and it all worked flawlessly. Tom was able to do the show without a hitch. I thought you guys might enjoy the story and then get a kick out of hearing Tom's intro to DTNS. His guest is Veronica Belmont so you'll hear him introduce her first. As you'll learn, there's a price to our generosity of opening our home to him.
Using a Screen Reader? click here