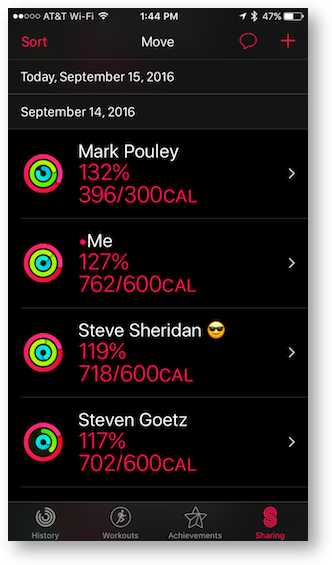 I entitled this segment "Activity Tracking is Really Improved with watchOS 3 and iOS 10" but I'll leave it up to you whether are all are of these are truly improvements.
Activity Sharing
One of the reasons that Fitbit has been so successful has been because of the ability to share your activity with your friends. Peer pressure or encouragement, whichever works for you, you get it from sharing exercise with your friends. When I left Fitbit for the Apple Watch, I really missed smack talking with my friends on Fitbit. Now, with IOS 10 and watchOS 3, activity sharing has come to the Apple Watch.
On the iPhone, in the Activity app, tap the Sharing button on the bottom. Next you'll see a plus button in the upper right where you can add friends. It only lists those in your contacts list who have Apple Watch's. If you try to add someone who has an iPhone but no Apple Watch, it will tell you that you cannot share activity with them. That seems kind of shortsighted to me since many people track their activity with the phone. Maybe they'll explain that later.
Sharing with someone causes several things. The coolest part is that in the Sharing tab on Activity you can see their active calories burned against their goals. The list isn't sorted by the most calories burned, it's by percentage of each person's goal. I think that's actually a better way to do it, otherwise I'd have no friends at all! Continue reading "Activity Tracking is Really Improved with watchOS 3 and iOS 10"