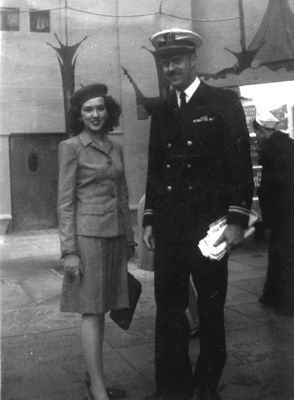 Hi, this is Allison Sheridan and you're listening to Chit Chat Across the Pond episode #463 for November 10th, 2016. This week's recording is very different from anything I've done before. This story took place on September 16, 1945. On that date a horrific typhoon hit the island of Okinawa, Japan during World War II. My father, Ensign John Paul Moorhead, was serving as Chief Engineer aboard the LST 965 and was in that typhoon. He wrote a letter to his parents and my mother describing the harrowing experience of living through that typhoon.
I thought about reading my father's letter aloud to you, but it didn't sound right in my voice. I asked my dear friend and noted voiceover artist Ron David to read the letter to you instead. You may recognize Ron's voice from Raise The Titanic on National Geographic and Wings on the Discovery Channel.
Before we hear the letter, I'd like to give you a little background. The ship on which my father served was an LST, which stands for Landing Ship, Tank. LSTs were amphibious ships designed to bring cargo and troops to unimproved shorelines.
I remember my father explaining to me that the LSTs were never expected to last long enough to come back home, because they were designed and assembled in such a hurry that they weren't likely to survive for very long. I read online that the contracts were let to build the ships before a single test ship had ever been completed. This is not the kind of ship you'd choose to be in, in a typhoon.
The typhoon you're about to hear my father describe reached winds of 150 miles per hour, beached 122 ships and small boats, sank five others and killed or injured hundreds of American service personnel. Since this week is Veteran's Day in the United States and Remembrance Day in Canada, I thought it would be an appropriate day to bring you this very special Chit Chat Across the Pond.
I've included the full text of my father's letter in the blog post along with a few snapshots of the ships aground after the typhoon. If you want to know more, I've included a zip file of four news articles my father kept that you can download.
And with that, I'll let Ron David read my father's letter to you.
---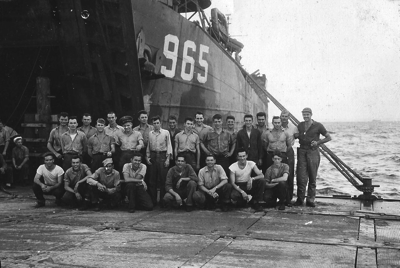 From: Ensign Jack Moorhead
18 September 1945
If I don't write now I'll miss the feeling of this experience. It seems a million years ago that I wrote home. I will start with our trip down from near Kobe to Nagasaki, Kyushu. We were about halfway there when storm signs started showing up and we reversed course to run before a typhoon.
Continue reading "CCATP #463 Ensign John Moorhead Recounts 1945 Typhoon"