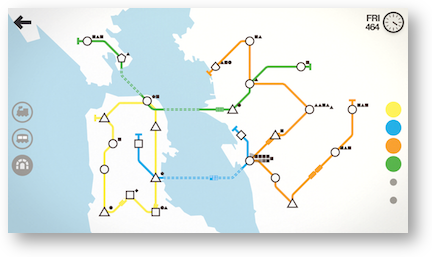 Hello Allison and NosillaCastaways, Allister here from New Zealand again with another review.
One of the reasons I like Apple products is because I like clean, simple design. There's just something about oodles of white space, simple, bold colours, and crisp lines that appeals to my brain.
It should come as no surprise, then, that the famous London Underground map (https://en.wikipedia.org/wiki/Tube_map), designed by Harry Beck in 1931, tickles my fancy. When I was in London in 1999 I bought a t-shirt with the map on it and I have had my sister, who lives in the UK near London, send me new versions of this several times over the subsequent years as I wear them out.
Continue reading "Mini Metro Game for iOS and Mac – by Allister Jenks"