Chit Chat Across the Pond was a discussion with Allister Jenks about Affinity Designer and the place vector-based image applications have in our workflow. We've got a lot of listener feedback about AirPods, including Garth Humphreys from the iBlindTech podcast. Jill recommends the small and lightweight Bluetooth remote control from Satechi for use with the iPhone and AirPods. We talk about the AirPods and the Trekz both having trouble playing audio from iOS this week. I do a bit of an anti-review, explaining that the USB-C Griffin Breaksafe will not take the place of Magsafe in your life. Then we're back to more AirPods talk where I delve deep into why Bluetooth headphones have lag and syncing issues where wired headphones do not. Many thanks to Chris from Rogue Amoeba and Stephen Coyle who tested Bluetooth vs wired headphones for lag and published his results here. Finally I answer Steve Davidson's question about whether it's possible to plug a USB drive into the Netgear X8 router and run a Time Machine backup on it.

mp3 download
Hi this is Allison Sheridan of the NosillaCast Mac Podcast, hosted at Podfeet.com, a technology geek podcast with an EVER so slight Macintosh bias. Today is Sunday January 1, 2017 and this is show number 608. I hope you all had a safe and happy holiday. We didn't do as much traveling as usual so it was pretty peaceful for Steve and me. That's a good thing because this week we head off to CES, the conference formerly known as the Consumer Electronics show, in Las Vegas. We'll be meeting up with the Mac Observer gang and Chuck Joiner so that'll be fun. I hear Chuck is really excited about seeing me.
Chit Chat Across the Pond
In Chit Chat Across the Pond this week we're joined by good friend of the show and sometimes host, Allister Jenks. A while ago I tricked him into using Affinity Photo and in this episode he tricks me into buying Affinity Designer. He explains what the difference is between pixel editors like Affinity Photo and Adobe Photoshop and vector-based image programs like Affinity Designer and Adobe Illustrator.
I'm not sure you should listen to this episode though, because I spent the $50 to buy Affinity Designer before we were even done recording! You can find Chit Chat Across the Pond in your favorite podcatcher of choice.
AirPods Listener Updates
AirPods Accessibility
I wanted to give you some feedback I got from the NosillaCastaways about AirPods. First of all, I asked whether our blind friends could tell me whether there really is a way to clear the popup screen that the AirPods show on screen while running VoiceOver. I had swiped up/down/left/right and every combination of fingers I could think of and couldn't crack the code. Kevin Jones wrote to me and suggested I try pressing the home button. Sure enough, that worked.
I also heard from Garth Humphreys who does a show called iBlindTech. Garth explained you can just close the AirPods case to get the popup to go away. Well geeze, I should have thought of that!
Garth did an episode on the first 24 hours hands on that I listened to (he's got a fantastic voice, by the way) and in it he said that the lag between when he taps a letter on screen and when he hears a tap wasn't bad at all. However, after a week or so now of using AirPods, he wrote again and said it's more annoying than he thought it would be. He also said it's not consistent, which I bet is even more annoying. He says that he's found if he's going to do a lot of interacting with the phone, he uses wired headphones but if he's mostly listening to podcasts or audiobooks, he uses the AirPods.
AirPods with Siri Control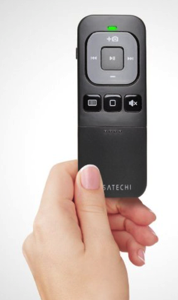 Listener Jill wrote in with a very interesting observation about AirPods. Remember I talked about how you can only control volume, fast forward and rewind using Siri as there are no buttons on the device? She pointed out that Siri only works if you allow access to Siri while the phone is locked. Allowing this can make it easier for a bad actor to get to data on your phone. I actively turned this feature on because I often want to make phone call while my phone is in my Spibelt while walking, so it hadn't dawned on me that Siri control required it.
Jill found an interesting solution. She bought a small and lightweight Bluetooth remote control from Satechi for her phone. Now she can leave her phone in her purse, wear the AirPods but simply slip her hand into her pocket to play, pause, fast forward and rewind and control volume. She doesn't have to open up Siri to her lock screen to do this.
Jill said that the Satechi remote can only be paired to one device at a time so it only gives the illusion of controlling AirPods, when in fact it's just controlling the phone. She also said she had no idea how often she fiddled with her audio until she got the remote and noticed how much she enjoys it.
Jill also compared and contrasted the AirPods to her other Bluetooth headphones. She pointed out that while the initial pairing process is way easier with the AirPods, once they're paired to your devices, the other headphones she has are easier to switch between devices. With AirPods, they stay connected to the last device you used them with. To switch you have to manually connect to them on a different device. She said her other headphones will grab whatever device is playing audio as long as they've previously been paired.
I have to say that this has not been my experience at all. I watch videos on my iPad while at the gym, but I carry my iPhone (closed) on a Spibelt while I work out. I would like the iPad audio to go to the headphones. If the last device to play to any Bluetooth headphones was the iPhone, then that's where it stays. I always have to manually switch the connection to the Bluetooth headphones, AirPods or otherwise.
Jill mentioned one thing I hadn't realized. On iOS, if you swipe up from the bottom of the screen, you get to Control Center. I use this often to play with turning on/off WiFi and to get to the flashlight and camera, but I never swipe left to get to the audio controls. I pretty much forgot it was there, but Jill pointed out that you can connect to AirPods directly from that screen. I've been launching Settings and going into Bluetooth to connect which is really tedious so this will be a great timesaver for me. Thanks, Jill for your vies on AirPods and for the tip of the remote control.
Anger at AirPods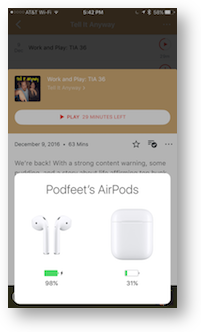 Now I have to say that I was REALLY REALLY angry at my AirPods this week. I went to go for a walk, but the audio from my podcast selections simply would not play through them. They made the happy chime sound when I put them in my ears, and in Bluetooth settings they showed that they were connected, but when I hit play on the podcast I'd hear nothing. Sometimes the audio would revert back to the iPhone but mostly there was just silence.
The reason I went way past irritated into full defcon anger was that the ONE job AirPods had was to NOT BE FIDDLY. I can pay way less for fiddly Bluetooth, and in fact when I grabbed my Trekz Titanium headphones, they worked just fine. I couldn't believe that I could now no longer count on AirPods to "just work".
I thought maybe it was a charging issue, so I checked the battery status by flipping open the AirPods case. The green light was lit up, and on screen it showed the AirPods themselves were at 98% while the case was at 31%. I put them on the charger anyway and went for a walk with the Trekz. When I came back the AirPods were fully charged and guess what? They worked just fine.
Now this is where it gets interesting. I happened to mention this mess to Bart, and guess what? The exact same thing happened to him, but with the Trekz! At first he thought it was the battery too, because charging them fixed the problem the first two times it happened. But the third time it happened to him, he simply gave the Trekz a time out and they healed themselves. He was as happy as I was that we talked about it because this shows us it must be an iOS 10 issue. That's better news because it means it will get fixed more quickly we hope. Ok, enough AirPods talk for the time being, but we're going to talk audio lag a bit later.
Blog Posts
Patreon and Amazon
Remember if you're from Germany, the UK or Canada, you too can help support the show through Amazon. If you go to podfeet.com/funwithflags, you can see the four country's Amazon affiliate buttons that take you right to your store. There's also a link on the podfeet home page to take you to that page if you forget my silly url. By the way, Germany has been going gangbusters on Amazon lately so I really want to give everyone there a big shoutout for your support.
And since it's the beginning of the new year I want to thank all of the patrons of the show who've signed up at podfeet.com/patreon to pledge a small amount to support the podcast. Your generosity is not ever taken for granted.
After I wrote this segment up for the blog, Steve Feinstein made a clarification that I think is important. He pointed out that lag is not the same thing as sync. You can have a lot of lag but have the audio and video still be in sync. Interesting to think about. When watching a video, sync is all that matters, but in a conversation, you care about both sync AND lag. Thanks for the clarification, steve.
Steve Feinstein had a point on the blog about this article as well. He wanted me to acknowledge that we don't actually know that Apple has abandoned the wireless router market. All we really have is one reputable reporter citing unnamed sources who told him that Apple disbanded the Airport team. I appreciate the clarification here because it's important to separate what's real news, and what's conjecture. We are definitely reading tea leaves here.
It does seem to match with what we can observe, that Apple hasn't come out with anything new and interesting in a few years and that they're falling seriously behind in meeting our needs as a result. Steve called himself a pendant with too much time on his hands, but at the risk of encouraging that behavior, I'm going to thank him for contributing these thoughts.
That's going to wind this up for this week. Don't forget to send in your Dumb Questions, comments and suggestions by emailing me at [email protected], follow me on twitter @podfeet. Remember, everything good starts with podfeet.com/. podfeet.com/patreon, podfeet.com/facebook, podfeet.com/googleplus, podfeet.com/amazon! And if you want to join in the fun of the live show, head on over to podfeet.com/live on Sunday nights at 5pm Pacific Time and join the friendly and enthusiastic NosillaCastaways. Thanks for listening, and stay subscribed.