Hi there, this is Terry Austin – long time Castaway, occasional contributor and random chit-chat visitor.
Allison put out the plea over in the Facebook group for some audio spots during a busy time as she and Steve are off enjoying themselves a MacStock. By the way hope Jeff Gamet managed to deliver that hug from me!
Let's start with one of the world's most serious problems to be solved…. Keeping Mom alive, healthy and happy.
A few short weeks ago my beloved mother was diagnosed with multiple myeloma, a blood cancer. I am doing my best to spend as much time with her as I can, but I live a four hour drive away.
One of the most complicated issues she faces with this battle is keeping track of a complex regime of oral medications, injections an infusions that constitute her chemotherapy. Some medications are daily, some must be taken for a few days then paused and restarted later in a 21 day repeating cycle. Of course there are appointments for portal infusions or injections at the clinic.
It could become overwhelming for anyone…
When I was home for a few days I saw the paper calendar she was trying to use to track the confusing regime. After just two days it was a confusing mess.
She said to me "I just wish I had something I could check off and know it was all done properly".
Mom is a pretty darned tech savvy 78 year old. She's used an iPhone and iPad for about five years now and is comfortable with those.
Initially I set up her schedule in Calendar and shared her calendar with me so I could help remind her if needed… That was ok, but still didn't let her check off items as they were completed.
Then it hit me – COLLABORATION in iWork!
I have become a huge fan of Numbers in the past few years in my day job as a professor. I track several things, including grades in Numbers. One of the default spreadsheet templates is a checklist with a simple tap-to-check checkbox option.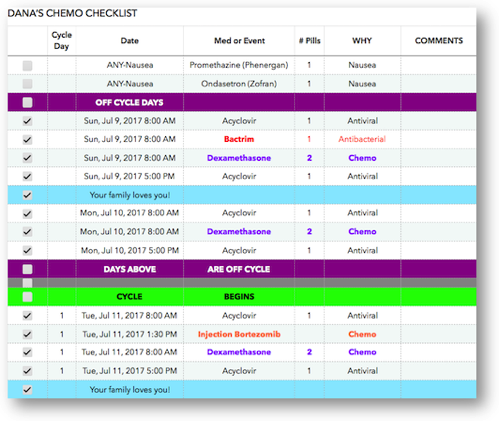 So… I proceeded to build a 21 day cycle calendar for Mom in Numbers. Mind you, the inspiration for this hit me about about 10:00 one evening and I sat up in her front guest bedroom until about 1:30 in the morning building the framework of this spreadsheet.
First I laid out the rows from day 1 to day 21
Then I put in all of the daily morning and daily evening meds
I followed those with the phased meds that occurred days 1-4 and days 9-12
After that, I put in all of the appointments for trips to the clinic.
At the end of each day I inserted a positive affirmation like "Your family loves you", "We love you, Gran", "Best Mom EVER!"… She can't possibly look at this list and not feel all of us right there with her.
Finally I felt pleased with the results and went off to sleep. First thing next morning I sent a collaboration invite to Mom with edit privileges, and to my sister to view only. Then I walked back to her bedroom and showed her how to accept the invite.
The Spreadsheet now lives on the first home screen of her iPhone and her iPad.
Later that day we went for an appointment with her doctor. Mom proudly showed her schedule to her hematologist. The doctor's eyes popped out and she blurted out "OH MY! Can I please get a copy of that?!?"
Now, whether I'm at Mom's or far away at home I can open the schedule and have the assurance of knowing that her meds are on schedule.
And… THAT is how Apple helps solve this world-changing problem