It killed me to not talk about Macstock right after I got back, because it was so much fun. I can't talk about Macstock without talking about the people first. The vibe at Macstock is that everyone is there to learn and to meet people. Instant friendships are struck at break time, at lunch, at the deep dive sessions and at the parties at night.
The People
In fact, one of our new friendships started even before we arrived. I got an email from Corky Heath, who has been been corresponding with me about the podcast for about 8 years. In a weak moment, he thought he'd enjoy picking Steve and me up from the airport and driving us the hour from Chicago to our hotel in Crystal Lake. I say a weak moment, because he essentially became our chauffeur for the entire trip! One time we took the shuttle from the hotel to the conference, and I think we made him sad, so we didn't do that again!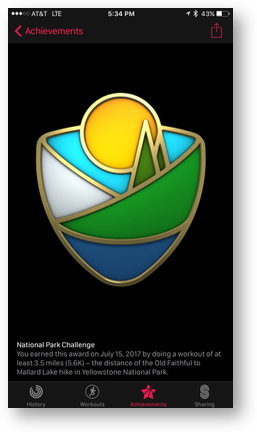 On Saturday July 15th, Apple had a special workout badge for the Apple Watch. It was a National Park Challenge badge and to get it you had to do one workout that was a 3.5 mile walk, run, or wheelchair exercise. I really really wanted this badge. At lunch that day I was chatting to Lynda and Charles Gousha, and they wanted it too. We talked Corky into sneaking us out of the conference during one of the deep dive segments, and taking us to a local park where we could do our workout. The five of us (including Steve of course) had a fabulous set of discussions, most notable about women in technology leadership positions.
I don't know why, but getting that little badge in the Apple Activity app made me really happy. Maybe it's because I could show it to everyone at the conference and they would know what it was and what it took to achieve? Steve was also intrigued because it proved that Apple is doing something right here – somehow they got us to go get a lot of exercise when we would have otherwise been sitting on our behinds the whole time!
I mentioned being able to show people the badge – there is something wonderful about being with people who you know are interested in the same things you are. I'm sure you've been at a party where you try to talk about a cool tip you learned on your iPhone, only to have the other person stare blankly at you and say, "I'm not really into tech." This is the exact opposite world. It's a world where bringing your laptop and iPad in a backpack to a party requires no apologies or explanation.
I'd like to tell a little anecdote to explain how it feels to be at Macstock. It was my great pleasure to meet Ian Prinssen and his 11-year old son Daniel at Macstock. Ian and I have talked via email and the live chat room for we think around 10 years, but this was the first time we'd met in real life.
One of the sponsors of Macstock is the fabulous OWC, aka MacSales.com <http://MacSales.com>. They had a G5 there with a monitor that they decided to give to Daniel. I ran into Ian and Daniel on their way out with the G5 about to leave for home. The look on Daniel's gleeful face was just wonderful. His face nearly split in two his grin was so wide. I asked Ian, "Do you now understand what I mean about the feeling of community here?" He surprised me by saying, "No." But then he put his hand on his chest and said, "It's not community, it's family." I'm not going to lie, I teared up a little bit.
Another thing struck me after I left. There are women at this tech conference. I've been to a lot of tech conferences and it really stands out that this is not a good old boys conference, it's a conference where everyone feels welcome. I dream of the day when I won't even notice this because it will be the norm, but Macstock is doing it right.
The Presentations
Ok, it wasn't all touchy feely stuff, there were, of course, really wonderful presentations. They were all recorded on video, and Mike Potter is going to let Steve edit them for him, so we'll be sure to let you know when they go up. If you follow me (or Steve) on Twitter you'll be sure to know immediately.
Chuck on Customizing your Mac for productivity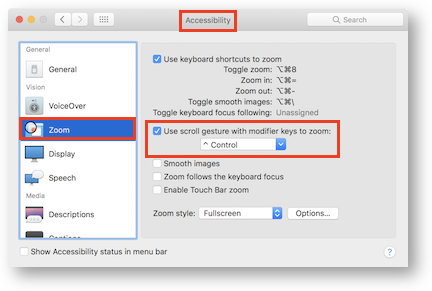 Even though the first speaker was Chuck Joiner, I enjoyed his talk on customizing your Mac for productivity. When you see a talk where someone does the same kind of stuff you do with the same kind of tools (or better yet, different tools), it's a great opportunity to get together and share notes. I plan on doing a screen share with him soon on how we create our podcast and blogging feeds to see if I can find ways to optimize my workflow.
Nothing makes me happier than correcting Chuck, and when he used a 3rd-party tool to zoom I took the opportunity to point out that it's built into macOS's Accessibility already!
Jeff Gamet on Home Automation
Like Chuck's talk it was fun to see Jeff Gamet talking about how to get started with Home Automation and to see that he went through the identical process of starting out. I talked to him afterwards about the trials and tribulations comparing notes as well.
Matt Hillyer on IFTTT to automate your life
Matt Hillyer did a talk on using If This Then That (IFTTT) to automate your life. Every time I see an IFTTT presentation I get motivated to find something I need to automate. I learned from Matt that IFTTT has made a lot of progress in the years since I last looked at it, so maybe now he's inspired me to finally start playing with it.
Dave Ginsburg on Efficiency in iOS
Dave Ginsburg showed us a lot of tricks on iOS to help you be more efficient. While I actually knew many of them, a few blew my mind. Did you know that when you're looking at a web page on an iOS device, and you've been served the mobile version you can tap and hold the circular arrow to the right of the URL and you'll be offered the desktop version of the site?
If you're OCD you'll love this one. Did you know if you tap and hold on the icon in the bottom right of a Safari window (the one that shows you the open tabs), you get an option to close ALL of them? Well I didn't! No matter how much you think you know, you always learn from people at Macstock.
Melissa Davis & Jodie Spangler on Senior Moments
Melissa Davis and Jodie Spangler gave us a break from serious learning with a playful demonstration of what it's like doing tech support for seniors who might just not be focussed the task at hand.
MyMac Game Show Quiz
Tim Robertson and comedian podcaster Guy Serle ran the MyMac game show and it was a lot of fun. It was fun because there were so many prizes, anyone who wanted to play got a chance. The prizes were donated by the fabulous OWC, endearing them to us more than they already do with their excellent products and services.
Tom Piper on power of Apple Pages
I'm not an expert on the iWork suite by any means, so it was really interesting to watch Tom Piper demonstrate some powerful features of Apple Pages. He didn't do a general walk through of the app but rather just cherry-picked little tidbits to help you make more interesting documents.
I was particularly intrigued to find out that you can create some cool artwork with Pages by masking a geometric shape onto an image. Who knew?
Mike Schmitz on Managing Email
Mike Schmitz and I have both been doing screencasting for Don McAllister on ScreenCasts Online for quite a while now but had never met in real life. He's a master of efficiency and productivity and does amazing videos for SCO. In this presentation on how to conquer your email, he used great visual aids. He did a demonstration with a physical mail box (that he had to cart across the country for this demo) that will always come to mind when I'm being stupid with my email.
Mike knew that depending on WiFi for a live demo was a risky thing, so he deployed a very clever trick. He made a screencast ahead of time of what he wanted to demo on screen, with video only and no voice. Then he clipped the video into a bunch of little pieces. He placed each video clip on a new slide, completely covering the slide. Then while he was doing what looked like a live demo, he would simply tap to start each video and advance the slide at the end of each one. I absolutely would have never noticed it wasn't live except that Steve figured it out. Amazing trick I will absolutely steal shamelessly!
Bryan Chaffin on Changing Times
Bryan Chaffin opened day two with a thought piece on his thoughts and reactions to how Apple has changed over the years. He reminisced about the good old days, complained about the new world and then brought it around to how he's come to piece with Apple and his interest in where Apple is going next.
Brett Terpstra on Spotlight
Brett Terpstra showed us how he uses some clever tricks in Spotlight searches to organize his otherwise chaotic work life. He says he's scatterbrained and these tools are what make him appear organized.
For example, he builds and saves Spotlight searches to create Project folders. This allows him to dump files any old place and have them all appear to be organized together. I'm often struggling with my desire to have files in different folders but that belong together and this might be a way to have the best of both worlds.
Remember my Delete me tip where I store files in a folder called deleteme so I know they can be later tossed? He does the same thing but he uses a tag instead. This lets him put the files anywhere while his Hazel script still goes and finds them and deletes them when they expire. I queried him later about how he does it and it's a rather complex process of tagging and some command-line tools. Really inspired me to think about new ways to solve these problems.
Dr. Robert Carter on Braille
Dr. Robert Carter did a presentation to the main room and also a Deep Dive all on the subject of using a Braille reader. The most interesting thing I learned was how fast he reads Braille. He reads pretty much as fast as I do with my eyes. He also showed us how the Braille reader can act as a standalone device or as a way to read web pages.
There was an interesting discussion about how his Braille reader runs Android. Robert is a bit concerned that it's running Lollipop which is really old but he doesn't have much choice about that. He also explained how the Braille reader with the larger display (more characters displayed for his fingers) is $6000. Yikes!
He talked about how Braille literacy is on the decline because of audio options, but that this has an adverse effect on employment. Unemployment is very high in the blind community at 62%, but of those who are employed, 90% are Braille literate. Braille matters.
Chelsea Cook (a fellow NosillaCastaway) was in the audience for Robert's talk. She is also blind, and has a degree in physics with a love of astronomy. She's a walking advertisement for Braille literacy. Can you imagine reading Schrodinger's equation in Braille?
Kirschen Seah on batch processing with Automator
Kirschen Seah gave a great introductory session on how to batch process images to resize them using Automator. Her session was a good way to learn the basics of Automator with a real life example. Kirschen's great skill is simplifying what otherwise might feel complex.
Later when Kirschen was sitting next to me during a session, I noticed she double tapped with two fingers on her Apple Watch and it zoomed just like you can do on iOS! Did you know it could do that? I sure didn't. She showed me how to go into Settings on the watch, General, Accessibility and turn on zoom. Pretty cool stuff.
Cage Match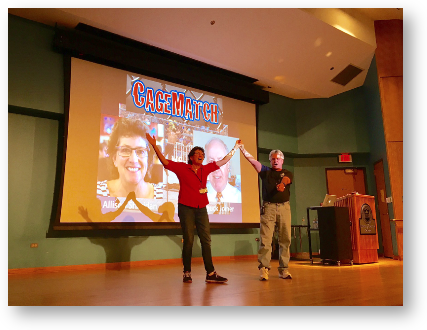 As you might know, Chuck Joiner and I have a bit of a rivalry going on. We're actually dear friends so it's all in good fun but things went up a notch at Macstock. Chuck started it all by a video he created before the show entitled Why Not to Go to Macstock. I put a link in the show notes, but he explains 5 reasons not to go, from you needing a haircut to needing to mow the lawn, but one of his reasons was that "you're scared of Allison." I knew it was game on at Macstock.
What I didn't know was that Tom Schmidt had something up his sleeve. Unbeknownst to Chuck, me, or Mike Potter running Macstock, Tom opened his presentation with a slide entitled CAGE MATCH with pictures of Chuck and me. He threw that up on the big screen with appropriate music resulting in great laughter – he did the World Wrestling Foundation proud in his announcement.
Of course I needed no more encouragement than that to run up on stage. Tom yelled out for Chuck to come but the funniest thing had happened – Chuck was not in the audience at that time, he was outside doing a recording! At this point Tom declared that Chuck had forfeited the match and that I was declared the winner of the cage match, and that Chuck was banned for life from Macstock. Absolutely hilarious.
After the laughter died down, Tom started his presentation. Suddenly Chuck poked his head in the speaker's door up on stage and asked what was going on. He had no idea what had happened, he'd just been told that he'd better get back to the stage. This gave Tom the opportunity to push Chuck right back out the door with no explanation, again to great applause. It might have been the best part of Macstock for me!
Tom finally got a chance to do his presentation. In it he walked through how to be a better client when you ask for help from a service provider. Interesting thoughts like, "tell them what IS happening, not what's not happening and have passwords and product serial numbers available when you meet with them." Tom gave great examples of the useless things we all say and showed better ways to explain the problem that will help the service provider help you. Clearly he has lived on the other side of this equation!
Wally Cherwinsky on video recording and editing
Wally Cherwinsky has created videos for National Geographic so he knows his stuff. He taught us how to look at the world in a different way when recording videos so they can be assembled into more interesting content. He talked about using angles and distance to focus the viewer's attention to tell a story. Wall's gift is the ability to make you feel as though you too can do what he does.
Dave Hamilton on Mesh Routers
Dave Hamilton gave an excellent talk on mesh routers. I took more notes on his talk than any of the others. I had already listened to hours of him talking about this on Mac Geek Gab but hadn't ever heard the story from beginning to end. In only about 30 minutes he walked us through each bit of terminology around mesh routers and told us which of the terms we should care about, like 802.11ac, QoS, Beam shaping vs. Beam forming, SU-MIMO and MU-MIMO. And I finally found out what he means when he says backhaul!
Mike Potter on spherical video editing on Affinity Photo
Mike Potter closed out the conference with a demonstration of how you can use my beloved Affinity Photo to edit spherical videos (I liked that he didn't call them 360 videos). His spherical videos were taken on an Android phone using the stock camera and a tool made by Google in Android Nougat. I didn't realize you could do that with an Android phone, and he also explained that the same spherical photo tools are available for iOS inside the Google Street View app.
It was really fun to watch him wow the crowd with the inpainting brush!
Party Time!
When Barry Fulk and Mike Potter first put their heads together to try to recapture some of the magic of Macworld, Barry's idea was to simply have a party and invite everyone while Mike wanted to start Macstock Conference and Expo. The first year Barry's party idea turned into inviting literally anyone who liked the Mac to come to his house for a barbecue. His saint of a wife, Bobbi Ann, agreed to this lunacy.
Since the numbers have grown, Barry has mutated the barbecue into what he calls the Mac Mingle. It was a great party with food and music (the other people said the music was good) and general camaraderie. We even took a photo for Don McAllister that we called ScreenCasts Online Staff Meeting, because Mike Schmitz, Frank Petrie, Wendy and Wally Cherwinski and I all write for Don's magazine. Super fun to meet Frank for the first time in person too.
Final Thoughts
I wanted to record all of this while I was still remembering how amazing Macstock is. If you want to learn, if you want to meet fun, engaging, intelligent people who all have the Mac and iOS in common with you, I can't think of a greater conference to attend. It's inexpensive, and for the US folks, it's centrally located. That said, Martijn flies over from the Netherlands each year, and he wouldn't miss it for the world.
I was telling Lindsay about Macstock and she asked me an interesting question. She asked, "Do you still miss Macworld?" And I had to say no, Macstock has absolutely filled that void in my life. I want to thank Mike and Barry from the bottom of my heart for creating Macstock and giving us a place to meet and learn from each other.