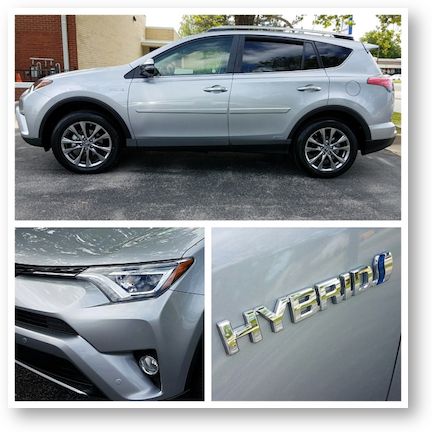 Allison put out an emergency call for listener submissions, suggesting quick reviews of gadgets on the desk? Here's hoping she won't object to one that's in the garage, because this is George Fromtulsa with an overview of the "Advanced" Safety Electronics in my new Toyota RAV4 Hybrid.
Problems to be solved by new car. Obtain advanced electronic safety tech. In self defense, sit higher for a better sight line amidst the fleets of giant trucks and SUVs on Oklahoma's roads.
Side note: I was driving a low mileage 2007 Camry Hybrid in near perfect condition. It was reliable, quiet, and composed on even the worst roads. Did I mention 35 to 38 MPG? The Camry just didn't have advanced tech, and from the driver's seat I was often looking up at trailer hitches.
I drove quite a few cars as I shopped, all with advanced tech. I bought the RAV 4 because, of all the vehicles under $50,000 I drove, it came closest to the quiet and smooth ride of my Camry.
Toyota Safety Sense™ is standard on all RAV4s. The RAV version includes Pre-Collision System with Pedestrian Detection (PCS w/PD), Lane Departure Alert with Steering Assist , Automatic High Beams, and Dynamic Radar Cruise Control. Mine came with a "Tech" package that added a 360° camera, Cross Traffic Alert with Blind Spot Monitor, and gear like a more powerful radio with XM Satellite. The RAV Hybrid is AWD, electric motor only driving the rear wheels.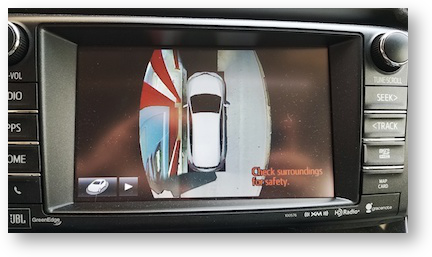 So how does all that safety gear work? Best I can tell without putting myself or the public at risk, as advertised. It brakes automatically for objects or rapidly slowing vehicles when the driver doesn't. When lane markers are visible, it will beep a warning if the car is drifting across them, and pull it back where it belongs if the driver doesn't. Automatic high beams really work, and with that feature on, I've not been flashed by an exasperated oncoming driver. The optional blind spot monitor alerts with a an LED in the outside mirror if an approaching vehicle is located outside a driver's sight line. The rear cross traffic alert works the same, but when backing out of a parking space. There's a lot of YouTube videos showing Toyota's, and other company's similar gear put to the test.
A friend in Dallas was also shopping for cars at the same time. When I told him I'd decided on the RAV, he test drove one and decided to buy one, too. But after telling him I thought the "Tech Package" was overpriced, and its 360° camera more gimmick than benefit, he decided to find one without that option. Hen's teeth. Working the Internet together, we turned one up at a dealer in Maryland that is known for aggressive discounting. He called, cut his deal on the phone, and flew SW Airlines with a cashier's check, saving about $4,000 over the price quoted in Dallas, with the $1,500 tech option included in Dallas
He treated his drive home as a vacation, stopping to see old friends, and scheduling a night at the Biltmore. I'm not sure where it happened, but he admits being distracted, perhaps that phone?, but he didn't notice another vehicle cutting across lanes and slowing rapidly in front of him. But his new car did, applying brakes and avoiding a collision at freeway speeds. No damage done, thank goodness.
Thinking of buying a car? The Internet's a deep source of information, though I can report that my Dallas friend tried a couple of those "car shopping" services, and was disappointed.
Start with the Insurance Institute for Highway Safety's website. IIHS has long rated cars for crash protection and has recently started rating electronic driver assist and headlights. There's an increasing variety of top safety picks, and I'd never buy a car that isn't. Made that mistake once, bought one before it was rated, it turned out to be a safety fail, as sadly verified by real world accident statistics: iihs.org/… and iihs.org/….
Check out sites like Car & Driver that do instrumented road tests. C&D tested one vehicle I had been considering, Top Safety Pick and all, it took 192 feet to stop from 70 MPH, 26 feet longer than the new CR-V. A really long 26 feet as your tires are screeching but your car isn't stopping. Consumer Reports offers insights into reliability. There's scores of YouTube auto channels, some offering really good reviews, others mostly concerned with how fast it goes. One I discovered, Alex on Autos, seems unusually thoughtful and thorough: youtube.com/…
As usual, there's links in Allison's excellent show notes.