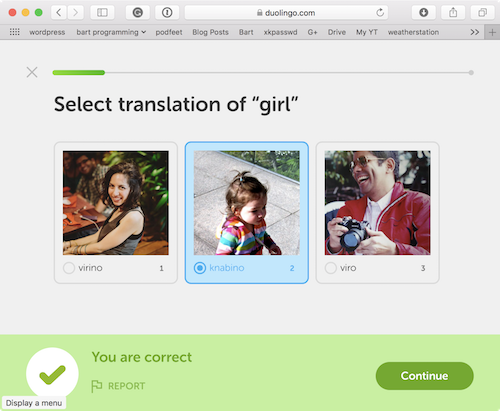 I am Terry Vogelaar from Holland and I would like to review Duolingo. The problem to be solved is that as the world turns into a global village, being able to speak more than one language becomes increasingly important, especially for people in the less wealthy countries. But traditional language education is expensive. So there is the desire to learn, but not the budget. That is where Duolingo comes in.
I wanted to learn Esperanto. Why Esperanto, you might ask? Because I'm a geek. This is a constructed language. It's almost as straightforward as a programming language. It has no exceptions and the grammar is very visible. And it is a neutral middle ground. Whenever I speak English, I am well aware of my Dutch accent. I took a big step to learn English with all of its quirks. But I still feel inferior to native speakers, because I came to their territory. But with Esperanto, everyone took the same small step towards each other.
Okay, enough about Esperanto; this is a review of Duolingo. There are plenty of courses available. You can even learn High Valerian and Klingon. Speaking of geekiness!
Each lesson begins with a short introduction, but most of the learning is in the practicing. And they really did their best on the gamification of it all; you can earn points, level up and unlock features with your accomplishments. Great!
Are there any downsides to it? Of course, there are. Duolingo is notorious for the silliness of some of the sentences. Like this one: "La malbela bebo dancas rapide" meaning: "The ugly baby dances fast". Or this one: "Ĉu estas spaco en via dormosako?" meaning: "Is there room in your sleeping bag?" How desperate can you be?
It is easy to start a course on the site and continue with it on your iPhone or vice versa. But there are some differences. Some choices are obviously just user experience optimizations. But other differences baffle me. Like the reward system. On the site, you can earn "lingots", while on mobile they are called "gems".
Practicing involves doing tasks like translating a sentence, and the site determines whether it is correct, but it doesn't have to match the expected sentence exactly. Even typos are recognized as a right answer with a typo, instead of just a wrong answer. This is very good, but not perfect. Since there is a lot of typing involved, I don't pay too much attention to getting my English right. And that bites me in the butt occasionally. Take this for example. Esperanto has no indefinite article. So when translating from Esperanto to English; you need to add that. You can not say "I am volunteer"; it has to be "I am a volunteer" although there is no word for 'a' in Esperanto. But in my native tongue, I can say it either way. This trips me up every time.
But all in all, I am very happy with Duolingo. It looks great, the audio sounds great and the lessons are great. And it is free. There are some ads; these are harder to ignore on the app version than they are on the website. If you pay 10 dollars a month, you can get rid of the ads and help to keep it free for those who can't afford to pay for a language education.
I can highly recommend Duolingo for learning Esperanto or any other language you want to master.