Hi Castaways! It's Denise Crown with a US streaming service shoot out and a castaway challenge at the end! Get excited! Here's the problem to be solved: I resent the amount of money I pay for TV. It's $250 per month by the time we add HBO and NFL football. My husband loves football so we've continued to pay a premium for satellite so he can watch his games. Without the live sports factor, I would have cut the cord years ago.
Imagine the Mac gear I could buy if I wasn't paying for 1000 channels I don't watch! I calculated I could have had a nice Lexus for the amount I've pumped into cable and satellite companies over the years. A Lexus, Castaways! After talking about my nonexistent Lexus for a few days, my husband finally agreed that after 20 years, we've pumped enough money into cable and satellite companies.
Here my cord-cutting journey begins, with a first stop in the NosillaCast facebook group where tons of useful advice was shared. Thank you all. From here, I leapt into action with the agility of Steve Sheridan shooting a total eclipse.
Important to the rest of the story, I have an uncapped broadband account with 200mbps down and 20 up. When you switch to streaming, you are diverting part of your Lexus fund to your ISP. My ISP, after being obnoxious with bandwidth caps for a few years, finally saw the light and now lets me run wild as long as I give them $80 per month.
I decided to do some research on some of the popular US streaming options, ranking my choices on a subjective scale of 1 to 5 with 5 being the best. The great news for US consumers is we now have a pretty good range of options.
Plex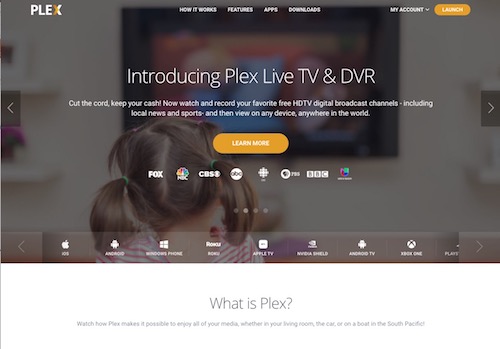 I would change the whole UI because I'm in the software business and that stuff bugs me, the pricing model is confusing because you're paying for clients and server, but once you get past all that, it's OK… but I've seen Harrison Ford run from that boulder enough, so what's fresh? Another annoying thing, I had it scan my media library and it had movies and TV shows in the wrong spots and lost the artwork. I'm not going to pay for a service AND spend a lot of time troubleshooting it.
As an option for live TV it seems too annoying and clunky to me. They support a wide variety of devices and smart TVs so there's a good chance you already have something in your house that supports it, and it's a great option if you have a lot of content you want to stream in and out of your house, and you don't mind a little techery to get it to work.
They also have authorized installers. You might want this option if you hate noodling with your tech (but then you would not be listening to this podcast.) Getting started with Plex cost me $4.99/mo for the iOS app and $4.99/mo for the Plex Pass. I still think of Plex as more of a media manager vs. a replacement for TV, but they are headed in the live TV direction. I'm with Podfeet that I'm going to stop paying for it. I'm giving Plex a 2 for being overly complex for most consumers, a nickel and dime pricing model, and a terrible user interface design.
YouTube Red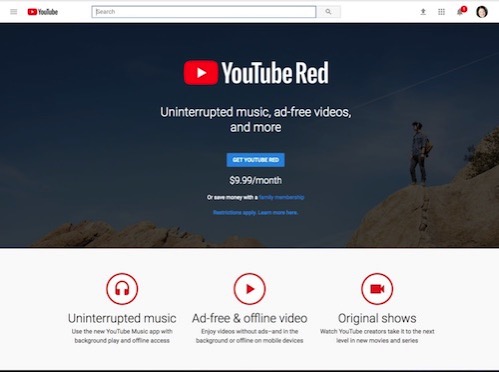 This is Google's premium YouTube experience with a reduced number of ads. As with other streaming services, it supports a lot of different devices, but not the Amazon Fire Stick because Google and Amazon are in a spat.
You can download videos to watch offline, which is probably great for parents of young children. There is also a lot of music. Like Netflix and Amazon, there is some original content.
It's $10 per month, and I did the 30-day trial before cancelling. I give it a 3 for not being useful for my needs and no live TV.
Hulu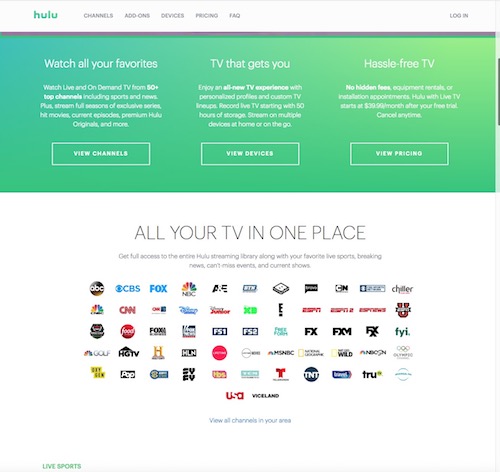 I think worth giving it a trial if you're cord-cutting. They have a live TV option. There is a free trial and Hulu has plans as low as $5.99 per month for the first year. Hulu with Live TV (beta) is $39.99 per month.
You can add unlimited screens, a cloud-based DVR, HBO, Cinemax, and Showtime as additional options. It supports a wide range of devices, including select Samsung TVs, Xbox, Apple, Amazon, and Chromecast, and Roku. You can watch live TV on two screens at once. They currently offer about 50 live channels.
I'm giving Hulu a 4 for pricing transparency, consumer-friendliness, selection, and user interface.
DirecTV Now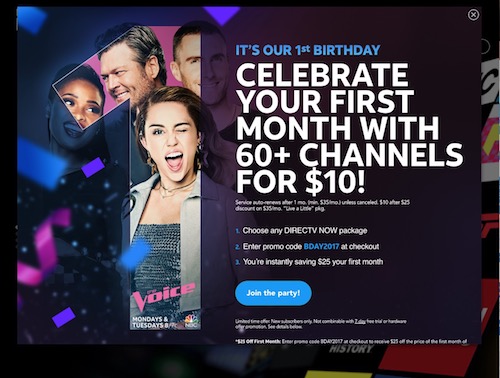 DirecTV is my satellite provider, and I wish they had told me they were launching a streaming service. I guess they don't want to lose $200 per month, but it feels dishonest so I already had a bad feeling about this service without even trying it. They start with a 7-day free trial, and if you are an AT&T Plus or Unlimited Choice customer, you get HBO for free. A recurring theme is they try to lock you into everything they provide by offering a bunch of promos and discounts. They epitomize big company behavior.
One annoying thing is they try to collect your info before you can see the available channels. I had to hunt around the interwebs to find a page that wasn't behind a log-in form. In marketing-speak, we call these "landing pages" and they are designed to capture your contact info before useful info is shared. To get around their landing pages, I searched for "DirecTV Now help." Now that we can see what's available, there are four tiers starting at $35 per month for 60 channels.
Due to licensing restrictions, your local channels can only be viewed if your device is in the local area. So, don't think you can be clever and visit Germany and watch your Philadelphia local news. The top tier is $70 per month, and now we're wandering back into the cable/satellite pricing again. What it feels like to me is they're just transferring their satellite packages to a streaming service and keeping their big company behavior and restrictions. Sorry AT&T, I'm giving you a 3, mainly for user experience.
https://www.directvnow.com/thegoodstuff2
Sling TV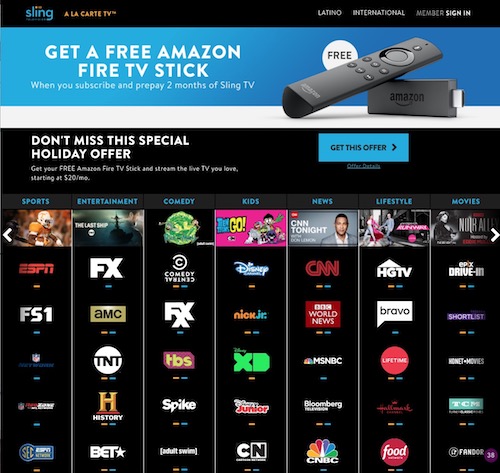 This is a pretty new offer, and spoiler, I LOVE IT. All caps love. First thing I love, 7 days free. All the streaming services I looked at had a free trial, which means they are very competitive and this is a win for consumers. SlingTV is very transparent about pricing and what you get. Love that. They are owned by the Dish Network but don't market it like a big company run by lawyers. I bought Sling Blue which allows me to stream on three devices at one time for $25. For $5 extra I signed up for a cloud DVR that supports 50 hours of recordings.
Sling has a great selection of channels, with minimal bundling. There are basically three tiers with some "extra" upgrades that provide a few more channels. All of this goodness is streamed to a wide variety of devices including AppleTV, Amazon Firestick, Roku, Xbox One, and quite a few devices I've never heard of. Of course, mobile apps are included and I've installed SlingTV on my iPhone and iPad.
You can buy what you like online and never have to interact with a human. Signup was less than 5 minutes. On day two of my free trial I subscribed, paid two months in advance, and received a code for a free Amazon Firestick. The Firestick arrived the next day. So easy. No friction at all. Hate it? No problem, change your package or cancel anytime you like. I can add HBO and a sports package for my husband, but only need to do that for football season then I can shut it off. Another feature that impressed me, specialized language channel packages since we don't all speak English here in the US.
What it comes down to is who has the channels you want at a price you're comfortable with, that runs on the devices you want. For me, SlingTV is a win. I give it a solid 5.
As I mentioned, two days into my trial I had already flung my credit card at them. I'm running Sling in parallel to my DirectTV subscription until after the supersportsbowl.
Here are my observations on my first week of cord-cutting:
Fast forward: you can't always fast-forward or rewind on all devices or all channels. Seems to work well on the browser, but there are various limitations on the different devices and in apps. I presume this will standardize over time as deals with content creators are renegotiated. For now, that part is inconvenient.
I really like using SlingTV on my AppleTV. The app works very well and is rock solid.
Watching SlingTV on my iPad will crash occasionally, but when you restart the app you are back where you left off.
The cloud-based DVR is a better experience than my DirecTV DVR.
I will be excited to remove all the extra hardware that comes with a satellite system.
I'm enjoying a new channel I didn't have before, the DIY Network.
I can watch in bad weather, the satellite quits working in rain, but as long as I have internet the SlingTV seems to work without interruption.
I'm sending my savings straight to my 401k
Voice control of Apple TV and the Firestick is fun!
Video quality is consistently great. No buffering or stuttering.
Aren't you guys excited to see there is a cage match for eyeballs for streaming TV? When this happens, we all win.
And now here's the challenge for my fellow Castaways. Did I miss a service you love? What options exist for cord-cutting in your country and what do they cost? If you've cut the cord, are you happy with your decision?