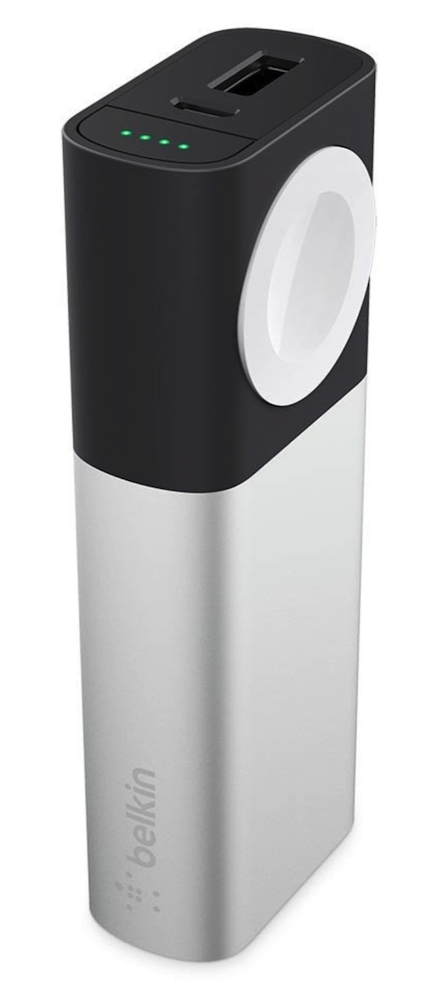 When Steve and I were retiring, many people asked us if we were going to travel. I said, "no plans at all to travel." Evidently I was wrong! It seems we travel an awful lot these days, to both foreign lands and locally to go see the grandson.
I've gotten so that I can pack in my sleep, grabbing all of the necessities. There are of course two lists in my head. Silly things like clothes and toothbrushes, and the more important list of things like laptops, tablets and of course chargers.
The one thing I often seem to forget though is my Apple Watch charger. I even have two of them, one on my desk and one by my bed, but every 3rd trip I forget to bring one. My theory on why I forget the Apple Watch chargers is it's because the little charger pucks are threaded into a stand and so they're not so easy to make easily portable.
In a pinch, you can usually drum up a lightning cable and a USB-charger block to charge your phone, but there's no way to piece together a charger for the Apple Watch.
A lot of people carry small power banks with them, which are great for charging phones, but what if you had a charger bank with an Apple Watch charger puck built right into it?
The fine folks over at Belkin have made just such a thing and their elegant name for it is the "Valet Charger™️ Power Pack 6700mAh for Apple Watch + iPhone". How about if we shorten that to Valet Power Pack?
The Valet Power Pack is around 5″ long, 1.75″ wide and a little less than 1″ thick. It's black at one end where the white Apple Watch charger puck is built in, and the rest of it is brushed aluminum. The sides are nicely rounded so it feels nice in the hand.
On the black end, there's a single USB-A port for charging the phone, and a micro-USB port for charging the built-in battery. Then there's a little button that when pushed shows up to four green LEDs to indicate the battery charge available.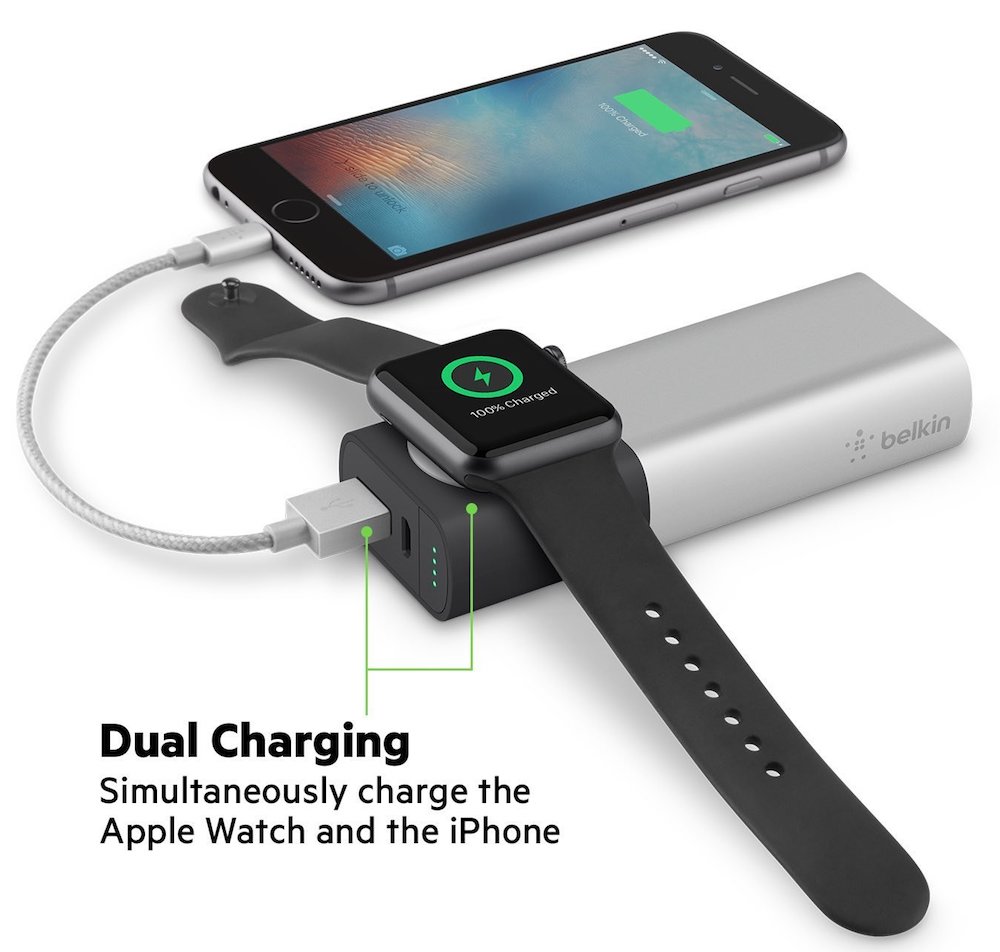 That little button has another important use. When you lay your watch on the charger puck, you have to push the button to start it charging. Belkin explained to me that if they didn't activate it with a button, you'd have it sending juice to the puck all the time and just drain the battery. Of course to charge your phone via the USB-A port you don't need to push the button.
Belkin's website says the Valet Power Pack will charge the watch 8 times, but the packaging says 16. I'm not sure why the two answers conflict, but all Apple Watch batteries are not the same. The Series 3 has bigger batteries than the Series 1 which were bigger than the 0, and the 42mm has a bigger battery than the 38mm watch. I checked my model, the 38mm Series 2, and iFixit says it's a 273 mAh battery so 6700 ÷ 273 ≈ 25 times. In other words, it will last you a good long time.
The total power of the Valet Power Pack is 2 Amps, which they describe as " 1 Amp to optimally charge the Apple Watch, and 1 Amp to charge your iPhone." I wondered if it meant you could get 2 Amps right out of the USB-A port and charge a smaller iPad. I gave it a shot and plugged my 9.7″ iPad Pro that's supposed to require 2.1 Amps and while it made the happy charging sound and the charging icon came on, the iPad continued to drain while plugged into the Valet Power Pack.
The Belkin Valet Power Pack is $89 on Amazon Prime, or you can buy it for $80 direct from Belkin but slower shipping will cost you just as much.
I was so delighted with the Belkin Valet Power Pack that I bought Steve and Lindsay them for their Apple Watches for Christmas. If you're looking for the most compact and convenient way to charge an Apple Watch with an option to charge another USB device, I can recommend the Belkin Valet Charger™️ Power Pack 6700mAh for Apple Watch + iPhone.