Why you should subscribe to the Podfeet Press (it's for when I mess up the show). I was on Let's Talk Apple hosted by Bart Busschots, and Chit Chat Across the Pond was amazing with Dr. Kramer. Be sure to join the friendly and enthusiastic NosillaCastaways in the live chatroom during the Apple announcement at 10am Pacific Time on Wednesday at podfeet.com/chat. I've got a review of TouchRetouch from Adva-Soft to edit your photos from iOS. We've got a nice meaty installment of Security Bits with Bart Busschots where we talk about Forced Smartphone Decryption Breaches 5th Amendment, Apple Fails to Remove Malicious App, Google & MasterCard Sharing Info and more.
Hi, this is Allison Sheridan of the NosillaCast Apple Podcast, hosted at Podfeet.com, a technology geek podcast with an EVER so slight Apple bias. Today is Sunday, September 9, 2018, and this is show number 696.
Well, last week's show had just a few hiccups. When you heard the intro, you heard me thank Jerry in the chat room for correcting me on the day of the week. Sadly Jerry (and no one else) noticed that I also said the wrong show number! Evidently I'm the only one who seems to notice the numbers because I never heard from you guys about it.
However, 4 hours after the show was up, Allister Jenks from New Zealand wrote to me to tell me a big chunk of the show was missing! I know exactly when it happened, but I still don't know how. In last week's show, you should have heard me do a setup for why I was reviewing three apps to entertain a toddler, and you should have heard me talk about an app called Bandimal. If your podcatcher picked up the show too quickly, you didn't hear any of that, you just heard me say Bandimal isn't accessible with VoiceOver and then move onto the second app of the three.
When Allister pointed it out, I did a couple of things. In retrospect I should have killed the item in the feed first, minimizing the number of people who would get the wrong file, but instead I jumped in and fixed the file first. I remember during the original recording I did the section where I said Bandimal wasn't accessible and then I stopped. I started thinking maybe I shouldn't mention that because I didn't test the other two apps, and then that would just raise questions. After arguing with myself, I decided to leave it in and move on. Somehow during that stop and start I managed to cut out the entire setup and I don't know how that happened.
I rerecorded the segment, reexported the entire show, reuploaded it through Auphonic Leveler with the letter A at the end of the title of the audio file, and then got to work on the feed. I changed the title to be 695A so the other one would cease to exist, and I deleted the broken episode from Libsyn and republished the show.
And then I had to tell people what happened. I wrote it up in our Facebook group podfeet.com/facebook. I wrote it up in our Google Plus group podfeet.com/googleplus. I wrote it up on my LinkedIn profile (which I only use for plugging my content). And finally I wrote it up in the Podfeet Press. You may not know about the Podfeet Press, but it's a newsletter that I created specifically so I'd have a way to communicate with listeners when things go wrong.
Every week you do get two emails, announcing the latest episodes of the NosillaCast and Chit Chat Across the Pond. It's kind of nice to see if you're interested in the topics of the shows. But the real value is that when things go wrong like this week, or if something out of my control happens like my web-hosting company having a problem, or an illness strikes me. You'll find out first if you're on distribution for the Podfeet Press.
You can sign up by going to podfeet.com and clicking in the menu bar at the top of any page you'll see Podfeet Press Signup. Click that link, put in your email address and your name (if you choose) and then choose html or text formatting for your emails and hit subscribe. It's not the Hotel California, if you don't like it, you can always unsubscribe with no penalties. I hope you'll consider signing up because I feel terrible when stuff like this happens. Bart told me once that he doesn't freak out because nobody ever dies because a podcast is messed up. But I do feel terrible anyway!
I got over it though when my dear friend Linda, whom I've known since 1972, responded to the Podfeet Press Announcement like this. "One mess-up in 695 episodes? That's it. I'm outta here."
Chit Chat Across the Pond
This week's Chit Chat Across the Pond was really interesting. You guys have heard me talk about Toby from the live chat room, and in fact you've heard a couple of Toby's reviews on the show. Just last week he reviewed Melodics in his own style, including yelling at his sister to shut up. Anyway, Toby and his dad came to Macstock Expo in Chicago, and I got to talking to his dad about what he does for a living. Turns out Toby's dad, also known as Dr. Michael Kramer, is a professor of digital history at Middlebury College.
I convinced Dr. Kramer to come on the show to talk about what he teaches and why he thinks it's important to understand. The show didn't got at all where I thought it would go. I expected we would talk about things like the evolution of the floppy drive, but instead we talked about how our digital history impacts other fields like the humanities. He gave us the link to his course syllabus and it's filled with fascinating topics, so I plan to have him back again.
You can find this week's episode of Chit Chat Across the Pond in your podcatcher of choice, also under Chit Chat Across the Pond Lite or you can simply listen at podfeet.com.
Let's Talk Apple
This week I had the great pleasure of being invited on Bart Busschots' Let's Talk Apple podcast with Adam Christianson from maccast.com/… and Mark Chappell from essentialapple.com/…. We had what Bart likes to call a "medley of medium-sized stories" to discuss. If you haven't ever listened to Let's Talk Apple, it's a slowed-down look back at the previous month's news. Instead of thrills and excitement of breaking news, it's a measured, thoughtful show where Bart and the guests try to analyze what's happened in the bigger context of Apple news. I hope you'll go check it out at www.lets-talk.ie/…
Join the NosillaCastaways for Apple's Gather Round Event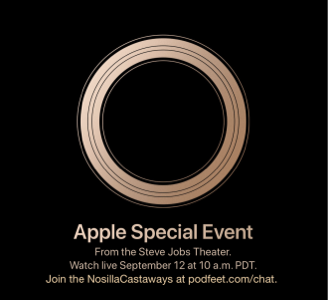 This coming Wednesday, September 12th, Apple will be having it's big "Gather Round" event at 10am Pacific Time. I hope you'll join me and Steve and the rest of the NosillaCastaways in the live chatroom to do text chatting while the show goes on. It's great fun and a great way to get your toes wet in the live chat room.
If you haven't been in the chatroom, go to podfeet.com/chat and follow the instructions to create a Discord account. That link is an official link to our specific chat server so you should be able to poke around in there. We won't be using the audio chat channel to broadcast because most of us like to listen. There IS a channel called "Everyone can talk", but go in there at your own risk!
If you'd rather not make an account, you can always go to podfeet.com/live and there's an embedded Discord chat window there which doesn't require a login.
In any case, if you're in a timezone where the live show is normally while you're sleeping, this might be a great chance to meet everyone so I hope you'll join us.
Blog Posts
Patreon
I mentioned up front that I had used a lot of methods to tell you to make sure you got the right version of the episode last week after I fixed the bork up. If you were already a patron of the Podfeet Podcasts, you would have had another way to be notified. As soon as I realized there was a problem I jumped onto Patreon and sent a message to all of the patrons telling them about how to see if they had the right version and how to get it if they had the wrong one. If you're interested in becoming a Patron for any reason, please head over to podfeet.com/patreon and pledge a dollar amount per week to keep things going around here.
That's going to wind this up for this week. Don't forget to send in your Dumb Questions, comments and suggestions by emailing me at [email protected], follow me on twitter @podfeet.  Remember, everything good starts with podfeet.com/. podfeet.com/patreon, podfeet.com/facebook, podfeet.com/googleplus,  podfeet.com/chat, podfeet.com/amazon!  And if you want to join in the fun of the live show, head on over to podfeet.com/live on Sunday nights at 5pm Pacific Time and join the friendly and enthusiastic NosillaCastaways.   Thanks for listening, and stay subscribed.