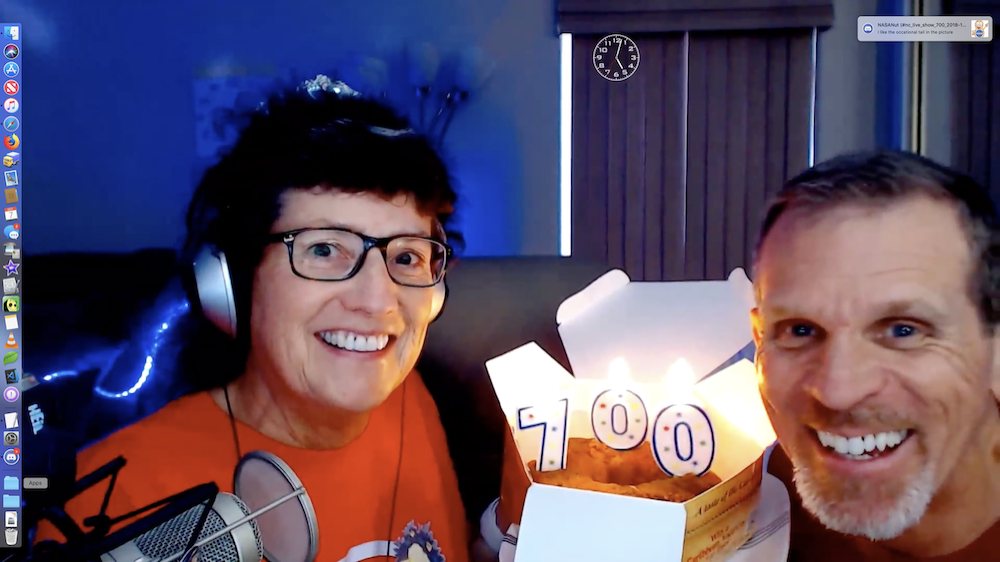 We put on our party hats (literally) to celebrate 700 episodes of the NosillaCast. Then I brag about how may latest video tutorial on iThoughts made it into ScreenCasts Online Magazine.
I try to convince the audience that the iPhone XS is a logical purchase if you already have an iPhone X just on the basis of the camera. I've got a Tiny Tip on how to mark up emails on an iPhone or iPad without using a third party app. The Bart Busschots is back with Security Bits.
Hi, this is Allison Sheridan of the NosillaCast Apple Podcast, hosted at Podfeet.com, a technology geek podcast with an EVER so slight Apple bias. Today is Sunday, October 7, 2018, and this is show number 700.
Chit Chat Across the Pond
This week's Chit Chat Across the Pond was an episode of Programming By Stealth where we learned about three more types of Bootstrap forms: Inline Forms, Horizontal Forms, and Grid-based Forms. It's a super easy lesson but another valuable tool firmly in our toolbox. You can find this installment in your podcatcher of choice under Chit Chat Across the Pond or under Programming By Stealth. And of course as always you can listen over at podfeet.com/…
ScreenCasts Online Magazine
I often tell you when I publish a tutorial through Don McAllister's ScreenCasts Online subscription podcast. I told you recently that I'd done one on the most awesome app iThoughts, my mind mapping app of choice. It was one of the most enjoyable I've ever used because the developer, Craig Scott, is crazy responsive, and the app is outstanding. I have a running thing going with Craig because I have yet to identify a single bug in iThoughts. He assures me they're in there but I can't find them.
Anyway, I tell you about these videos on ScreenCasts Online but I've been forgetting to tell you that they also come out through the ScreenCasts Online Magazine. This is a monthly magazine for iPad and iPhone and it's crazy awesome. It's got over 4 hours of videos by Don, Todd Oldthoff, Mike Schmitz and even me. On top of that it's got written articles by David Sparks, Lee Garrett, Wally and Wendy Cherwinsky, our favorite NosillaCastaway Frank Petrie and more.
The nice thing about the magazine is that you can buy a single issue for $5 and get all that goodness. Of course if you succumb to this temptation, you'll end up wanting more, but the price drops as you buy longer subscriptions. You don't get the videos as soon as you would with a ScreenCasts Online subscription but you do get all of the written material.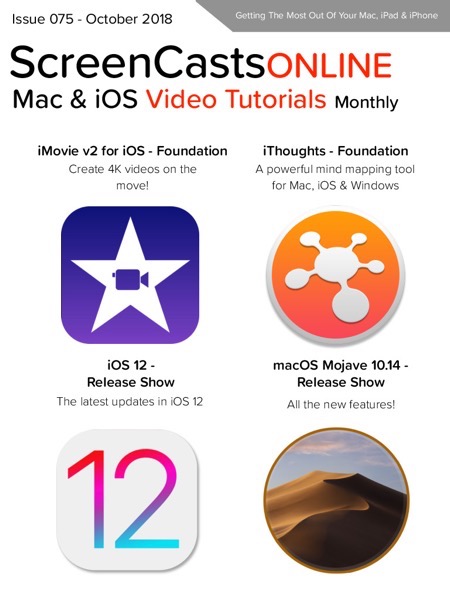 All this is by way of saying that the latest issue is out with my iThoughts video from last month so you should totally go buy the issue for $5. You can download ScreenCasts Online Magazine in the App Store and you get a free back issue. The free one right now has the tutorial I did on Keep It (which is also awesome, both my tutorial and the software).
And yes, this was all shameless self-promotion. Ok, a little bit of promotion for Frank but mostly for me.
Blog Posts
Patreon
Are you ever listening to the NosillaCast or Chit Chat Across the Pond and thinking, "Hey, I sure wish she'd quit talking about operating systems and applications, and tricks and tips and instead do an ad about a mattress maybe a men's razor. Wait, no? You don't want to hear ads? You like having 40 minute plus shows with no ads interrupting the great content? I'll tell you what makes it possible. The great people who have decided to become Patrons of the Podfeet Podcasts.
The people who contribute a dollar a week or more help make it possible for me to buy the hardware and software to make the show possible. If things are tight for you, don't even consider contributing but if you think you get a dollar's worth of content out of the shows each week, consider heading over to podfeet.com/patreon and becoming like the other fine Patrons who help support the show.
That's going to wind this up for this week. Don't forget to send in your Dumb Questions, comments and suggestions by emailing me at [email protected], follow me on twitter @podfeet.  Remember, everything good starts with podfeet.com/. podfeet.com/patreon, podfeet.com/facebook, podfeet.com/googleplus,  podfeet.com/chat, podfeet.com/amazon!  And if you want to join in the fun of the live show, head on over to podfeet.com/live on Sunday nights at 5pm Pacific Time and join the friendly and enthusiastic NosillaCastaways.   Thanks for listening, and stay subscribed.