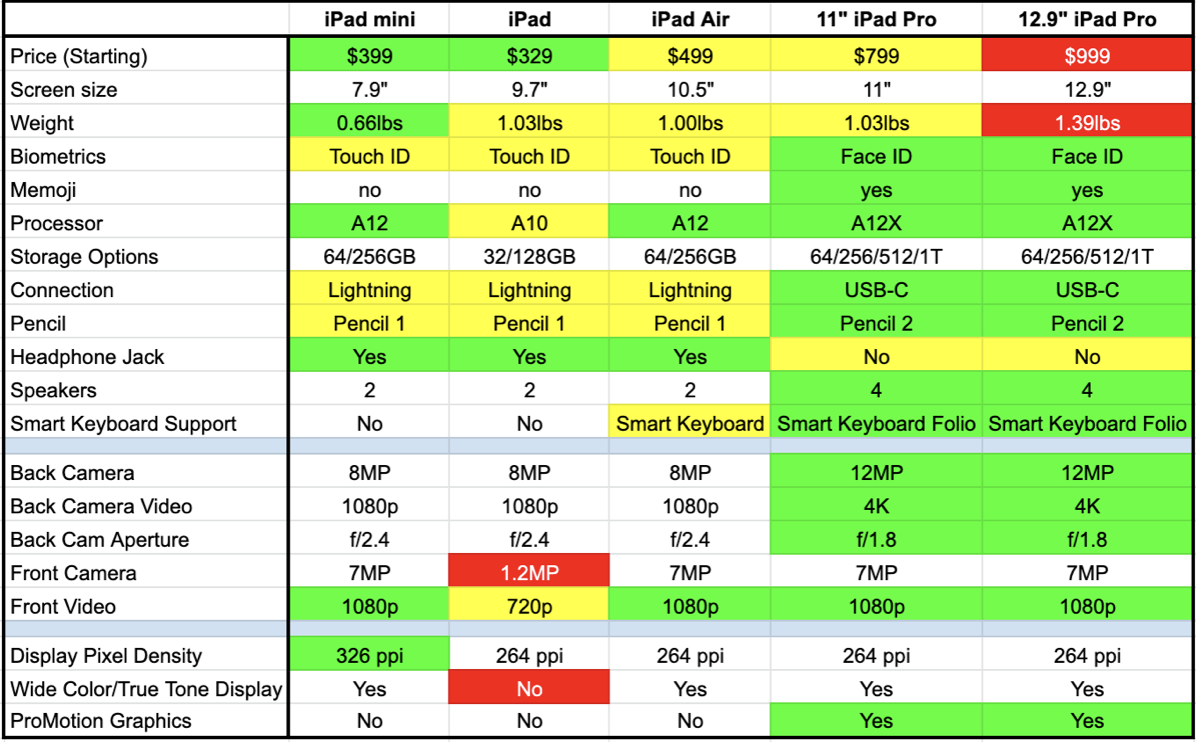 Apple went on a tear this week announcing new products one day after another. Speed bumps to the iMac line were nice, and of course the new and improved AirPods are really cool too. I've got mine on order as there weren't any choices to be made.
But Apple also made some big changes to the iPad line. I wanted to see all of the iPads compared to each other, but I couldn't find it outlined anywhere. Apple does have a great comparison tool at apple.com/ipad/compare, but you can only see three at a time and I wanted to see them all. Apple's comparison tool is very complete but that means it also has a lot of detail to absorb.

In case you didn't follow the news, in addition to the two existing iPads Pro and iPad nothing we already had, we finally have an upgrade to iPad mini and a new model of iPad Air.
I was going to be on the SMR Podcast to talk about the new iPads, so I decided to create a little comparison chart of my own so I could speak somewhat intelligently.
I tried to grab just the big hitter specs and those that would differentiate one model from the next for my comparison chart. After I laid in the big hitters, I added color to each row to highlight the differentiation. These colors are entirely my subjective judgment. For example, if we look at price, I decided that the $999 price of the 12.9″ iPad Pro deserved to be red. The 11″ iPad Pro at $799 feels yellow as does the $499 for iPad Air. That leaves iPad nothing at $329 and iPad mini at $399 as green.
Some features can't really be designated as red/yellow/green though. For example, I love my 12.9″ iPad Pro, but I'm also going to buy a 7.9″ iPad mini. So size isn't bad or good, it's just what you want, so size isn't color coded.
In some cases, very specific things jump out of the chart with a color code. iPad nothing is the only iPad in the entire line with a terrible front-facing camera. All models have a 7MP front camera except for iPad nothing, which is a 1MP camera. That for sure deserves a red. But it's only $329 and if you have no intention of using the front-facing camera, the price might make it the perfect device for you.
One huge thing about the new iPad mini and iPad Air is that they are the first iPads outside of the Pros to support Pencil. But an important distinction from the Pro models is that these new devices support the first generation Pencil, which means they charge via Lightning. I can't wait to see how my iPad mini looks with Pencil sticking out of the side, that should be really comical. Now the only device without Pencil support is iPad nothing.
In a way I buried the lead on that, while the iPad Pro line has a USB-C port, the newly announced iPads do not. Lightning isn't a bad thing and in fact some may still prefer it because they have all of the cables, but USB-C really is the way to go for the future. I chose yellow (not red) for Lightning but USB-C is clearly a green.
The other older technology built into the new iPads is Touch ID instead of Face ID. Again there are some who might prefer Touch ID, possibly because their phone still has it and the consistency of interface is nice. But, like USB-C, Face ID is the future. Plus, you don't get the critical tool Memoji without Face ID so I'm giving the Touch ID iPad mini and iPad Air a yellow.
It's notable that there are a few categories where most, if not all of the iPads have a good feature. With the exception of the older iPad nothing, they all can do 1080P on the front camera which is great.
One of the amazing things about the iPad lineup is that the processors in all of them are very good. I marked iPad nothing yellow for its A10 processor, but only because the others have A12 and A12X. The A12 in iPad mini and Air is the same processor that's in the flagship iPhone XS, so I went green for all models except iPad nothing but it still gets a yellow for the A10.
I left some specs out of the chart that could matter to you but are kind of advanced to explain. For example, if you're someone who knows what difference a fully-laminated display and wide color P3 and TruTone makes, then you're probably not the person considering iPad nothing, and it's the only model that doesn't have it. Same thing with ProMotion graphics – if you care, you'll be buying the iPad Pro and not looking at my tradeoff chart.
Anyway, enough explanation of my chart. I hope it helps you understand the different models and explain the models to your friends and family to help them choose the right iPad Pro. I'll be awaiting your emails telling me what I left out and how you disagree with my color coding.