It's been twelve weeks since I have ventured away from my desktop computer, and through that whole time, my Apple Watch has sat neatly in its charger. Time, notifications, and text messages appear on my desktop, so why do I need to wear a watch?
So when Wyze sent me notification of their Wyze Band, a watch, step counter, heart rate, sleep tracker, running tracker, weather, notifications, smart home controller, alarm, Waterproof up to 50 m, and built-in Alexa, all for 25$. At that price, I was all about trying it out.
I ordered it on release date from Wyze and had it four days later. Minimalist packaging, but I did notice that in the box was an "I backed WyzeBand" sticker, making me think this somehow a part of a promotional run of the band. When I opened the product, I noticed that the clasp for the wrist band was not the same in the picture. In the picture, it was a traditional watch loop buckle, but I got a hole and nib connector. Putting it on, the challenge with the nub connector was getting the band on my wrist tight enough for me to have a heart rate sensor to touch my skin, and being able to slip my fingers out of the band after latching it. I have since found out that current sales of the band use the traditional watch buckle.
The band allows for a range of wrists. I am a big guy, and I took all but the last two holes on the buckle. My wife is petite, and she could barely get it on snuggly with the smallest setting. To make sure you have good contact, you do have to tighten it on good, which at first seems a bit constraining, but later in the day I stopped noticing it on my wrist and it felt very natural and light.
The WyzeBand uses the Wyze app that is used for all Wyze devices. It is easy to set up the band through the app by adding it as a new device and syncing it with your phone through Bluetooth. The Wyze device app allows you to set the sequence of the apps in the watch and remove ones you don't want. Then you can scroll through them by swiping up or swiping down. The device will roll through all of the apps you selected and rollback on the home page. The screen has a little bar at the bottom of the screen that acts as a home button that a tap reorients you to home, or if you are in an app submenu, it will bring you back to the app scroll. Long double-tap the home bar, and you activate Alexa.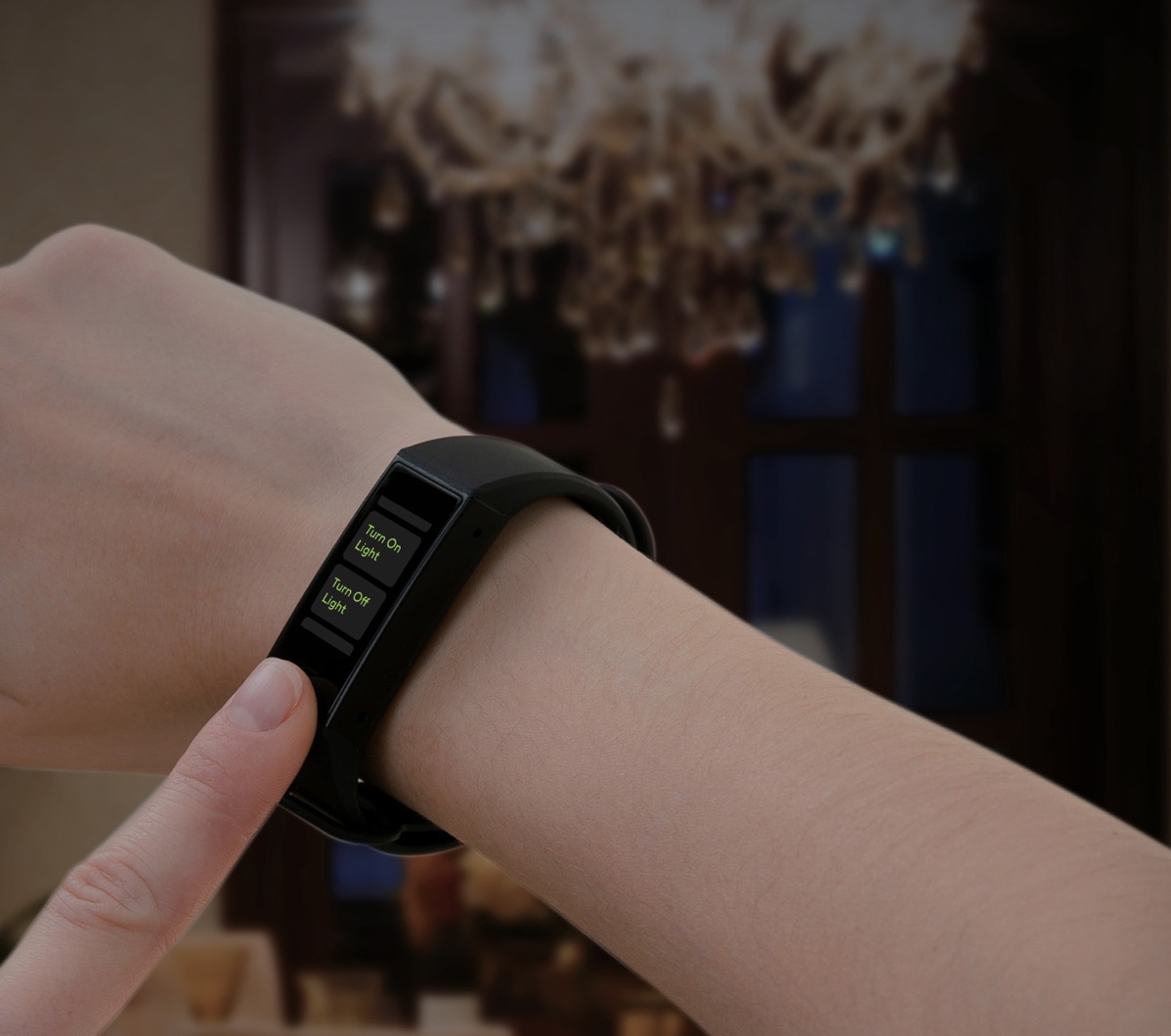 The apps available are weather, activity, shortcuts (which acts as you smart device control), alarm clock, heart rate, find your device (phone), Alexa alerts (alarms and reminders), a running app, and notifications. You can move the order that they sequence in your swipes, or take them out entirely if you are not going to use that app on your band.
The AMOLED touch screen looks great, albeit small. Just under an inch tall and over a 3rd of an inch wide. It holds 286 pixels per inch. I was amazed by the crispness and color saturation on the screen. You can customize your home screen display from choices that the app has and add your own graphic background from your photos library. Some of the choices allow time, as well as steps and date complications. One complaint I have is that most of the options have a very small font, so with my older eyes, I want to stick to larger font options, and those options hold only time and not other complications.
You can activate the device by tapping on the screen each time you want to use it, and there is also a "raise-wrist-to-activate" setting. It is a bit sluggish compared to my Apple Watch response, and at first I was making big arm movements to activate it, but after a few days I got used to the necessary rhythm and timing to make it work.
The Wyze Band communicates with the user through haptic touch and vibration when actions occur. There is no sound or buzz that comes from actions on the device.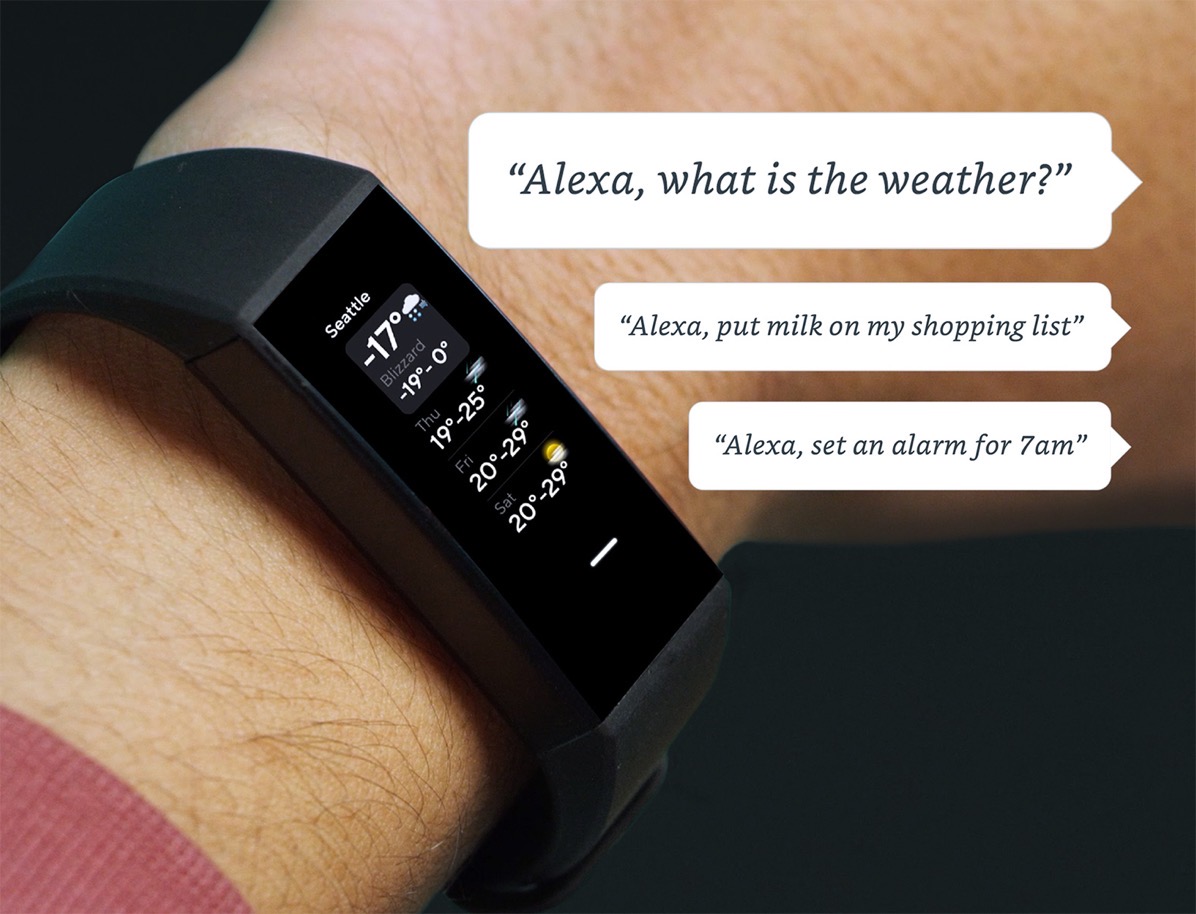 Alexa is built into the device with a dual microphone array, which helps with Alexa understanding you better, and I get better action from it then I do Siri at this point. Alexa responds to audio commands, and if asked a question will respond by text responses.
The device has stand reminders, which you can set the range of hours you wish to receive them, or you can just turn them off completely.
Notifications are set up to mirror what is on your connected device. I used them for the first couple of days and then shut them off because they became too distracting. Right now, I only have notifications set to my i-messages which appear as text on the screen.
You can set alarms on the device which are soundless vibration alarms. I set them up to wake me in the morning and after naps and it was able to wake me and not my wife, unlike the alarms she sets.
The Wyze Band has a unique clamp charger available with device but not sold separately. It will certainly be the most easily identifiable charger that you have but also be the least interchangeable should you lose it.
I had a few stumbles with the device. Besides learning the rhythm and timing to activate my watch I was getting this glitch where my weather app was set to Seattle weather but when I tapped it it went to my local weather. It still bothered me that I could not get my local weather as default. Rebooting the band fixed that for me.
After a week of working with this device, I am a fan. You cannot beat the price, the screen looks great, and its functionality is great for the dollar. My hope is that Wyze has regular updates to the app, bringing additional app options and more choices for watch faces. It makes a great smartwatch option for that user who does not need all the cost and depth of an Apple Watch.
Allison's affiliate link to the Wyze Band: wyze.com/…