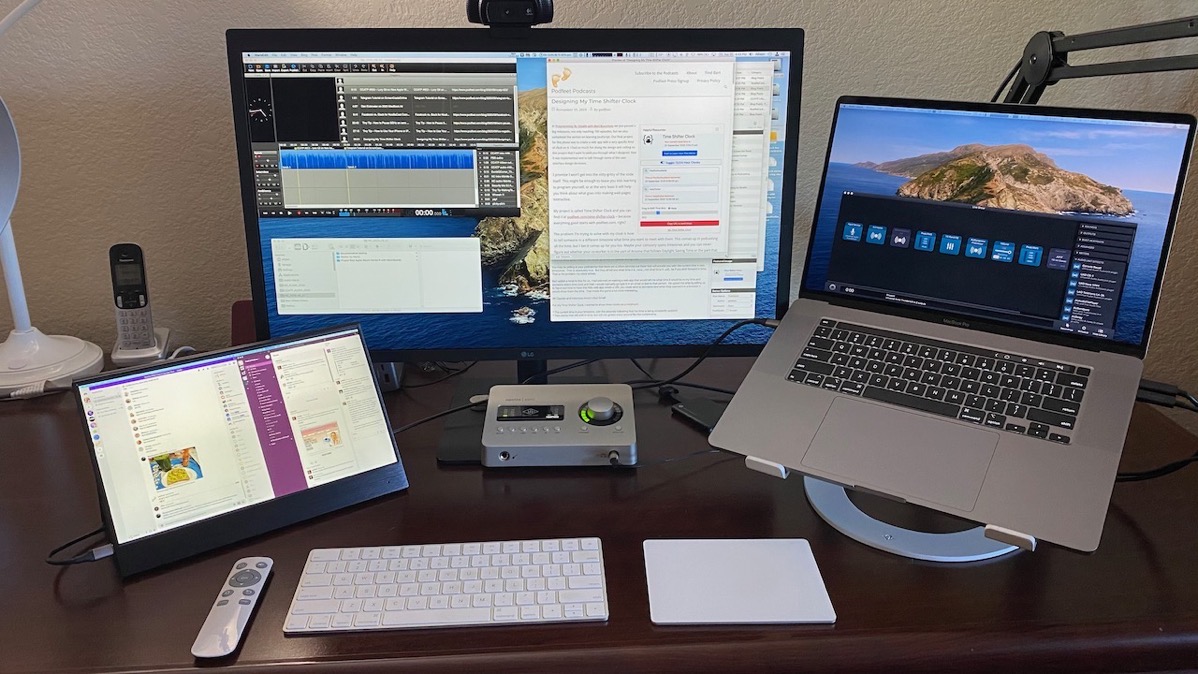 Last month I reviewed the Portable USB-C Monitor by Lepow, which is a 15.6″ 16×9 aspect ratio display with a resolution of 1920×1080. Pat Dengler had loaned it to me to see if it would give me the extra screen real estate I need during the production of the live show, and to use when doing the show away from home.
While the display definitely did the job, the low resolution was something I wasn't wild about and it was also way bigger than I needed or wanted. The diagonal dimension at 15.6″ combined with the 16×9 aspect ratio gives it a big footprint. The way the cover unfolds to turn into a stand took up even more space on my desk.
I loved the idea of a temporary third display and I loved the fact that it was really thin and light and I was able to throw it in my laptop bag for travel. But that fuzzy screen and the huge footprint was out of the question for me. I went on the hunt for a smaller portable display with higher resolution that was around the size of a big iPad Pro.
Too Many Options!
The good news is that there are a lot of players in this market. The bad news is that there are a lot of players in this market. Normally you'd just go to the name brands you know and trust, but I'm not finding many brands I've actually heard of. There are a few from known brands but they're super expensive, like the recently-announced Lenovo ThinkVision M14t Mobile Monitor which is a 14″ display with touch sensitivity and pen support and expected to start at $449. I'm looking more in the sub-$200 range.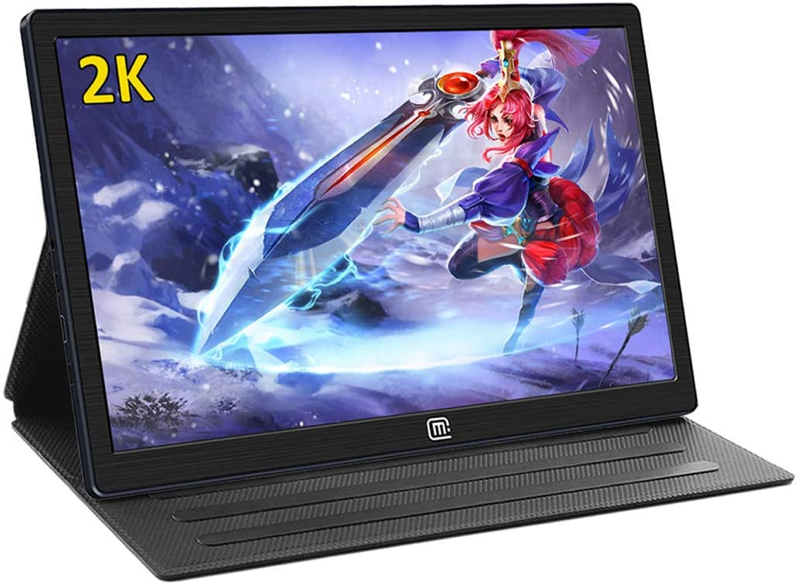 I decided to narrow down my options on Amazon to two basic characteristics. I wanted small so I chose around 13″ and I wanted high resolution. On a screen that small, 2K looks great, so there was no need to go to 4K. This got me down to a couple of options and to be honest after an hour or so of reading specs on brightness, comparing reviews, and trying to figure out which ones were real, I realized the cost was under $200 so it probably didn't matter which one I bought.
For completeness and reasons you'll understand at the end of my review, I'll tell you about the ones I did not choose. I didn't find anything wrong with these models and they all came with between 4 and 5 stars on Amazon. It was seriously hard to choose! The form factor I didn't choose was a 13.3″ 2K display that used a foldable case as the stand exactly like the Lepow I borrowed from Pat. Two manufacturers have what appears to be an identical product. They are both $160 on Amazon: EleDuino and Corkea.
There's a slightly different form factor from a company called Szoon which is on Amazon for $186. It's also 13.3″ and 2K resolution. Again, nothing wrong with this model, no red flags in the 105 reviews, no missing features or ports. I simply had to make a decision and pick one!
Eyoyo

I chose the Eyoyo Small Portable USB-C Monitor with a 12.5 inch IPS LCD Monitor sporting 2560×1440 resolution for around $180 on Amazon. The one feature it had that pushed it to the front was the case design and the footprint it had as a result, but I'll get to that in a moment. Let's first have some unboxing impressions.
Maybe it's a false illusion, but I have a tendency to develop my initial perception of a product based on how it's packaged. Perhaps years of Apple unboxings have created this perception. The Eyoyo monitor came boxed with many accessories, in very well-protected, cut-to-fit foam packaging. Careful layers of thin, soft plastic covered the display, the layers of foam fit perfectly in the box, and a single-sheet instruction manual was laid on top. This is not exactly what I expected from what I thought was a cheap, mass-market device.
The Eyoyo display is thicker towards the bottom where it has a significant bezel and then super thin towards the top. Even at it's thickest, it's only 5/16" thick (.9cm), which is a little thicker than an iPad Pro. But most of the display is extremely thin at 1/8" (.3cm) thick which is thinner than an iPad mini. It only weighs a smidge more than a pound at 487g. That little weight and size make this a no-brainer to always carry with me when I am away from home.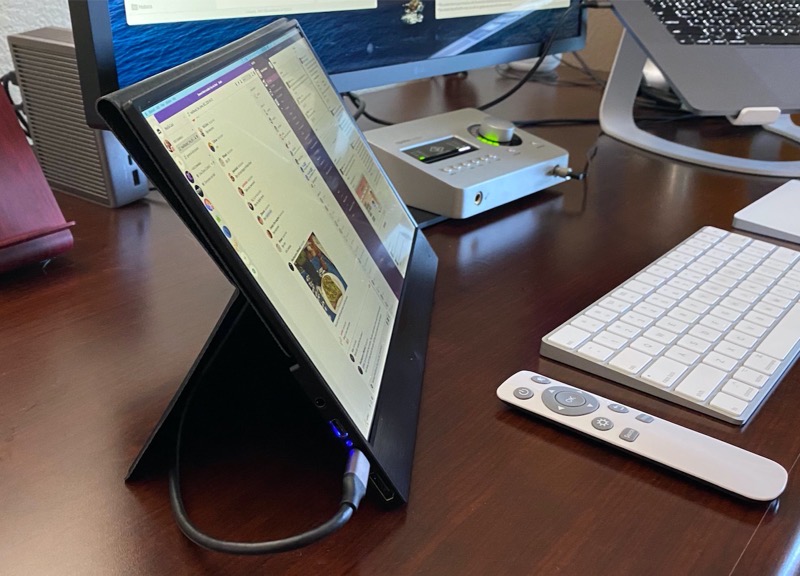 The Eyoyo display comes with an cover that protects the screen and the thinner part of the back. With the cover on, it's all one thickness. It's kind of hard to explain how this works but the cover can act as a stand. If you flip the cover over to expose the display, it turns into an easel-like stand at a pretty tall angle.
I like the way this works better than on the bigger Lepow display because there's nothing to the front of the display on my desk, making it a pretty tiny footprint.
The cover used as a stand works just fine, but I like another method even better. Included in the box is a 3×3" plastic stand that can hold the display very securely at a large range of angles. This little stand weighs absolutely nothing and is easy to unfold and create the stand. Again, trivial to throw this in a bag with the display.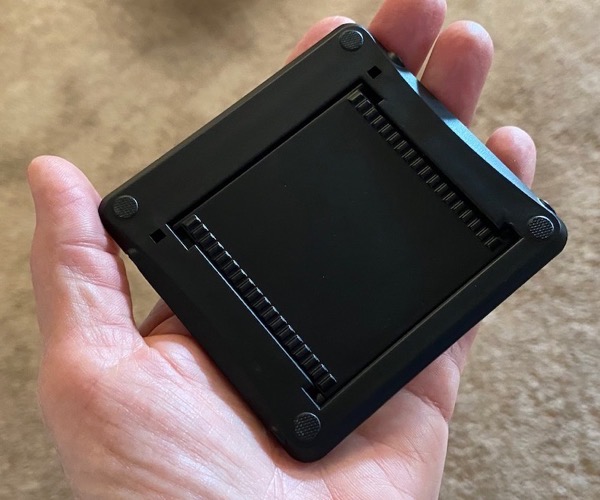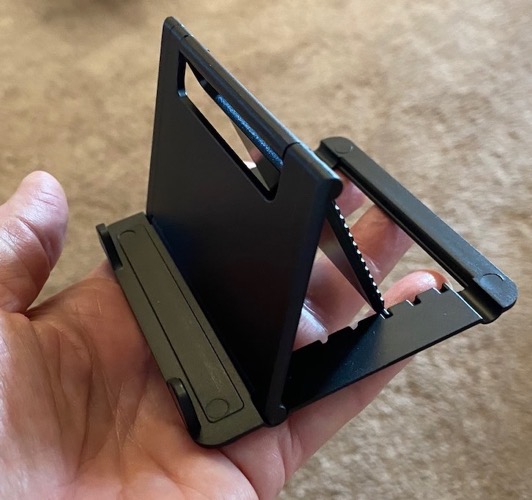 The Eyoyo display comes with lots of cables for connectivity. For my use, which is to send a video and audio signal from my MacBook Pro to the display, the included USB-C to USB-C 3.1 cable is exactly what I needed. If you'd prefer to use HDMI, the Eyoyo comes with a full-sized HDMI cable.
These portable displays are also marketed as a great way to add a screen to a gaming console like an Xbox. The Xbox won't power the display so the Eyoyo comes with a USB-A charger block and a USB-A to USB-C cable to provide power. The display has one USB Type C connector for the audio/video signal and a second that is dedicated just to power the device. Having that extra power means even if you are using it with a laptop but still plug it into the wall, you're not draining your laptop while you're using it.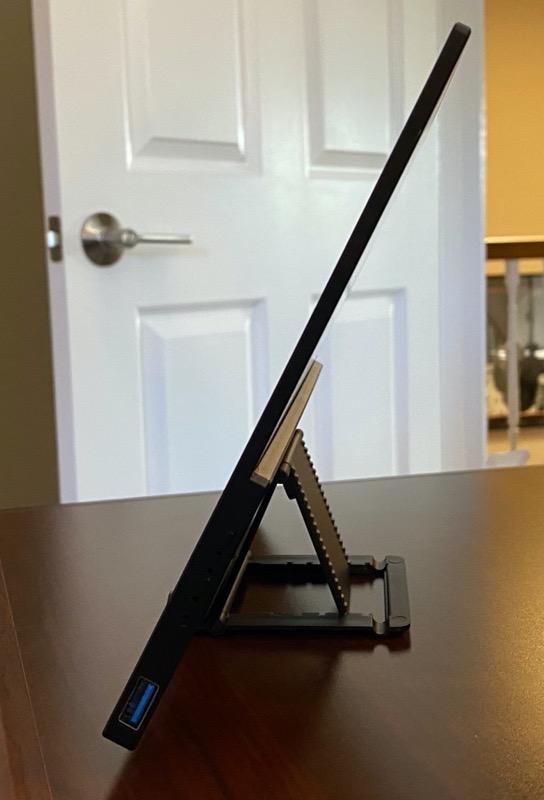 But get this. This little display with a USB-C charger actually provides Power Delivery. According to the one-page manual, they say you can charge your laptop using the Eyoyo for pass-through power delivery. The included charger is only 5 Watts, and in my testing, shockingly it didn't charge my 16" MacBook Pro that prefers something more on the order of 65-100Watts.
I wondered what would happen if I tried using my 65 Watt Eggtronic GaN USB-C charger plugged into the Eyoyo and then USB-C to my MacBook Pro. I figured I had a 30% chance of blowing the circuitry on the little display but for science, I gave it a try anyway. It didn't blow the display but it also didn't work. The display started showing the Eyoyo name blinking on and off.
It was kind of a non-necessary experiment because if I have my big-girl charger, I can just plug that into the MacBook Pro and then USB-C to the display. I suppose if you had a 12" MacBook Adorable, with only one USB-C port, this might be the only way it could work. Hey…I've still got one of those…another experiment!
In a more practical example, having the ability to power the display and take an HDMI signal means you can use the Eyoyo with a Nintendo Switch or a Raspberry Pi. If you've got an Android phone with USB-C, and your phone supports it, you can use the Eyoyo as a big screen for your phone! I tried it with my Motorola g7 but evidently that device doesn't support external displays. I'd like to test it with my Raspberry Pi but for the life of me I can't find it! Don't tell Ed, ok? It's so tiny I'm sure it's hiding in one of my many electronics drawers.
The Eyoyo also sports a USB-A port. That seemed unnecessary but it means you can plug in a good old-fashioned USB mouse or keyboard. I hunted around in those same mysterious electronics drawers (still not finding the Raspberry Pi) and found an old mouse and sure enough, it worked perfectly with my Mac and the Eyoyo display.
The Screen
Enough about connectivity, how does the Eyoyo look? It looks really good. One reason is that the Eyoyo sports 1000nits of brightness. I like a super-bright display and even at 4 out of 10 on the brightness scale, it's pretty great.
When I first plugged it into my Mac, it automatically adjusted to "Default for Display" in System Preferences, which is 2560×1440 as promised. On a 12.5" display, this is insane. I can technically read it and get a lot of information onscreen but the text might be a tad bit small even for me. One of the scaled options is 1080p, which is 1920×1080 and that actually looks pretty good. Still super sharp but not microscopic text.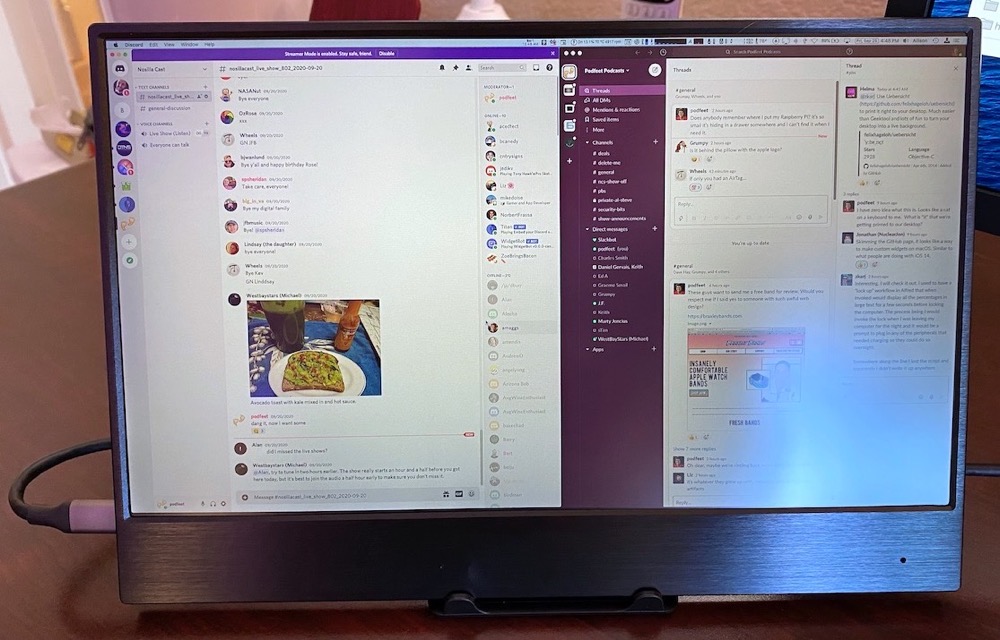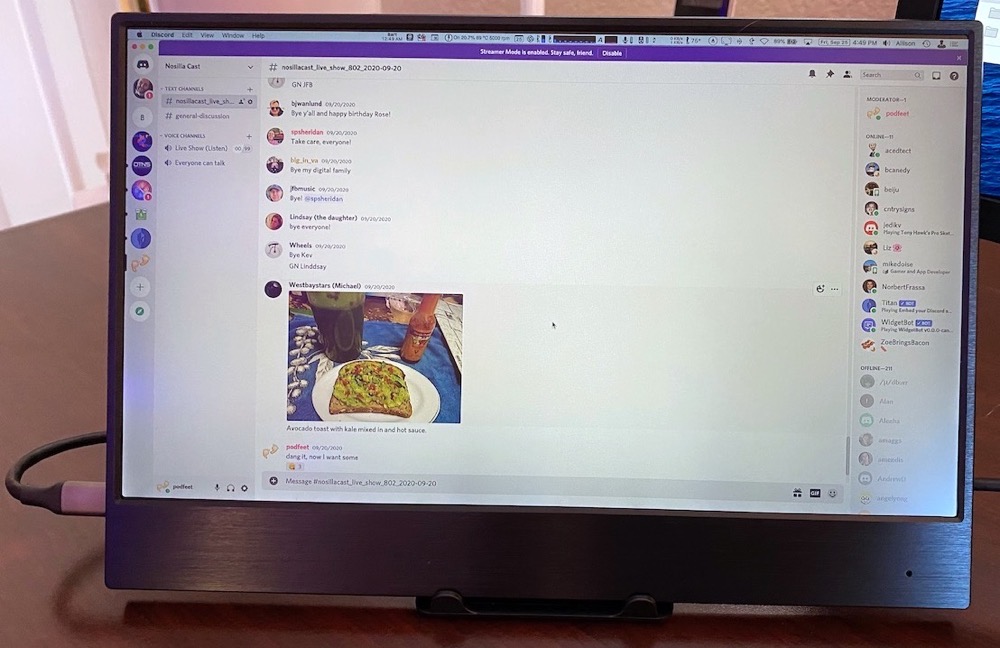 The Eyoyo has two ways of controlling things like screen brightness and contrast. On the right side, there are three buttons. The middle button invokes an on-screen menu that actually has more controls than I think I should be allowed to play with. HDR, overscan, color, contrast, and things I don't even understand. When I first tried to mess with it, I could not figure out how to use the three buttons to navigate, and even had Steve come in and see if he could figure it out. Occasionally I could get the screen to flip upside down but for the life of me, that was all I could do.
Luckily the Eyoyo comes with a remote control as well, and with that, I was able to navigate the screen controls. The funny thing is that after I used the remote, I actually figured out the pattern of button pushes to move around the menus and after that, I was able to use the physical buttons on the device.
But then later on I went back to try it again and it didn't work as expected. Later on, I went back and I was able to control the screen again. I can't confirm this but I think the display controls are actually getting jammed up from time to time and simply won't let me navigate them properly. I should probably stop playing with it the next time I get it looking good!
I think I've covered everything about this lovely $180 display except the only thing I don't like. The USB-C port for the video input is on the left side, and I need the display on the left so I had to find a longer USB-C cable for it to reach all the way across my desk to the other side of my keyboard and trackpad. If that's my main complaint I'd say that's $180 well spent.
If I were the type to give stars in my reviews, I'd give the Eyoyo 12.5" 2K USB-C Portable monitor 4.9 stars. But now you're going to be really mad at me. I just checked on Amazon and it's currently unavailable. I wrote to Eyoyo and explained that I was writing a review but that I needed to know if it was just temporarily out of stock or if it was discontinued, and they wrote back asking where they could read the review. Sigh. I wrote back and I'll let you know if I get a better answer.
I think is ok because everyone's needs are different, so you probably don't want the exact display I purchased but it gives you an idea of what you would want to buy. You've got the other options I mentioned upfront to choose from in the 2K category of tiny displays. But I'd like you to note that I made a big deal out of making sure this was a 2K display, and then told you that I dumbed it down to 1080p. There are lots of 1080p options in this tiny size so maybe it doesn't have to be 2K, and also perhaps 12.5″ is too small for you so you might want to bump up to a 13 or 14″ portable display.
I'm delighted with this new display and plan on using it for all of my mobile work and for the live show to get just a bit more screen real estate.