Hi, this is Allison Sheridan of the NosillaCast Apple Podcast, hosted at Podfeet.com, a technology geek podcast with an EVER so slight Apple bias. Today is Sunday, December 6, 2020, and this is show number 813. Normally I like to write you epic tomes where I dig deep into some arcane subject or at least tell a long, rambling tale, but this week I've got some short and to the point segments instead. Even Security Bits was relatively short this week, but Bart and I managed to entertain ourselves.
In-app purchases and subscriptions can be shared now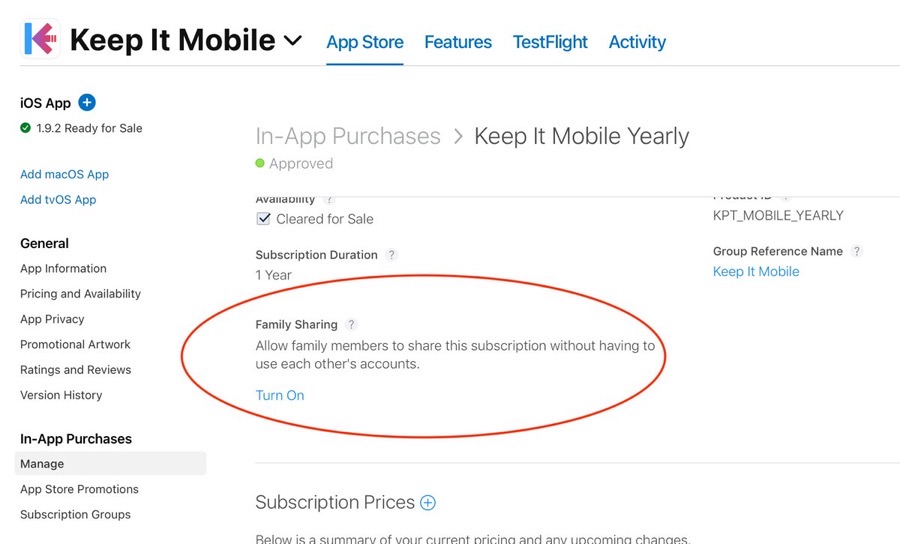 In the show I'm going to be telling you about the new update to Feeder 4, the application I use to create the podcast feed. That's the magic that delivers the show to you every week. I caused kind of a mess with my feeds and I got Steve Harris, the developer of Feeder in a chat with me to untangle what I'd done.
While we were chatting and cleaning things up, he idly mentioned that you can share subscriptions and in-app-purchases now in Apple's Family Sharing for the app stores. I believe my exact response was, "WAY TO BURY THE LEAD!" I was amazed! He said that they dropped the news that it was coming during WWDC but I had never heard about it.
To be clear, in the past when you got a subscription for software such as Steve's iOS Keep It Mobile app (think Evernote substitute), only you could use it. Likewise if there was an in-app purchase like game levels, or filters on a photo app, you couldn't share those with your family members.
As I was showing my delight at the news from Steve, he started poking around and discovered that the app developer has to enable it. He wondered whether other developers even knew about it, so he took a screenshot and tweeted it out after we finished chatting. He asked me if I'd add some signal boost to his tweet to make sure developers knew they have to turn it on, so I did and requested the signal boost from my followers as well (and Slacked and Facebooked it with the same request).
Within less than a half hour of he and I tweeting it, Macrumors picked it up and shortly after that, Federico Viticci of MacStories retweeted him and after that EVERYONE knew. I'm telling you all of this because if your favorite app gets Family Sharing of in-app purchases, I plan on taking 50% credit! If it doesn't, contact the developer to make sure they know it can be done!
Yo may also have to enable sharing of new subscriptions, you'll find a toggle in your Account settings (Family Sharing for App Store Subscriptions Now Available – MacRumors.)
I was on CodeNewbie Podcast
It's been killing me holding in this secret for MONTHS, but I'm the guest on the latest episode of the CodeNewbie podcast with Saron Yitbarek! Code Newbie interviews developers about their coding journey. She draws out of their guests how they learned, what bad and good advice they got along the way and how they feel about coding. The diversity of her audience is fantastic so you really start to be able to paint a picture of what coding is like by learning how all these different kinds of people got to where they are today. The one thing I noticed hadn't really been covered was what it's like to learn to code later in life, so I volunteered my own story.
As Allister Jenks pointed out, you may have heard some (or even all) of my stories on my background and my journey to becoming a coder, but I think it's a pretty cool interview so I hope you'll listen over at codenewbie.org/…
This week in our miniseries on learning the version control system Git, Bart dips our proverbial toe into branching. Branches allow us, as developers, to work on bugs or feature enhancements in a separate place from our stable code, and only merge the code back in when the bugs are squashed or the features are stable.
We don't get much practice in this instalment, but rather Bart talks to us about the idea of having a strategy for when to branch and how to name your branches in order to prevent chaos. He gives us some simple and yet difficult to adhere to strategies and then takes us through more rigorous strategies that will actually be easier to follow. He emphasizes that he's not telling us which strategy to follow, but rather to have a strategy.
We do a few small examples from the command line, but we get to open our Git GUI clients, like GitKraken and Sourcetree and see how the commands we're typing are graphically represented in the clients. It's a good illustration of what Bart has been promising us – that the GUI clients are doing exactly what the command line is doing.
You can find Bart's tutorial shownotes at https://pbs.bartificer.net/pbs107. And if you'd like to support Bart on Patreon, go to patreon.com/ltpod. And don't forget to search for Programming By Stealth in your podcatcher of choice.
Blog Posts
Support the Show
I'm not going to make a plea for money this week. If you have some spare money, please donate it to a local food bank.
That's going to wind this up for this week. Don't forget to send in your Dumb Questions, comments and suggestions by emailing me at [email protected], follow me on twitter @podfeet.  Remember, everything good starts with podfeet.com/. podfeet.com/patreon, podfeet.com/paypal, podfeet.com/facebook, podfeet.com/slack!  And if you want to join in the fun of the live show, head on over to podfeet.com/live on Sunday nights at 5pm Pacific Time and join the friendly and enthusiastic NosillaCastaways.   Thanks for listening, and stay subscribed.