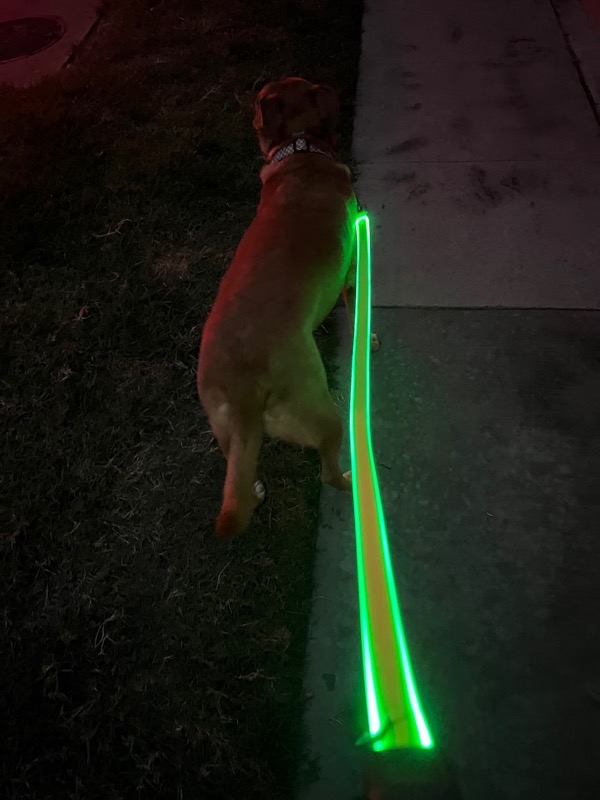 I walk my dog Tesla every single day. Yes, my dog and my car have the same name, but she came first. During Daylight Saving Time, I usually head out some time between 4 and 5pm. In California, that means broad daylight and warm, dry weather most of the time.
But when Daylight Saving Time ends, a walk any time after 4 pm means a walk at dusk. In 2018 I told you about how I almost got hit by cars three times in a span of two weeks while walking Tesla at dusk or in the evening. Once might be their fault, but three times suggested that the drivers simply couldn't see me. On the third attempt to take my life, I was wearing a long-sleeved, bright orange shirt, but evidently, that wasn't enough to make me visible.
My solution in 2018 was to buy the Taglit LED magnetic blinkers from Nite Ize and sprinkle them all over my clothes. I also bought an LED ring to put around Tesla's neck and even a pendant LED light to attach to her collar. The change was immediate, as more than one person actually opened their car window to tell me they saw me because of my lights.
This solution worked pretty well, but the Taglits don't have a strong enough magnet to hold reliably when attached to a sweatshirt as the weather got colder. They kept falling off and getting lost. I'd retrace my steps and sometimes find them, but I often found myself having to buy replacements. If you walk alone at night I think they're still a good solution and hopefully you can find better clothes to which you attach them.
The LED light ring for Tesla wasn't actually very bright and only allowed increased visibility if it was actually fully dark. It added no additional protection during dusk, the most dangerous time of the day. Her pendant wasn't very bright either, and the casing got dinged up and dingy looking, and the non-replaceable battery eventually died.
The other problem was that it took a bit of extra time to hook up all these devices and get them turned on. I would have to make a decision each day on whether it was really all that dark and did I really need to put them on. If I was hesitating at all, you know this was a flawed solution.
This year I came up with a new solution that is easier to use and even more effective. I turned again to the wonderful folks at Nite Ize to see if they had an LED leash, and indeed they do. They call it the Nite Ize NiteDog 5-foot leash, and it sells for $26 on Amazon.
There is everything to love about this leash and virtually no downsides. I bought it in the color they call lime, which is super bright and reflective even without turning it on. (They also sell it in a light blue, but I think that misses the purpose of this leash.) The leash is USB rechargeable which is awesome. It has three modes: off, solid on, and blinking on.
The handle is nicely padded so it's very comfortable to use. I prefer a shorter leash, so with the NiteDog, I do have to give it a wrap around my hand. The handle isn't too thick so that isn't a huge problem.
One of the main advantages of the NiteDog over the Taglit system and other accessories is that it is so easy to grab the evening leash vs. the daytime leash. There is no longer any hesitation because it is literally no extra work. This means it makes me safer because I'm sure to use it at the right time. I could go one step easier and use it all the time, but I walk so much I don't want to unnecessarily dirty the leash during daytime walks.
I've taken Tesla out with this leash often since the time change and I have to say it is a huge enhancement to our visibility to drivers. Nite Ize doesn't market this leash as being reflective, but it sure seems to reflect even without the light turned on. There's an easy-to-push button on the controller right near the handle, and boy howdy is this thing bright when you turn it on.
Another reason this is more effective than my previous combination of lights is that the leash swings when we walk. A light is one thing, but a moving light is unmissable. With the single device, I don't think I need to light me up or add any lights to Tesla and yet I believe we are much more visible than we were before. I put a photo and a video of Tesla in the shownotes to demonstrate just how bright the NiteDog is. Note that it's only 5:17 pm, which was just 30 minutes after sundown so it's not even truly dark yet. The brightness of the leash demonstrates how much safer I feel.
My neighbor Rick just got a new dog, and he's been religious about walking her for the past few months. I love to encourage people to exercise, so I bought a second NiteDog for them. It has given me great joy to see the two of them out walking with this crazy beacon of light keeping them safe.
If you've got a dog to walk and you've been finding excuses not to walk in the evenings when it gets dark, or you've got a neighbor or friend or family member you'd like to help keep safer, I highly recommend the Nite Ize NiteDog rechargeable LED leash. $26 is worth saving a life.