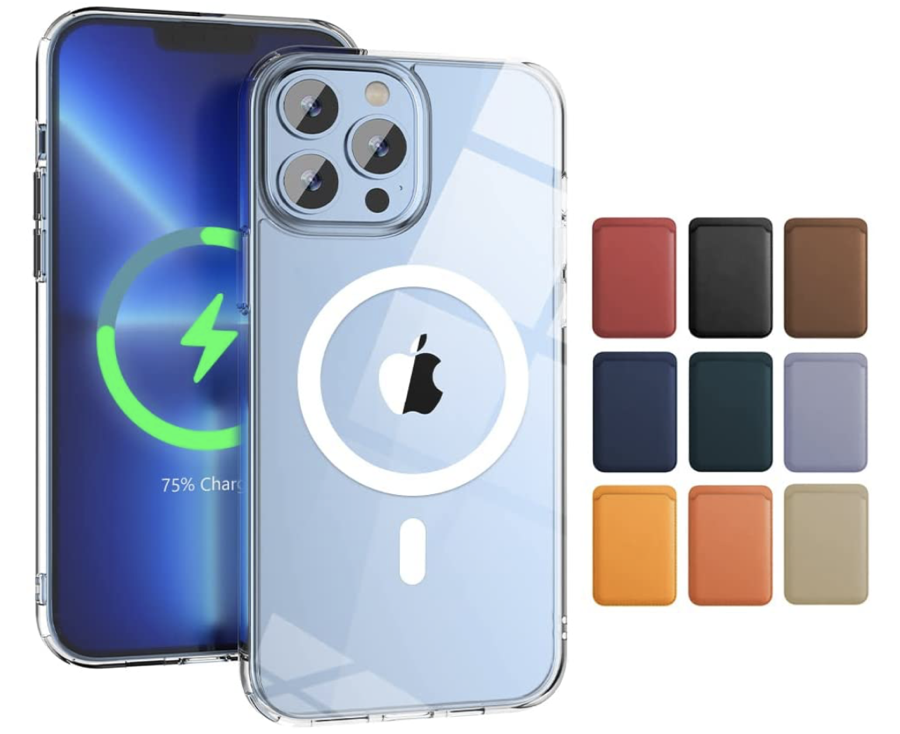 When I buy a new iPhone, I carefully peruse all of the color options and find the one that most delights me. I open up my new precious and revel at the glory. For a day or two, I try going without a case so I can enjoy the look and feel of my wonderful new device.
I end up being so stressed out about dropping it and cracking/scuffing it, that I end up slapping on a case and moving on.
The joy of a new phone is often how thin it is, so I don't like big, bulky cases. I also really want to enjoy the color of my case, so I go for clear cases. I'm always tempted by Apple's phone cases, but I got burned too many times with them falling apart in less than a year and Apple not honoring their one-year-warranty.
Kaylee turned me onto a company called Casekoo that makes nice clear cases for an affordable price of around $20. I bought one for my iPhone 13 Pro and it's been a great case.
I've dropped my phone a number of times from crackable distances to tile and I have no marks and no cracks on my screen, so $20 for the win!
The one thing it doesn't have is a MagSafe ring. While my phone will charge over MagSafe even with the case on, I'm sure there's a great deal of loss with that additional air gap. It also means that to use MagSafe devices like my Moment magnetic tripod, I have to take my case off because the magnet isn't strong enough.
I was bored the other day and decided to look for a new case that would give me MagSafe but not for Apple's outrageous and unsupported prices. At first, I started looking at cute ones with psychedelic colors or pretty pastels, but I gravitated right back to the clear cases so I could see the beautiful Sierra Blue.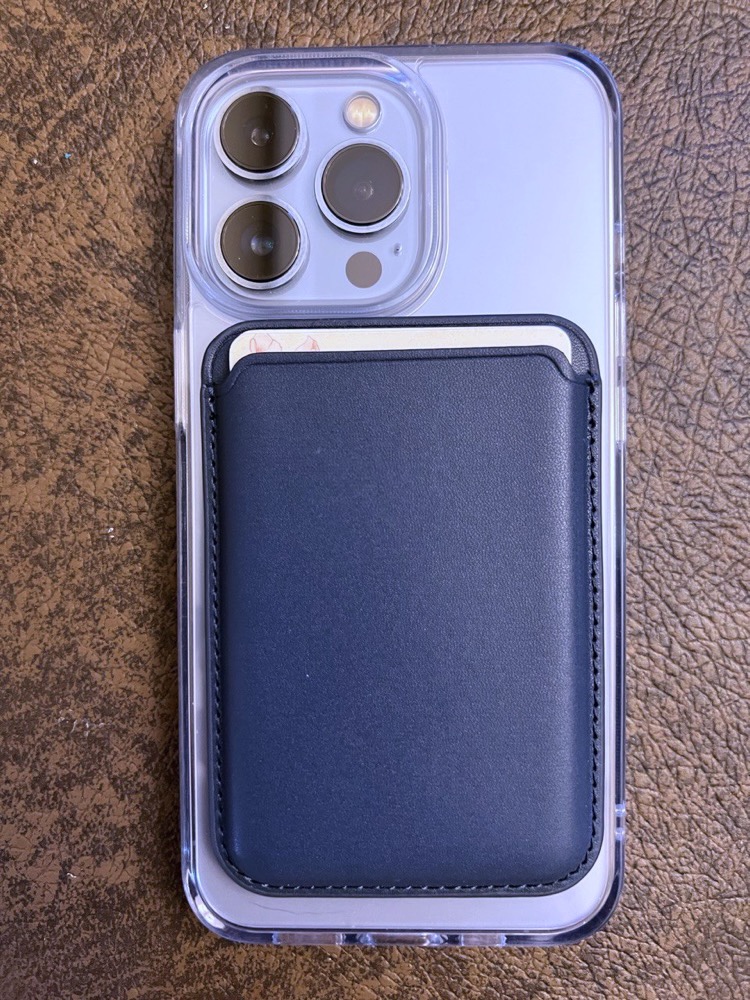 I found a clear case from Kimguard that for the same $20 as my Casekoo, had several similarities and big advantages. First of all, it is compatible with MagSafe. It has the same little bubbles in the rubbery plastic on the corners that has saved my phone from cracks with the CaseKoo. It has the same easy-to-push button covers and I can easily access the mute switch with my fingernail.
At this point, I'm sure you're yawning at this review since this is basically table stakes for any of the 2.3 million cases available for iPhone. But before you hit that skip chapter button…
What made this $20 case jump out at me was that for that price, it comes with a MagSafe-compatible wallet. While the case is clear, the wallet comes in navy blue to match my phone, but you could choose from black, brown, green, orange, pink, purple, red, rose pink, silver, or yellow. The wallet is advertised as being able to carry 2-3 cards tops.
The Kimguard clear case with MagSafe-compatible wallet is available for the iPhone 13, 13 Pro, 13 Pro Max, as well as the 12 Pro Max.
I'd never had a wallet case before and since this one would be purely optional, I decided to give it a try. My current wallet is a tiny sleeve, so about as small as a wallet can be, but I end up carrying my whole purse around just to make sure I have my wallet with me.
I decided that my Driver's License and Apple Card would be the two things I'd always want with me. I didn't try to get the wallet to try to hold 3 cards, because that just means they'd be impossible to take out.
The Kimguard wallet sticks very securely to the back of the Kimguard magnetic case. I'm not worried at all that it would be easily knocked off, unlike the early reviews I read about Apple's MagSafe wallet. In fact, I have to kind of pry it off the back of the case with my fingernail under it, which I think is exactly how strong you want it to be.
One of the secondary reasons I was interested in a MagSafe-compatible wallet was to offload some cards from my tiny wallet. I keep revisiting whether I really have to carry as many as I do, but it's just filled enough that it's pretty hard to get any of them out. My hope was that the MagSafe wallet would be easier for the two I need often and make everything else in my regular wallet easier to get out.
And yes, I can hear you yelling into your device, "Why don't you just get yourself a full-sized wallet, fool?" I'll tell you why – because I simply don't like carrying heavy things. Steve's grandmother was having terrible shoulder pain and her doctor advised her, rather than pursuing surgery or medications, to just get a smaller purse so she couldn't carry so much stuff. It totally solved her shoulder pain. Ever since she told me that, I've been carrying the smallest purse that will carry just my bare essentials, and minimizing my wallet was part of that exercise.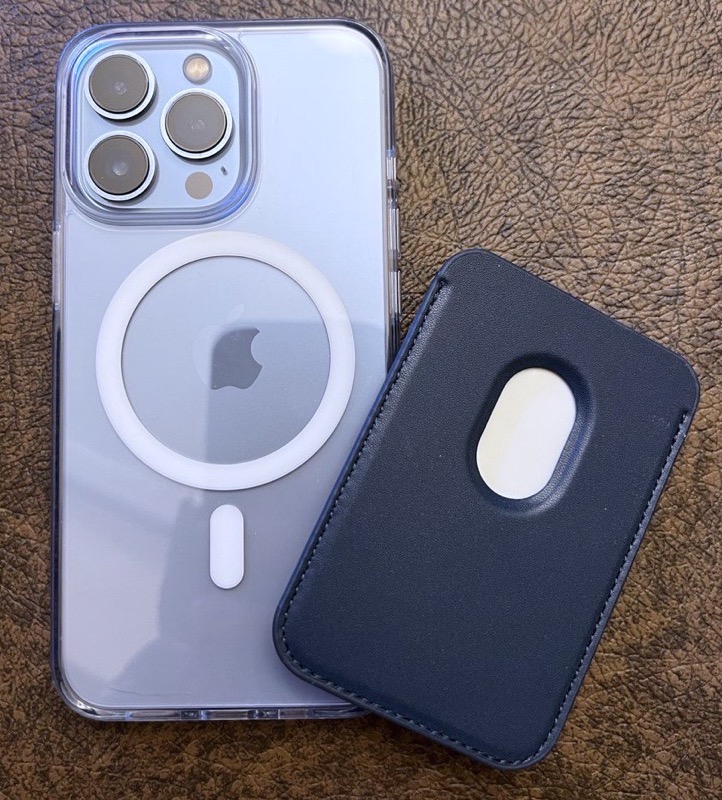 All that said, getting the two cards out of the Kimguard wallet isn't trivial. You definitely can't grab the cards from the top, even with fingernails. Instead, they have an open slot on the back that allows you to provide some friction to the back of the innermost card to get it to slide up enough that you can then grab it from the top. It works, but it's not instant access. I imagined that like getting a new pair of shoes, it will loosen up after a bit so it's easier. Like the magnetic connection, you don't want it too loose, so tighter is definitely a better option. I kept using it for a few days and sure enough, it did loosen up, but they definitely cannot fall out.
I've only been using the Kimguard case and wallet for a few days but I have some observations. If you choose to use a MagSafe-compatible wallet, you have to take it off a lot. I have to take it off to charge in my Qi easel stand or with my MagSafe charging puck. I have to take it off when I get into my car because there's a natural place to rest your phone that is also a Qi charging stand. I have to take it off to get the credit cards off.
None of these actions is particularly difficult, but it could be a problem on the flip side. What if I get out of my car and forget to grab the wallet and put it back on? In fact, where do I put the wallet while the phone is charging in the car? Maybe a cup holder if I'm not using both of them, maybe on the seat next to me? Both seem like easy places to miss when getting out of the car.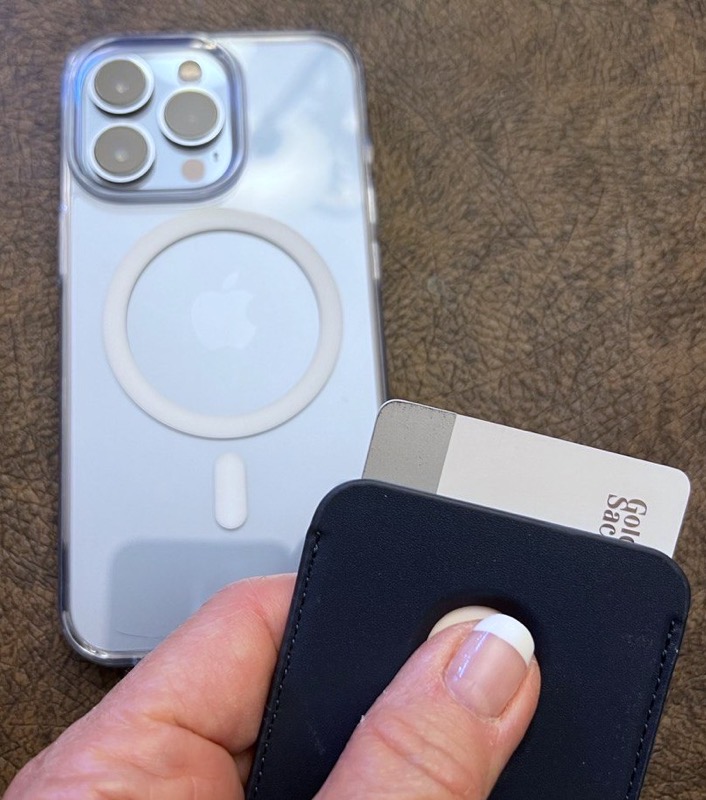 When I go to leave the house and take my phone off the charging stand there, what's to remind me to grab the wallet and slap it back on? It's more visible on the counter than it would be in the car, but that's also messy on the counter and we're all trying to reduce the clutter caused by all the devices we have to charge.
I'm certain that I would eventually train myself to slap on the wallet as part of the operation of picking it up, but that's because I am very good at developing habits like that. If you're the kind of person who finds every day is a new adventure in finding your stuff when you leave the house, this might be problematic. On the other hand, maybe a magnetic wallet is just what you need to make sure you don't forget the darn thing.
This morning I gave my new MagSafe-compatible wallet a test drive. I went on my big daily excitement of picking up coffee. I only needed the wallet because California doesn't yet have a digital ID system, and my AppleCard is really just a backup in case Apple Pay doesn't work. But hey, I only had to carry one thing to leave the house, and it wasn't my purse.
But then I realized that COVID cases are on the rise in LA, and we've got a trip planned soon, so I grabbed an N95 mask. And then I realized it was bright and sunny out so, in addition to my regular glasses, I needed to carry my prescription sunglasses.
At this point, I couldn't help but think how many times I've made fun of Steve telling him that he needs a purse when I see him struggling to hold a pile of stuff in his hands when he gets out of the car. I'm not abandoning the idea of using a magnetic wallet for some occasions, but I'll definitely think about how much I'll have to carry in my hands if I do use it.
If you already don't carry a purse and have been interested in a Mag Safe wallet but don't want to pay $59 for Apple's leather offering, you might really like the clear case from Kimguard that comes with one for only $20. Heck, for that price, even if you have another MagSafe case you like, the MagSafe-compatible wallet is still a great deal. Check out the non-affiliate link in the shownotes to the Kimguard clear case for all iPhones 13 and iPhone 12 Pro Max.