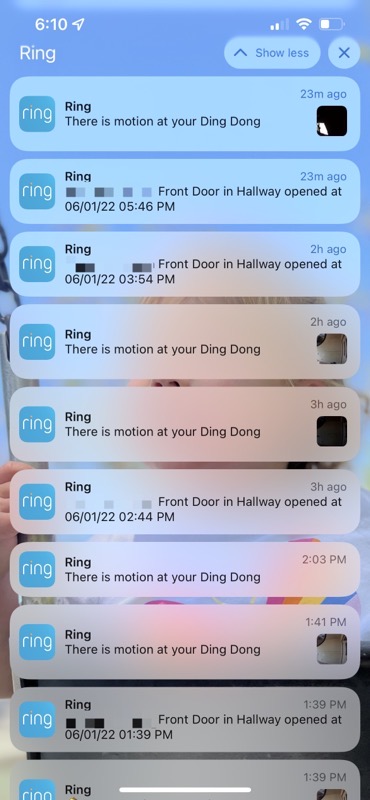 I remember going to my son Kyle's house right after they moved in, and noticing that every time the back door opened, I'd hear a very gentle "beep-boop". It was his alarm system letting him know that the door sensor had been triggered. I also remember thinking that would drive me nuts.
But over time, I've actually embraced the life of notifications. I glory in all the situational awareness. I am also retired with nothing better to do.
Let's take a trip through a typical day to see what I mean.
Steve and I both work out first thing in the morning. Every other day I walk or run, and the other every other day, I do a Strength workout with Sam Sanchez on Apple Fitness+. Steve does the opposite, lifting weights when I'm outdoors and running when I'm inside doing strength training.

When Steve leaves the house, he drives out the garage with his car. The MyQ garage door opener sends me a notification that Steve has left the building. This starts the countdown clock for when I need to be done working out for when he brings me my coffee.
Even though the MyQ app is keeping me up to date on the status of my garage door, the Home app feels left out with nothing to do, so it sends me notifications every time the garage door opens and closes as well.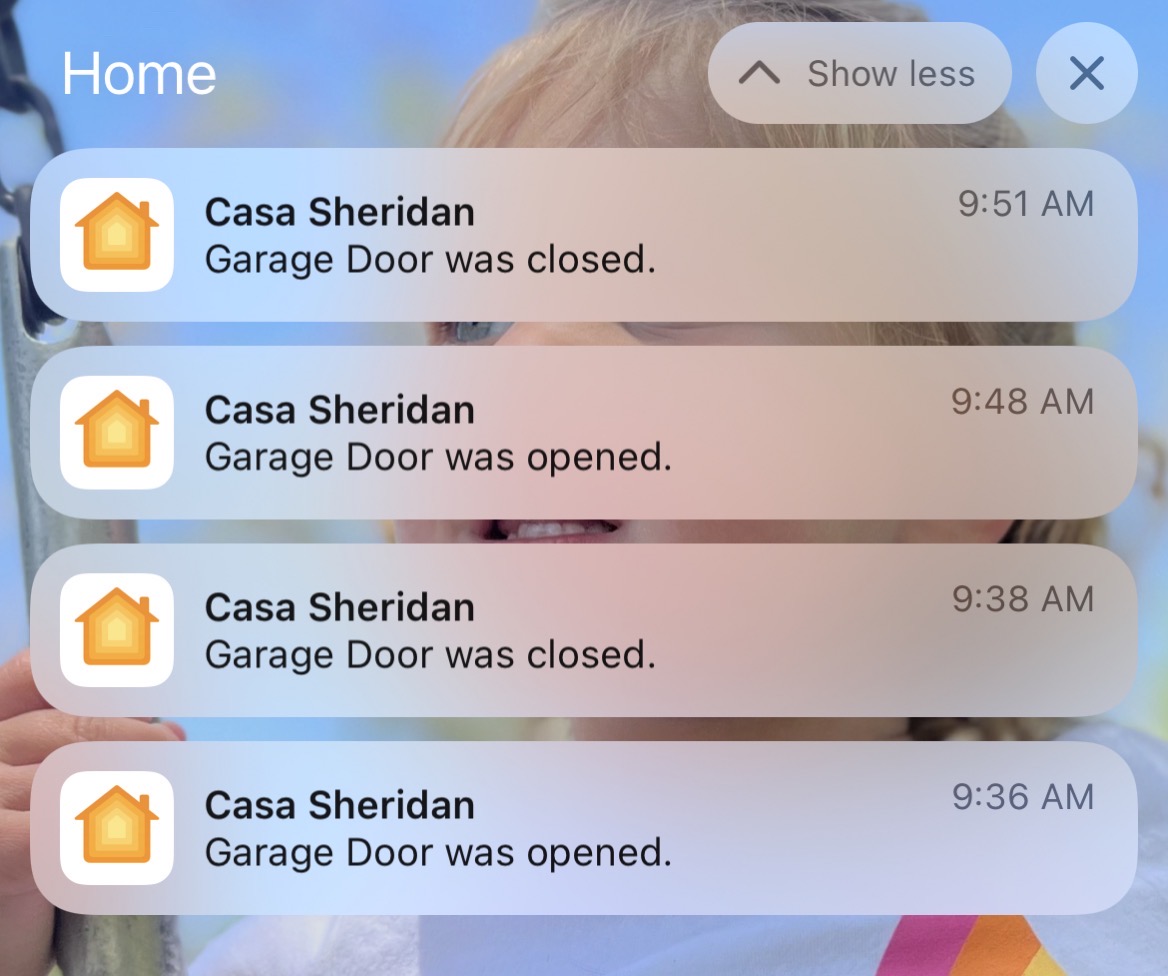 I like to work out at least 40 minutes, but Fitness+ comes in 10 min, 20 min, and 30 min increments. To get my 40 minutes, I do two 20-min Strengths with Sam, which leaves me in a sweaty heap at the end from doing squats and weights and pushups. It's awesome.
I initiate the workout from the Apple TV, which triggers a notification to my watch to agree that I'm ready to start the workout. Halfway through my second 20-minute Strength with Sam, I get a notification on my Apple Watch that I've completed the minimum 30-min exercise for the day. For someone who usually hits something closer to 90 minutes of exercise a day, I find the 30-min notification kind of adorable.
I usually finish my Fitness+ session before Steve gets home, and I could obsessively watch him on Find My to see if he's done with his run yet and on his way back with my coffee, but Steve found a more accurate way to track each other. We both drive Teslas, and the Tesla app on our phones shows the exact geolocation of the cars at all times. I can even tell which direction his car is pointed when his door or hatch is open, and it updates very smoothly instead of the sudden location jumps that you get from Find My. Sadly, I don't get any kind of notifications of his movement in the car and have to just obsessively watch the screen.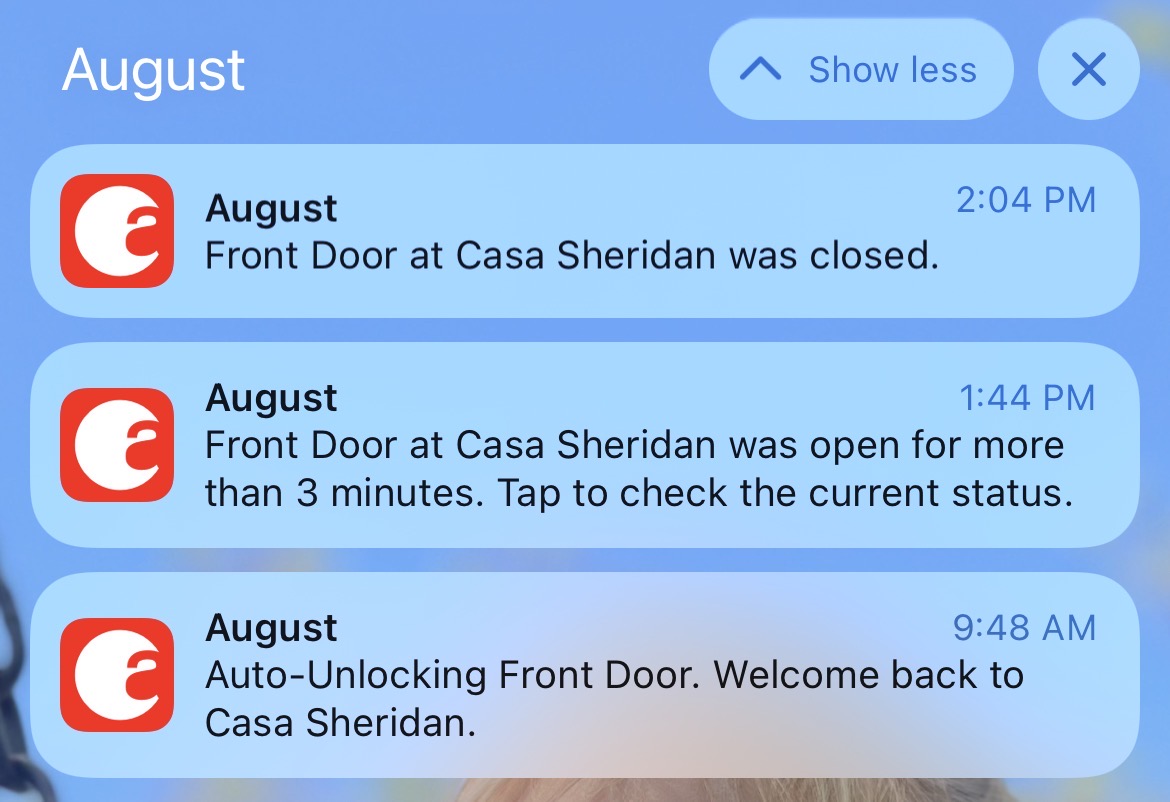 When he comes home, if I don't hear the garage door, I get the MyQ notification that the garage door has opened again on my phone. If I miss that, our August Lock has a proximity detector for our phones over Bluetooth, so the front door will also unlock when he comes home, and send me a notification that it has unlocked. By this time, it's our dog Tesla and my job to be waiting at the door to welcome him home with great fanfare.
After we reheat the coffee that's already at 180°, Steve and Tesla go out in the back yard so Steve can check out his plants and citrus trees and most importantly check on any caterpillars that might be thinking about becoming butterflies. This time is also Tesla's best opportunity to vigorously chase any squirrel who has foolishly ventured into the yard.
When Steve opens the back door to go out, our Ring alarm system will trigger a notification to my phone telling me that the sliding glass door has been opened. It makes me happy because I know Steve and Tesla enjoy their time together during this morning ritual.
As Steve moves around in the back yard, eventually one of our Wyze Outdoor cams will notice the movement and I'll get a notification that there might be some fun video to watch.

While I sip my coffee, I usually work on writing for the podcast, or doing research for the shows, or if I'm lucky I've scraped enough time together to do some programming. While my first few hours of the day are really active, I become completely sedentary at this point. Invariably my Apple Watch will tell me to stand up. I'll dismiss the notification, and usually say out loud, "In a minute!" And then a few minutes later it will do it again. But of course, it hasn't been a few minutes; an entire hour will have gone by where I still haven't stood up.
By this time I will obey the Apple Watch's nagging about standing up because it's time for lunch. While I'm making lunch, if it's a Thursday, I'll get a notification on my watch from Apple TV that a new episode of Star Trek: Strange New Worlds is out. Thursdays are happy days.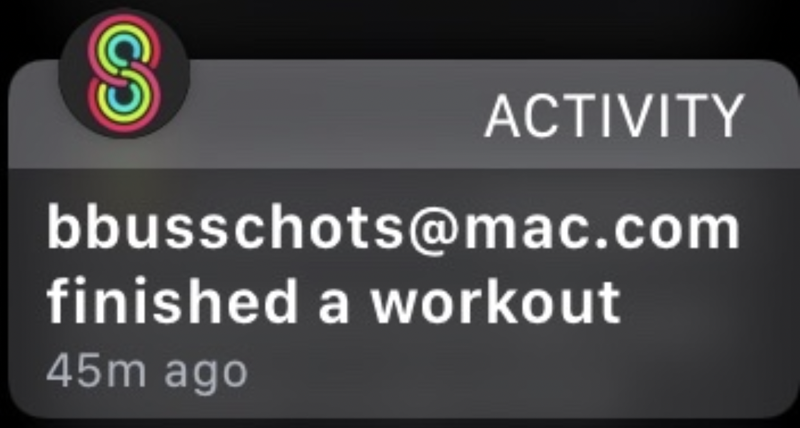 We sit down to eat our lunch, and about halfway through, both Steve and I will look at our watches at the same time. We've both just received a notification from the Fitness app that someone across the pond has just finished a bike ride.

After lunch, I go back to my studio to work some more on the podcast. Some might suggest that it takes me so long to write my articles because I keep notifications turned on for Telegram. I need to know instantly if Steven Goetz in Canada wants to tell me something about Formula 1 car racing, or Pat Dengler has found a cool new app or device. Or maybe Lindsay the Daughter has watched one of the funny TikToks I sent her in the morning and she wants to tell me that she enjoyed it.
A lot of my Telegram notifications are from Steve because we're far too lazy to get up and walk from one computer room to the next to tell each other something. See why my Apple Watch gets so annoyed with me about not standing up?
Around 3 pm or so, Tesla comes into my room and lays her head in my lap. I tell her "soon", and eventually those puppy dog eyes convince me that it's time to go for a walk. We have a discussion about whether we're going to go on a long, 3-4 mile walk with hills like I want to, or whether we're going to walk just the four blocks to where she likes to hunt for gophers. On days I do Fitness+, I need miles so we usually compromise and go on a relatively flat 3-mile walk to the baseball park where I let her hunt lizards.

When Tesla and I leave, I get a lot of notifications. As soon as I'm stepping out the door, I get a notification that the August Lock is open, followed very closely by our Ring Alarm system telling me that the front door is open. But I also get a notification that someone is at the Ding Dong (our name for our Ring Video Doorbell). As soon as I get a few hundred feet away, I get a notification that the August Lock has locked automatically behind me.
I have to say that exiting the house gives me so many notifications that I had to start initiating my walk in the Fitness app before I opened the door. Otherwise, I would just stand outside swiping and swiping notifications trying to get to the "start an open outdoor walk" screen!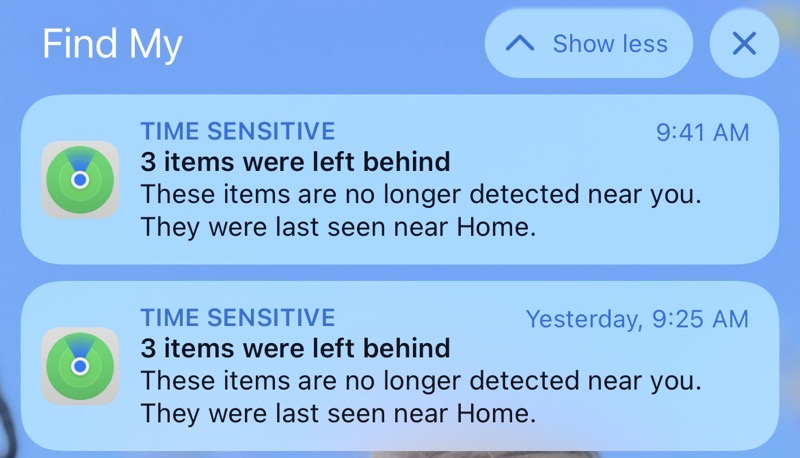 When I get about a half mile away from my house, I get a notification that I've left some items behind. I have AirTags in my purse, backpack, suitcase, and the shoe bag I bring along when I travel. You might wonder why I don't exclude my own home from notifications on AirTags.
Well, I did it that way originally. But then recently I arrived at Lindsay's house for the weekend only to discover I'd forgotten my purse at home! Now living without my purse for a weekend pretty much only meant bumming sunglasses off of people for a couple of days, but can you imagine if I'd left my backpack at home with my laptop and my iPad inside??? It's too horrifying to consider, hence the AirTags now notify me constantly, even when I just walk away from my house.
Every mile I complete with Tesla, I get a nice little notification telling me I've added another mile to the treads on my shoes. I like those notifications. It tells me that I've added another mile to the 11,940 miles I've walked so far since I got my Apple Watch.
When I arrive home, the whole notification at the door thing kicks off again, with the Ring Doorbell, and the Ring Alarm, and the August lock all singing a chorus announcing my grand arrival home.

Just to add one more little bit of entertainment to this momentous event, our little Amazon Echo Dot in the kitchen chimes in, also notifying anyone nearby that someone is at the Ding Dong. I never told the Echo to do that. Somehow after Amazon bought Ring, the doorbell and the Echo Dot made a deal to share information. I always meant to shake my fist at Amazon for this, but I have to admit it's one of the quickest ways for us to know when someone is at the door.
Mid-morning every month or so, I get a notification telling me that Tesla (the car company, not the dog) has updated the software in my car. I just got one of these and I can't wait to see how much better Full Self-Driving works now. Probably not much better, but a nerd can hope.

When my friend Pat stopped by just to drop something off, I got a notification on my phone that a new device had joined my network, sent courtesy of my Eero mesh router. Pat and I stood at the door for quite a long time, and my August lock politely sent me a notification that the front door had been left open for over 3 minutes! The MyQ Garage Door Opener will do the same kind of notification, but it has to be more than 30 minutes. Both are really useful notifications in case you forgot to close a door.
I usually work upstairs for a while longer before dinner, and by this time, Allister Jenks is awake in New Zealand (because it's tomorrow there) and he's probably posted something awesome in our "Delete Me" channel in Slack, so of course I have notifications turned on to let me know. If you only subscribe to one channel in our Podfeet Podcasts Slack, I highly recommend "Delete Me."
Since I'm 100% spoiled, Steve makes me dinner every night. When it's about 5 minutes till dinner is ready, I get a notification. It's not from Telegram or Messages. It's not via Intercom on our Home Pod minis. It's not from Walkie-Talkie on our watches. It's not even from our 1990s-era home intercom system. I actually hear a chime in my room. The chime I hear is from a doorbell I found on the side of the road back in 2019. Steve has the corresponding doorbell button down in the kitchen. It's the jankiest, lowest-tech notification in the house and we both love it. Works every time.
After dinner, I usually go back up to work some more, at least until it's time to watch Star Trek. If I buy something online, I always use my Apple Card. One of my favorite things about the Apple Card is that you instantly get a notification that a charge has gone against the card. Back in April, I told you about this and how it saved my friend Diane from some fraudulent charges. I always look at that notification and I know that if some ne'er-do-well ever tries to use my card I'll be able to jump right on it because of that notification.

Tesla likes to do a perimeter patrol around the back yard after dark. If Steve lets her out the back door, of course, I get the notification from the Ring alarm, but at night, she also sets off the Ring Floodlight Cam notification, the main back yard Wyze cam notification, and since she's very thorough, the side yard Wyze cam outdoor notification, and the Ring Spotlight cam notification over by the trash cans.
Finally, as we sit down to watch Star Trek, I eventually get a notification that I've closed all of my Fitness rings.
And that's a day in the life of Allison's notifications. How many of you were horrified hearing all of this?