Hi, this is Allison Sheridan of the NosillaCast Apple Podcast, hosted at Podfeet.com, a technology geek podcast with an EVER so slight Apple bias. Today is Sunday, September 18, 2022, and this is show number 906.
Comparing iPhone 14 Pro to 13 Pro Cameras
Steve and I both got the new iPhone 14 Pros, and I'm not going to do any kind of exhaustive review or even gush about the Dynamic Island (at least not this week). But I did want to tell you something funny.
One of the first things I did was start comparing the iPhone 14 Pro's cameras to the iPhone 13 Pro's cameras. I've heard a lot of people complain about the 3X camera on the 13 Pro so I thought that would be fun to compare. I put a tiny container of Morton's popcorn salt on a counter a ways away and took the same photo on both phones at 3X to see if there was a difference.
I was shocked to see that the 14 Pro's camera produced an image with very jagged edges on the text in the shot. The 13 Pro looked nice and smooth. I posted the two photos for people to compare, both in our Slack and on Twitter. No one else was noticing this problem with the 14 Pro's 3X camera.
I was on a walk chatting with Pat Dengler about it when I had an epiphany. As soon as I got home, I grabbed the salt shaker and looked at it under the magnifier function of the iPhone. Would you believe the edges of the letters actually have the jagged edges???
I played back something Steven Goetz said when I showed him the two images. He said he thought the iPhone 13 Pro's 3X image looked soft. And he was exactly right – the 13 Pro is soft enough that you can't see the jagged lettering, but the 14 Pro show the jagged edges because it's so darn sharp!
Anyway, I thought that was kind of funny.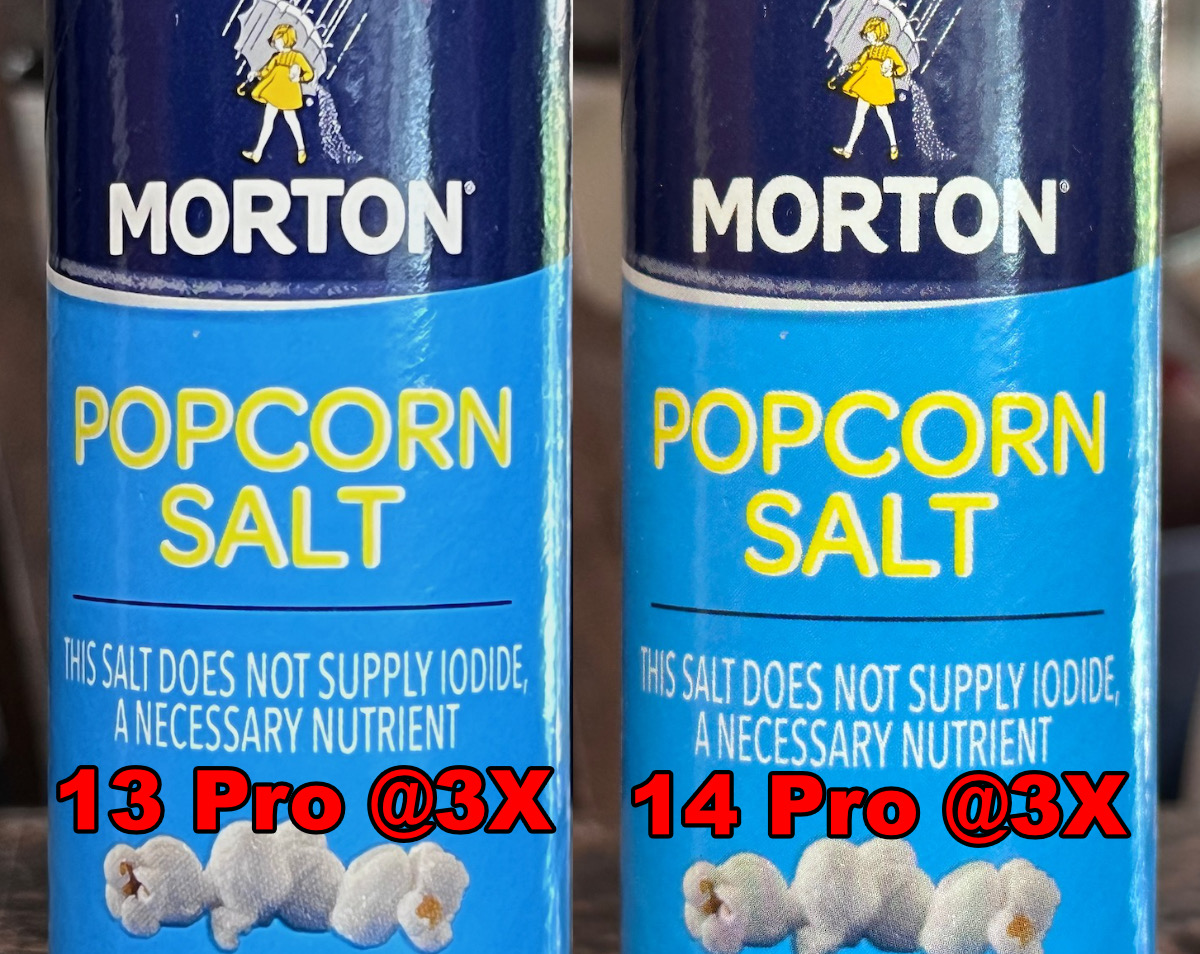 Articles
Instead of panhandling for money this week, I'd like to tell you about one of my must-listen shows: The Mac Geek Gab podcast. The Mac Geek Gab is in its 17th year of providing tips, Cool Stuff Found, and answers to your questions about anything and everything Apple.
Hosts Dave Hamilton and John F. Braun take time each week to actually provide tech support to as many listeners as possible. It's crazy, they really do help a lot of people. They used to challenge the audience to learn 3 new things each week, then 4, and now 5. And guess what? I always learn at least 5 new things and so do Dave and John.
My favorites are the Quick Tips contributed by the listeners and often by Dave and John themselves.
It was life-changing when I heard Dave explain that you can move a partially hidden window on macOS without bringing it forward by holding the Command-key down. I use this tip daily and I show it to others as a party trick now.
Or how about this one? I just learned from the Mac Geek Gab that you don't have to shake your iPhone or iPad to undo. You can swipe onscreen from right to left with three fingers to undo! If you want to redo, do the opposite: swipe from left to right with three fingers.
Mac Geek Gab is at the top of my list as soon as the podcast gets released to keep me company and let me keep learning while I'm on my long walks.
If you use an iPhone, a Mac, an iPad, an Apple Watch, an Apple TV, or are simply a technology enthusiast, you're going to love learning more about your technology with your two new favorite geeks over at Mac Geek Gab. Get your questions answered and have some fun along the way!
Visit MacGeekGab.com or search for Mac Geek Gab on Apple Podcasts, YouTube, Spotify, or wherever you get your podcasts. Don't Get Caught without having Mac Geek Gab in your rotation.
That's going to wind this up for this week. Many thanks to the Dave and John of the Mac Geek Gab for doing the podcast swap with me this week.
Did you know you can email me at [email protected] any time you like? If you have a question or a suggestion just send it on over. You can follow me on Twitter at @podfeet. If you want to join the conversation, you can join our Slack community at podfeet.com/slack where you can talk to me and all of the other lovely NosillaCastaways. Remember, everything good starts with podfeet.com. You can support the show at podfeet.com/patreon or with a one-time donation at podfeet.com/paypal.  And if you want to join in the fun of the live show, head on over to podfeet.com/live on Sunday nights at 5pm Pacific Time and join the friendly and enthusiastic NosillaCastaways.   Thanks for listening, and stay subscribed.