Allison and I have had a question for a long time about electric vehicles. The mileage you get driving an electric vehicle (EV) is highly affected by things like whether you're driving into the wind, you're driving up a hill, or you're towing something. But mileage for gas-powered (internal combustion engine or ICE) vehicles doesn't seem to affected as much. I did some research and the reason why was surprising.
Differences between EV and ICE vehicle efficiencies
Much of the info and the figures I'll talk about here are gleaned from an article in Motor Trend referenced below.
It turns out the reason that EV mileage is impacted more severely by these factors than ICE vehicle mileage is due to the high energy efficiency EVs have compared to ICE cars. At first glance, that was counterintuitive to me, but after some thought it made sense.
Higher energy efficiency in a car means a greater percentage of the energy stored in the car's power source (battery or gas tank) is converted to energy that actually makes the car move forward.
Figures 1 and 2 compare how the energy in ICE vehicles vs. EVs is consumed and what percentage of the original fuel actually gets used to drive the wheels and make the car move forward, and they are dramatically different.
You can see in Figure 1 that an ICE vehicle is very inefficient since it converts only 16-25% (about 20%) of the stored gasoline energy to move the car forward. The remaining 80% of the energy stored in the gas tank is wasted, mostly as heat due to the combustion process.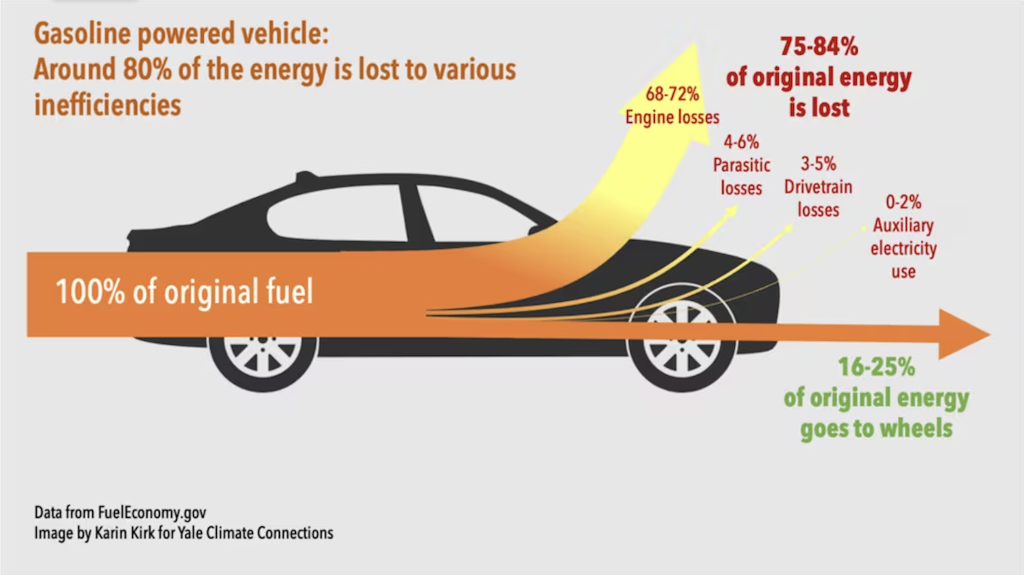 An EV, on the other hand, is very efficient. Figure 2 shows that only 33% of the energy is lost, but regenerative braking actually recaptures 22% of that loss. That means that as a whole, the EV converts roughly 90% of the energy stored in the battery to push the car forward. So when you factor in the recaptured regen braking energy, only about 10% of the total stored energy in an EV is lost due to heat and other factors.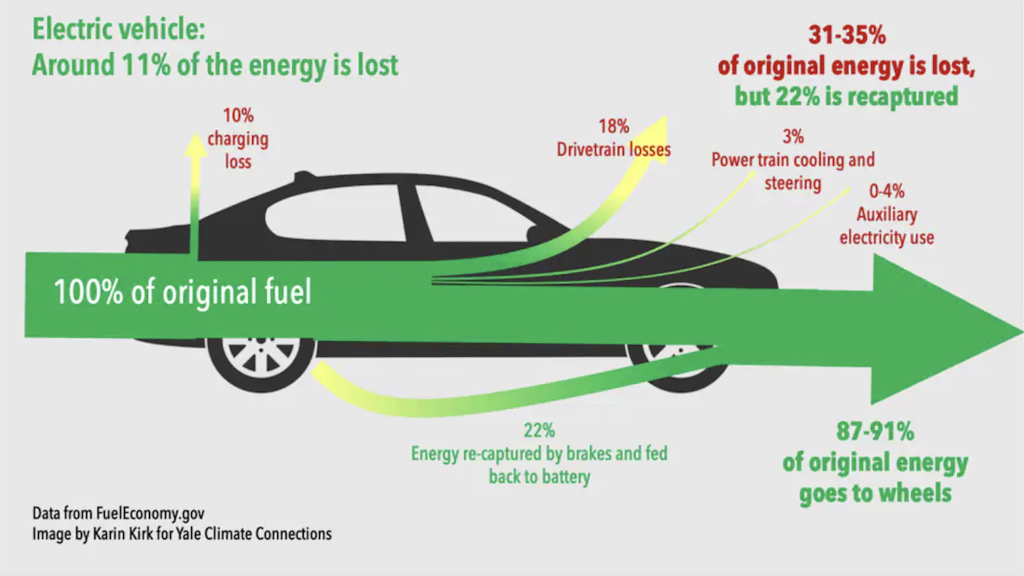 Why is the EV mileage impacted more than an ICE vehicle?
Now that we understand the efficiency differences, how does that explain why EVs vs. ICE vehicles suffer such different mileage impacts due to adverse driving conditions such as headwinds due to higher speed, uphill driving, and towing?
The reason that EVs take such a mileage hit is that these factors only impact the energy that drives the wheels and propels the car forward – and that is 90% of the total energy used by an EV.
However, with an ICE vehicle, these adverse driving conditions impact only 10% of the total energy used and that's the 10% that propels the car forward. The remaining 90% of the total gasoline energy is wasted and is not affected by these factors at all. We don't notice the effects of drag from wind and other factors as much since they affect only 10% of the total fuel.
How EV drivers account for this effect
Reduced mileage with EVs under adverse conditions has led to some people's disappointment by the real-world range they can get with an EV on a single charge vs. an ICE vehicle on a single tank of gas. Long-time EV owners learn how to work around these impacts.
First, the total EV range on a single charge is usually not an issue with everyday driving, such as commuting and the most common trips which are short to moderate-length. Most EV drivers charge their cars at home overnight which satisfies their everyday driving needs. For the uninitiated, range anxiety arises on long road trips. Experienced EV owners learn to plan their routes in advance, find charge stations along the path, and use short but efficient charging sessions that will get them to their destination.
The easiest thing an EV driver can do to increase their mileage is to reduce driving speed, particularly on the highway, which reduces drag due to headwinds. The increase in drag on the vehicle goes up as a square of the speed so cutting driving speed from 80 to 75 MPH has a much greater reduction in drag (and increase in mileage) than decreasing speed from say 60 to 55 MPH.
EV mileage will take a hit with uphill driving but remember that EVs regain some of that energy through regenerative braking as the drive transitions to downhill. Towing is a problem with EVs that is not easily solved and a vehicle with a gas or diesel engine may serve better for long-range towing of heavy loads.
Temperature impacts on EV mileage
Temperature is another environmental factor affecting mileage but it falls into a different category than the others we talked about. This is because it's an effect that is unique to EVs and has little to no impact on ICE vehicle mileage. The reason is that the performance of a battery in an EV, like all batteries, is greatly impacted by temperature.
Batteries "like" to operate in a relatively narrow temperature range and they perform poorly when they operate outside of that range. This can result in signficantly reduced range when battery temperature is not properly managed. To counter this effect, many EV manufacturers include automated systems to control battery temperature.
Tesla is known for how well their systems manage the temperature of the batteries in their cars. For example, a Tesla car will even automatically "condition" its battery in preparation for a Supercharge session if the car is in its Navigation mode and a Supercharger is on the route. "Condition" here means using the battery heating/cooling system to adjust battery temperature to an optimal level before charging begins.
Even so, these battery management systems aren't perfect and an EV's range will be reduced when operating in very cold or very hot weather. Again, experienced EV drivers learn to work around these limitations by the methods I mentioned above.
Bottom Line
Even though EV drivers are taking a bigger hit on mileage due to environmental conditions, that is somewhat offset by the knowledge they are helping the environment by using energy more efficiently and sending less heat and chemical waste into the environment.
But let's just say with an EV you should avoid towing a large load at high speed uphill in an ice storm.