Hello Allison and NosillaCastaways. Allister here again from New Zealand with a short review of a product recommended to me by another NosillaCastaway.
First, the problem to be solved. I just bought myself a brand new 27″ Retina 5K iMac. It is a beautiful machine and I am very pleased with it. No, that's not a problem in itself, but if I look around the back of this beast, I see only one 3.5mm audio jack and it's marked with a headphone symbol. It turns out it will support a headset with microphone, but that's not really going to cut it for recording high quality audio.
As both of my previous Macs have had an audio in jack, I was unprepared for this. I could use the OWC Thunderbolt 2 dock I have, but it's a fairly large and expensive piece of kit just to do that because I have no need for its other features any more, now that I no longer use a laptop. So, I turned to the NosillaCast Google Plus community (at podfeet.com/googleplus) and asked for recommendations for a suitable digital audio interface.
Allison, you recommended the Shure MVi which you had recently reviewed but this sounded like a little more than I was looking for and your comment about the touch controls also put me off. I'm used to twiddling a knob on my mixer or dragging a slider on the Mac and reaching out to touch a small surface like that doesn't appeal to me. It sure has some cool features, but another recommendation took my fancy.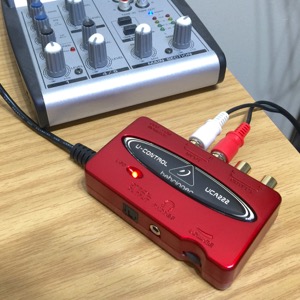 George from Tulsa recommended the Behringer U-Control UCA222. I will admit that seeing the unit was red in colour was the first thing I liked about it, but after reading about its capabilities I was quite taken with it. I ordered one a few days later from a local music shop and picked it up on Friday.
The unit sells on Amazon for USD$30 and I picked up mine for NZD$79 which is about what I'd expect after foreign exchange and local tax, plus a modest markup for the shop. Note this is less than a quarter of the price of the Shure MVi, which was another thing in the Behringer's favour – I've just dropped over $4000 on a new computer.
The device is very compact with the longest side only 88mm long. If it had no appendages it would fit comfortably in my hand and only weighs about 100g. It is finished in a dark metallic red and has a very good build quality.
A 1.5m USB cable is fixed in one end of the device to provide the digital output to your computer and there is also an S/PDIF optical digital output which sends the same signal. Four RCA sockets arrayed along the long side provide two channel analogue input and output so you can bring one stereo source into the device and relay that out to another, such as studio monitors. Additionally there is a headphone port on the opposite side along with a volume control for that. The volume does not adjust the gain of the signal passed to the digital outputs, only the headphones. Aside from markings, the only other feature is a red LED which is lit when the device detects a valid USB connection.
The UCA222 can not be used as a standalone device for microphone connection, as it is intended for mixers or pre-amps. My previous setup was an AKG D 88 S dynamic microphone plugged into a Behringer Eurorack UB502 five channel mixer and then the mixer output was cabled directly into the Mac. The new setup is almost identical, except the UCA222 now sits between the mixer and the Mac.
Once I plugged everything in, I checked my sound settings on the Mac and found the familiar "USB Audio CODEC" device. I centred all the gain controls on the mixer and tried a test. The VU meter moved but just barely. Moving the output gain to 40% of its maximum yielded a suitable sound level, at which point I noticed a quiet, but obvious hum. Then I remembered my experience with hum using the Thunderbolt dock. Sure enough, I placed my standard sound isolator – a folded tea towel – under the microphone stand and the hum was banished. In fact, I believe the audio I am getting through into the Mac in this configuration is the cleanest I've ever had.
And that's it. The UCA222 is a very simple device that performs very well, at least in the role I have it. I have no need for studio monitors and I prefer to monitor the microphone at the Mac so I can also hear other audio that is generated within the Mac at the same time, so I won't use the headphone port on the device. Nor do I need the optical output.
My Behringer mixer has given me faultless service as long as I've had it so I am happy that the new device is also a Behringer. In fact, I'm really happy that in over 9 years I've stuck with the same basic microphone and mixer setup despite four different computers, two different operating systems, and four different recording applications. The new device, I expect, will see me well past 10 years.
Once again, that's the Behringer U-Control UCA222 for USD$30 from Amazon. Click the link in the show notes to be sure you're using Allison's Amazon affiliate link.
You can catch more of my mutterings, including a blog post about my thinking behind switching back to a desktop Mac, over at zkarj.me.