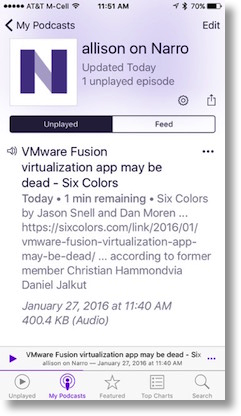 I'm going to call this next subject the "Professor Maryanne Problem". Do you find that you have lots of time where you can listen to podcasts (driving, exercising, vacuuming) but very little time to simply sit still and read long form articles? Or do you find, like me, that you've lost the ability to pay attention while reading long form articles? I remember years ago Leo Laporte putting it perfectly when he said, "I've lost the will to pay attention. I don't even want to any more." That's me for sure.
Professor Maryanne Garry (you remember her, she ruined everything you believed about your memories) often sends me articles to read that are well beyond my capacity or desire to pay attention. I think my brain is so trained by reading 140 characters that my mind wanders partway through the first paragraph. She mocks me for this. The last article she sent me was 5960 words. Seriously. Who, other than a research professor, has that kind of mental stamina?
Well Jason Goff aka @eske on Twitter found the solution for me. It's a freemium service called Narro.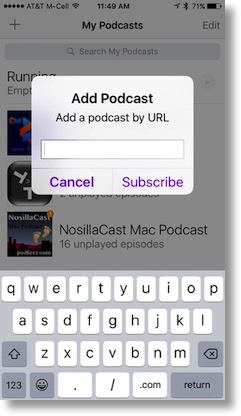 Narro allows you to grab any web URL and it reads out loud to you via your podcast app of choice. The voices are fantastic and plentiful (15 of them); I'm currently favoring a woman with an Australian accent myself. The other day on my walk I had her read me the first episode of Taming the Terminal and it was completely understandable. A little weird to hear Bart's words in her voice but it worked really well. The only word she had trouble pronouncing was GUI, but I could still tell what she meant.
One question you might be asking is how well Narro parses the truly interesting bits from a web page. In my testing, Narro did a fantastic job at picking out just the article, not reading ads or other glop to me. In some cases it picked up things like the date and time and author of an article, but never more than that. I can't say it will always be perfect but it was amazing in my limited testing.
I bet you're wondering how hard this is to set up. It's trivially easy. You start by creating a Narro account at http://narro.co. This creates your own personal podcast feed URL which we'll get to later. Now download the Narro app for iOS or Android. I'm not sure how it works on Android, but in Safari on iOS, you add Narro to the Share menu (that little upward arrow thingy). Now surf to a page Maryanne insists you read and tap on share, and then Narro, and instantly that article is available as an audio file in your podcast feed.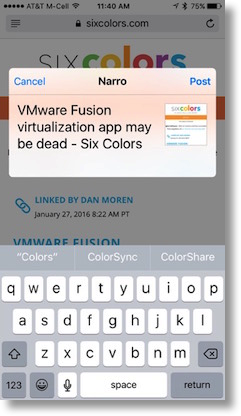 In step one you created your podcast, but now you need to subscribe to it. Still on your IOS or Android device, open the Narro app and log in. You'll see a button that says Subscribe to Your Podcast. Tap that and follow the instructions to copy your own personal podcast feed URL. For some reason I can't copy the link directly in the text where it says to do that, but in the upper right it says "Copy Your Podcast URL" and that does work.
If you haven't used a feed to subscribe to a podcast before, it's pretty easy. In most podcatchers, you should be able to find a subscribe via URL option. In the official Apple Podcasts App, hit the Plus on the My Podcasts screen, tap Add Podcast, and you'll see an invitation to Add a podcast by URL. Paste it in and hit subscribe. You're done!
From now on, every article that you select using the Share sheet is instantly available in your podcatcher. My definition of instantly is as fast as you can switch to your podcatcher! You can change the default voice in the Account page in the Narro App, or you can log in via the web on your computer and change it there. You can also listen to your personal Narro podcast via the web interface.
So far I've only talked about the free features of Narro, but as Bart always says, follow the money. Narro has a business model that I think can work. For people like me who occasionally get the Maryanne article, they have a free account which gives you 20 article conversions per month. If you want unlimited articles, you'll need a Pro account for $7.99/month. The Pro account also lets you convert plain text to audio (in case Maryanne sends you text file attachments). In addition for that $7.99/month you can have it ingest RSS feeds. This can be handy if, for example, you want to read every article iMore, Engadget and Recode produces.
I know that a lot of people like those services that let you save articles to read later, but I bet a lot of them never get around to reading all those articles they really meant to read. Narro might help you if you're one of those well-intentioned people. Upgrade to a Pro account and you can connect your Pocket or Instapaper accounts right into Narro! Imagine surfing the net at lunch and not having time to read everything you wanted to, but sending the articles right to Narro through these services and listening on your way home. Wouldn't that be awesome?
I really encourage you to give Narro a try over at narro.co.