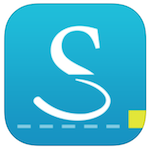 There are two things about which I'm not fond: third-party keyboards on iOS and handwriting. I'm about to tell you that I've changed my mind on both of these things.
Last week on the SMR Podcast, Robb Dunewood brought up the SwiftKey keyboard. I mentioned how lame third-party keyboards were implemented by Apple on iOS, but for grins and giggles, I installed SwiftKey again on my iPad. I'm sure SwiftKey is lovely but on iOS you keep getting kicked in and out of it, or it doesn't work on some things so you have to get out of it and back in. It's still a mess so I stopped using SwiftKey yet again.
When Tracey Baucells on Twitter suggested another third party keyboard, I was skeptical. She tagged me as an Apple Pencil pusher in her Tweet so my curiosity on what the Pencil and a keyboard would have to do with each other overcame my skepticism.

The app she recommended is called MyScript Stylus from myscript.com. You may recognize the name; these are the same people who developed MyScript Calculator that was all the rage a few years ago.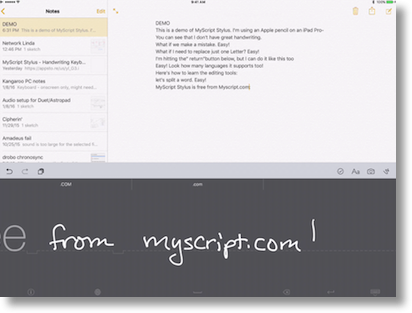 MyScript Stylus is the most amazing Optical Character Recognition (OCR) software I've ever seen. Using the Apple Pencil on the iPad Pro, it correctly interprets my awful handwriting and converts it into accurately typewritten text in real time as I'm writing. It is far more accurate than my typing using the onscreen keyboard and might be even more accurate than I am on a real keyboard.
MyScript Stylus installs like other third-party keyboards. After installation, the user must enable it in settings. Once enabled, a globe icon is visible on the "normal" keyboard that allows switching between keyboards.
MyScript Stylus opens as a large grey box with a long dashed line inviting you to start writing. At first I was very careful to make careful, correct printed letters, but as I began to trust MyScript Stylus I got more and more sloppy. I degraded to my normal confused scramble of printing and cursive. I think my handwriting has been destroyed by so many years now of typing. In spite of this, MyScript Stylus converts my gibberish to perfect type-written text.
As you're writing in the grey box where a keyboard would be, you can see your scribbles being translated in your text document real time to type-written text. While you're in the process of writing, the text entry area stays looking like handwriting, but when you pause, it changes to typed letters. I think it does that to keep from distracting you. I should mention that the screen scrolls automatically to the left every time you pause, so you never run out of space to write.
MyScript Stylus allows corrections in some interesting ways. If you make a mistake, you can scroll back and forth using two fingers in the handwriting area. Then simply draw a line through the text you wish to delete and it disappears. If just one letter is wrong, you can simply write over the letter and correct it. If you need a space inserted, draw a vertical line between letters and a space is created. To eliminate a space, you just draw a little "u" under the space and it collapses.
Using a Screen Reader? click here
I was going to list all of the languages available in MyScript Stylus, but we don't have that much time. There are 15 languages pre-loaded and about a gazillion more that you can download. You get to the languages by opening the MyScript Stylus app (not the keyboard). From there you can also change the appearance, changing the background and ink color as well as the ink thickness. Personally I'm sporting a dark background with a light grey ink, which looks really cool. There are also preferences you can change for text size and auto-scrolling speed but they didn't seem to change anything when I messed with them so I'm not really sure what they do!
MyScript Stylus is superb on the iPad Pro with the Apple Pencil but it also works tolerably well on the iPad Air for me with a traditional stylus. Heck, you can actually use this "keyboard" with your finger to write if you're in a bind. I put it on my iPhone just for grins and giggles, but the screen width isn't enough to easily write this way. In landscape it wasn't too bad, but I ran into a problem where my iPhone lost all keyboards until I uninstalled it. Never ran into that problem on my other devices.
If you're wondering how well MyScript Stylus works, I wrote this entire review with my iPad in my lap while I watched TV. With the exception of editing for content, it worked fabulously. My only problem is that my shoulder hurt afterwards because I'm that out of shape writing by hand! I included a video demonstration of MyScript Stylus so that you could watch it in action and see for yourself how well it works.
Here's the punchline: MyScript Stylus is free from myscript.com.