Allister here again, standing in one more time for Allison.
When iOS 8 was launched and included HealthKit, I could immediately see the benefits of keeping health data in one prescribed place. Given how much information I already trust Apple with, it seemed like a no brainer.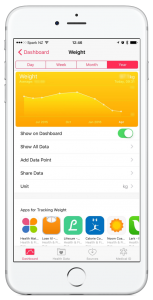 At first I just kept track of simple stuff like my step count, which my then new iPhone 6 Plus did automatically. Later when I got my Apple Watch, heart rate measurements became meaningful and, again, it was automatically placed in HealthKit for me. Then about 6 months ago I began to get serious about losing weight and after poking around in the Health app, I realized I could manually enter data points. I began to weigh myself every morning after my shower and when I remembered I would type the number into the Health app. It's a pretty simple task, but as I was weighing myself during the one time of day I don't have my iPhone handy, it was very easy to forget. Even if I remembered, I was reading off very similar numbers each day and there was a good chance unless I remembered to record it right after I left the bathroom, I'd lose track of the number.
My data was okay, but I began to miss more and more days and sometimes when I went to fill in "the missing day" I'd discover I had missed three days! The weight was coming off, but I wasn't happy with the quality of my data. I'd heard about the FitBit Aria scale and thought it might be time to invest in one. Until, that is, I saw what it looked like! Let's just say its design aesthetic didn't match my taste, and so I set about finding an alternative. I brought up the web pages of several local appliance retailers and began my search. I soon figured out what I was looking for. It had to look right. It had to link with HealthKit, and it needed to not cost an arm and a leg. There were scales that measured all manner of things other than weight, but I didn't need any of those other measures.
Eventually I settled on the Beurer GS485. It looks quite "traditional," if there is such a thing for a digital scale, with a clear safety glass platform, two black strips top and bottom where the mechanism and undercarriage are and narrow silver strips down each side. It is elegant and understated. In the top strip is a simple digital display with large, easy to read numbers. Using the GS485 is as simple as standing on it, which depresses a switch in the feet and activates the display. Within a few seconds the readout stabilizes and it's done.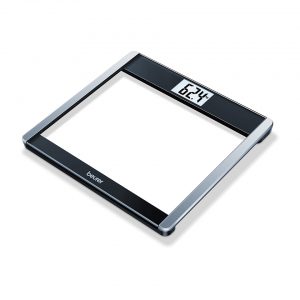 The scale works best in conjunction with the Beurer Health Manager app which you can install on an iOS or Android device and communicates with the scale using Bluetooth Low Energy. The link to HealthKit, however, will require that it be on your iPhone as this function is not available on iPads. The app is a little old looking, with a distinct iOS 6 feel about it, but it works simply and quickly. To transfer the data between scale and app just requires both to be on, and it doesn't matter when you make the link as the scale will store weigh-ins – up to 30 per user, with 8 users supported – and transmit them to the app when you next connect. Now, when I remember, I fire up the Health Manager app and then "tap" the scale to wake it up. Within seconds the latest weigh-in is displayed in the app. I've found I need to leave the app open for a while for the data to find its way into HealthKit, but it's only seconds.
The Beurer app has a basic graph and a list of weigh ins, but once the data is in HealthKit, you can look at graphs for the last week, month, or year and see your average over that period. You can also drill into the data points and see each weigh in, including when the data was added and when it was recorded.
The scale itself also displays figures for body mass index, basal metabolic rate and active metabolic rate but these do not appear in the app.
I now have a daily record of my weight which is achieved simply by remembering each day to stand on the scale, which I have no trouble doing. I've gone up to four days without linking to my phone and that's fine, all the data arrives and looks as it would if I linked it up every day.
As for the weight loss, I'm on a bit of a plateau at the moment, but am happy to report that plateau is around 9kg, or 20lbs, lighter than when I started.