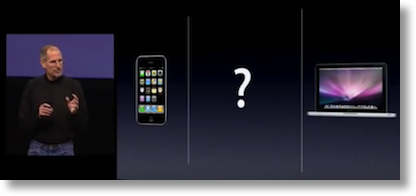 As a listener to tech podcasts, I'm sure you're always asked questions like,"Should I get the small, medium, or large iPad?" or Should I get a MacBook, a MacBook Pro or a Macbook Air?" or "should I get an iPad or a Macbook?" So often the question is whether we need the big one or the small one.
I think the answer to all of these questions is, "Yes." They should buy them all.

In January of 2010, Steve Jobs introduced the first iPad. Before he did the big reveal, he asked, "Is there room for a third category of device in the middle? Something in-between a laptop and a smart phone." He said to succeed, that category of device would have to be far better at some key things.
The iPad definitely did key things for me that I couldn't do with my other devices. My iPad Air 1 was getting a little long in the tooth when the12.9″ iPad Pro came out. What key thing could it do that the 9.7″ could not?
For me that key thing is watching video. I love to watch video podcasts during my morning rituals. You know that a bigger TV is always a better TV, right? If you have a 42″ TV, you really wish it was 50. If you have 50, you're jealous of those with 55. The 12.9″ iPad Pro is the best video playback iPad out there. I wasn't expecting the speakers to be so good. We used to watch video podcasts on the Air, and always had to fight bluetooth to connect up to the Jambox. With the new iPad, the speakers are much louder and the sound quality is very good, so we haven't used the Jambox once. Just not fighting with Bluetooth is a key feature for me.
I quickly became accustomed to doodling around on it in the early morning, responding to emails and reading Twitter and Google Plus and Facebook to start my day. The Pencil is the key feature that makes this work. The Pencil along with MyScript Stylus as the keyboard allows me to write witty responses on social media while lounging in bet with a cat or two.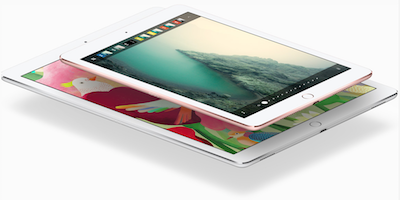 But then Apple came out with the 9.7″ iPad Pro. I wondered whether there was room between the 12.9″ iPad Pro and my iPhone. Were there key features that it had that it did better than the others? I have to say that it's key feature is that it's easier to carry around. The big girl iPad Pro isn't really heavy but it's like carrying a full-sized clipboard around. But the 9.7″ slips nicely into my gym bag and is easy to carry by hand along with my purse.
My indecision on whether to get the 9.7″ iPad Pro was taken out of my hands when Steve bought me one for my birthday. He's cool that way. I have to say, having the Apple Pencil working on the smaller iPad Pro is pretty darn cool, and finally having TouchID on all my devices is awesome. The best camera I have (other than my big girl Olympus) is the one on the 9.7″ iPad Pro. Live photos and higher resolution makes me kind of look down on my iPhone 6 camera with distain.
After about a week of owning both iPad Pros, I have to say I still reach for the big girl iPad Pro first but when I leave the house, it's the 9.7″ all the way. So they both have a place in my life because they both have key features.
I can have the same conversation about the MacBook vs the MacBook Pro.
I have always believed that I needed the top of the line MacBook Pro because I'm mobile, I take a gazillion photos and I need a hot rod recording studio. That's all true, but when I got the MacBook, I found that the diminutive size made it a delight to tote around the house and take on travel with me. I haven't bought enough dongles to test it out as my recording platform. The processor might not be up to snuff on this first version of the MacBook, but then again I successfully ran the live video show on a 2013 13″ Macbook one time. When I want desk time with a big monitor, the 15″ MacBook Pro wins every time, but it's very rare now that I ever unplug it from the desk.
The key feature of the MacBook Pro is power, and the key feature of the MacBook is light and thin. They are both compelling enough for each to have a significant place in my daily life.
So when people ask you, "Should I get the big one or the small one?" maybe the answer is simply, "Yes."