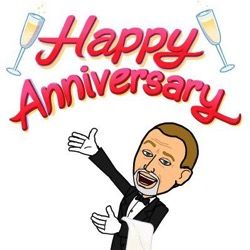 Happy 11th anniversary to the NosillaCast! You can listen to the first show that aired on Sunday May 15, 2005. I'll tell you about EasilyDo Email which might just make your life easier, and then I have a review of the new Ricoh Theta S 360 degree camera. Bart is back with Security Bits (spoiler: there's updates to everything!)

mp3 download

Hi this is Allison Sheridan of the NosillaCast Mac Podcast, hosted at Podfeet.com, a technology geek podcast with an EVER so slight Macintosh bias. Today is Sunday May 15, 2016 and this is show number 575. And guess what else it is? It's the 11 year anniversary of the NosillaCast! On May 13th, 2005, I recorded the first episode, not realizing what I was getting into and how much fun Steve and I would have with this community. Following on with tradition, I put a link in the shownotes to the first episode if you want some comedy.
In Chit Chat Across the Pond this week, Bart Busschots and I get back to work in Programming By Stealth Episode 14 of x. This week he teaches me about Arrays and Loops in JavaScript. It's starting to get more challenging but he promises next time will be a bit easier. Remember to subscribe in your podcatcher of choice to Chit Chat Across the Pond.
iTunes Reviews
I saw a post in Google+ about a tool called PodBuzz that helps podcasters see an aggregated view of all of the iTunes reviews they've received from all countries (normally you can only see your own country). I realized looking at it that I hadn't asked you guys to provide feedback in a really long time! I know it's hard to remember to do it, and I forget for a long time on shows I listen to so I thought it wouldn't hurt to drop a reminder in here. It helps the show get noticed to have fresh, new reviews so I'd really appreciate it. Note that I didn't say it had to be a good review, although it wouldn't make me sad to hear the good ones too! There's one very honest review in there that says I'm annoying, and that she skips forward to Bart's Security Bits. That's cool, at least she gets the part she does like, right? I did laugh at one thing she said though, she said that when I don't get my way in an argument I make a raspberry sound and that it's childish. I laughed because that's EXACTLY how I mean it! It usually means the other person has made a terrific point and that I don't like it so I'm going to pout. Anyway, go off and shoot a review in iTunes if you have some time, I'd really appreciate it!
Blog Posts
Security Bits
Some Followups
Encryption Wars Update
Important Security Updates
Important Security News
Notable Breaches
Suggested Reading
That's going to wind this up for this week. Don't forget to send in your Dumb Questions, comments and suggestions by emailing me at [email protected], follow me on twitter @podfeet. Check out the NosillaCast Google Plus Community and our Facebook group at podfeet.com/facebook. If you want to join in the fun of the live show, head on over to podfeet.com/live on Sunday nights at 5pm Pacific Time and join the friendly and enthusiastic NosillaCastaways. Thanks for listening, and stay subscribed.