Guest Review by Denise, aka Deverelle in the NosillaCast chatroom and on Twitter.
Hi, this is Denise with a Castaway review of the Oktobud SM01-X7 waterproof Bluetooth earbuds. They are available on Amazon for $49.95 $59.95 US. The key feature is they are waterproof and rated to IPX7 so I couldn't wait to try them for my evening swim. IPX7 is defined as "Protected against water immersion. Immersion for 30 minutes at a depth of up to 1 meter."
First some back story. I have been trying for years to come up with the best audio experience for swimming. I first had an iPod Shuffle in a bulky silicone case with wired waterproof earbuds that sounded terrible.
A few years later, I upgrade to a Waterfi Shuffle; this is a standard iPod Shuffle, but it's coated to be waterproof. It's great, but I still had to manage a headphone cord and had to remember to update my playlists.
Sometimes a girl just wants a nice midnight swim to Dark Side of the Moon or to have a coaching app barking instructions in her ear.

The Oktobud's are Bluetooth 4.1, which means they use less energy and pair faster than devices on older Bluetooth specs. In that regard they don't disappoint; they connected to my iPhone right away, and I'm getting 8 hours out of each charge. The range is 10 meters.
The Bluetooth 5 spec was announced in June and should start showing up in devices by the end of the year. This will be a game-changer as it supports distances up to 300 meters. I mention it because if you have trouble outdoors with the distance of Bluetooth, you may want to wait a few more months the new spec to appear in products.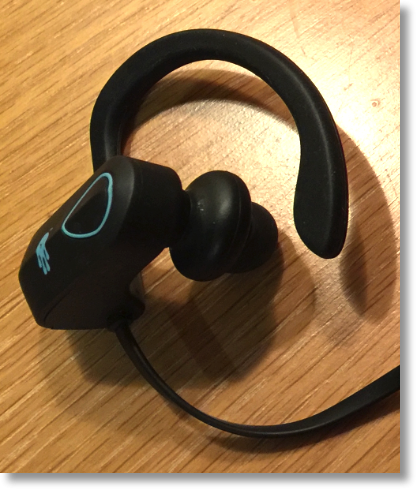 Back to the Oktobud. They are light and comfortable! I have small ears, and these stay in, and more importantly don't hurt. You'll get a voice prompt in English when they are connected or disconnected. The sound quality is surprisingly good. Both music and podcasts sounded better than I expected. NosillaCast sounded great! (Allison did not ask me to say that.)
I loved swimming with them but had a couple of attempts to put my phone in the right place where I would have a minimum audio dropouts. If the earbuds lose connection, you have to get out of the pool and reconnect them, so I settled on the dead center of the pool on one side, and that worked well enough to keep me connected. If you swim laps in a regulation pool, hold out for Bluetooth 5, the Oktobud's cannot cover the length of a proper lap pool.
Don't be surprised if you have to experiment a bit to get the best connection.
Indoors, they work great. I've answered phone calls with them and no complaints from the telemarketers that have been unfortunate enough to be my test cases.
These are my new favorite headphones for working out and listening to podcasts.
One small nit, when they do finally run low on battery, they nag you incessantly until you charge them. Charging takes an hour and a half.
The Oktobud's come with some extra ear tips, a charging cable, and a zippered carrying case. If you decide to give them a try, please use Allison's Amazon link and help her cover show expenses. (She didn't ask me to say that either.)
Ciao!