Just recently the makers of the beloved Evernote changed their pricing plans dramatically. If you're an avid Evernote user, I'm sure you've read the many posts about this, including Evernote's announcement. They changed the free tier so it only works on two devices, and both of the paid plans had price increases of more than 30%. I'm sure there are people for whom the price increase is still worth it, and for whom the restrictions are just fine. If you're happy with Evernote even with these changes, then this article isn't for you.
If you really like the functionality you get from Evernote but the fee changes and/or restrictions are more than you can bear, I might have an alternative for you. It's called Together from Reinvented Software. Together doesn't work exactly like Evernote, so we'll go through the features and you can decide if it meets your needs.But before we go through the features, let's talk price, since that's what has most people upset with about Evernote. Together 3 is available for $60 in the Mac App Store, and you'll pay an additional $10 for the iPad/iPhone universal app. So for the same price of $70 you can have Together forever, or Evernote Premium for one year. If you've been on the free tier that might sound like a lot of money, and maybe more limited tools like Apple Notes could fit your needs.
Luckily you can also get a non-Mac App Store version directly from Reinvented software so you can download a free trial to see if you like it enough to make the one-time investment. You can't test out the syncing between devices with the trial version though. Ok, NOW we can talk about what Together actually does.
File Types and Locations
Together can store notes, documents like PDFs, images, sound files, movies, bookmarks and web archives. Together doesn't store these files in a blob inside an impenetrable database like Evernote, instead it stores these files in a normal file structure in the Finder. You can even choose to leave your files right where they are and have them referenced for access from within Together.
That's going to be a common theme throughout this review – you have choice in Together, you can use it the way it makes sense to you. At any time you can right click on an item and choose "Show in Finder". I like that a lot.
Here's another feature you might like – Together allows you to password protect individual notes, and uses AES-128 for your encryption pleasure.
You might be wondering, "How do I get my Evernote database into Together?" Luckily the developer, Steve Harris, has created an Evernote import tool. He's also got a page dedicated to Evernote users that walks you through how to use it and some of the differences between the two applications to help you get comfortable. I used the Evernote import tool and learned that it's good to export/import a few notebooks at a time until you're sure it's running smoothly.
Together 3 syncs through iCloud and since Apple has fixed most of the iCloud syncing problems, it's pretty stable now. iCloud syncing is only possible on Mac App Store apps, so if you do want to sync between devices, you'll want that version. It's a very interesting implementation of iCloud syncing. I mentioned that you can see your files in the Finder, but you won't see them in iCloud Drive on your Mac or iOS device. Together stores its libraries in an iCloud database. Note that this means if you use iCloud syncing, the files you store in Together will count against your iCloud storage allowance.
If you go to the Mac App Store and read the comments about previous versions of Together, you'd run away and think I'm nuts for recommending it. As you know, Apple has struggled with the stability of iCloud syncing, and that has affected the ratings of many many apps in the Mac App Store. Together 3 is on the newest implementation of iCloud and it's working much much better.
Interface
The Together interface has a clean and simple style. Down the left pane you'll see your Library with sections for All Items, Inbox, Last Import, Favorites and Trash. Right below that, you'll see your items already pre-categorized as Notes, Documents, Images, Sounds, Movies, Bookmarks and Web Pages. Together automatically knows what kind of files you've imported so you don't have to do that categorization.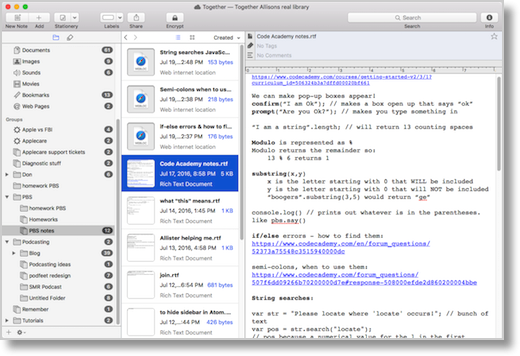 Of course Together supports search (which is the way I find nearly everything) and tags for those meta-data nerds amongst us. The tags aren't hierarchical so don't get too excited about it. And then for the anal amongst us, you can create folders for your items and sub folders, and sub sub folders and…
Another organizational tool in Together is Groups. Your items can be in multiple Groups at the same time, and Groups can be inside folders as well. They act very much like albums in Photos or playlists in iTunes. If you delete a group, your items don't disappear. And what fun would Groups be if you couldn't make Smart Groups? Smart Groups can be created by matching tags, creation date, whether they're encrypted or not, and more. You can even make Smart Groups that search only inside specific folders which is cool.
Remember when I said Together is all about choice? This is what I mean.
What if you have distinctly different worlds in which you need to track things, like work vs. home vs. church vs. school? With Together you can have multiple libraries so you can keep all that icky work stuff away from your home improvement projects. I heard CGP Grey complaining on the Cortex Podcast with Myke Hurley that in Evernote he had hit the 250 notebook limit, but in Together I you're only limited by the size of your drive (and iCloud's single file size limit of 15GB).
What's Not to Like?
I'm trying to keep in mind what people like about Evernote as I write this, and one thing that Evernote has over Together is that it's cross platform beyond the Apple world, even including a web interface. Together is definitely an Apple user's dream with the iOS and Mac, but there's no Android, Windows, Linux or web version of Together.
Another thing premium Evernote users like is that it can do optical character recognition (OCR) on your files which makes it awesome to be able to snap a photo and have it be a searchable document if it contains text. Together doesn't have that functionality natively, but there's a pretty easy way to add it.
Using an OCR app like Scanner Pro from Readdle, you can scan in a document and simply share it out to Together. When you use the share icon, Together will save the file to the currently open Library. It lets you name it if you choose, and asks where you want it stored. At that point you can just toss it in the Inbox for later triage or file it away into one of your folders. I tested it out and it took way less time to do than it took me to describe it.
I know a lot of people use Evernote as a collaboration tool, sharing notes between users. Together doesn't do the sharing thing, except with yourself. So if collaboration is an essential need of yours, maybe Microsoft OneNote is the tool for you. I don't like the interface in OneNote myself, and I find it very confusing but it does do collaboration and it is cross platform.
More to Like
Let's get back to talking about what's cool about Together. When I'm working on a project, I often have lots of bits and pieces of ideas that are interrelated. For example, I'm learning JavaScript from Bart in our Programming By Stealth series and using Codecademy to hone my skills. I'm taking notes in Together and it's working great.
I started a note just to plop in things I've learned in Codecademy. Lots of times go to the Googles to learn more. If I find a useful page, I can save that into Together as a bookmark or as an entire web archive that I can view right inside Together. Now here's the cool part. I can right click on that website note, and copy a link to it, and paste that link into the notes page, and now I've got a hot link from one note to another. It works really well. You can link any kind of document into any other document. So you can link an audio file into a text note for example.
I mentioned at the beginning all the different formats of files Together can store, but I didn't tell you how you can actually view them inside Together. I've got a bunch of jingles I use for the podcast, and I can play these audio files right inside Together. Video clips? Just hit play, no need to launch Preview. And of course images show up beautifully in Together.
Together includes an interesting tool called the Shelf. The Shelf is a little slide-out thing from the side of your screen that allows you to jot quick notes, find things in your notes, and even drag things into Together. I don't use it a lot but it's a handy feature you might like.
iOS Implementation
I want to talk a little bit about the iOS implementation because it is a bit different from the Mac version. Remember how I said you could put huge files and many of them in your Together libraries? Well you don't want ALL of that swooshing into your iPhone with limited storage.
Instead Together shows you everything in your library but you tap to have it come down to local storage on the device. Those things you select will be available for off-line viewing but you can also remove them as locally stored at a later date. Because items aren't stored locally by default, you can't search within notes on the iPhone version, only by title.
But Together is all about choice. If you WANT to have everything local, for each library you can flip a switch in preferences to download everything to your device. This would work great if you have a lovely cabin in Idaho but don't have cell service.
Bottom Line
I hope this explanation of Together has helped you understand it as an alternative to Evernote, and make a decision on whether it might be for you. I don't expect everyone to resonate with the way Together works (as everyone doesn't resonate with Evernote) but it's awesome that we have choice.
If you'd like to see Together in action, I did a tutorial for Don McAllister's ScreenCasts Online where I walk through all of the features. ScreenCasts Online is a subscription service but he has a free 14 day trial so you can go check it out.